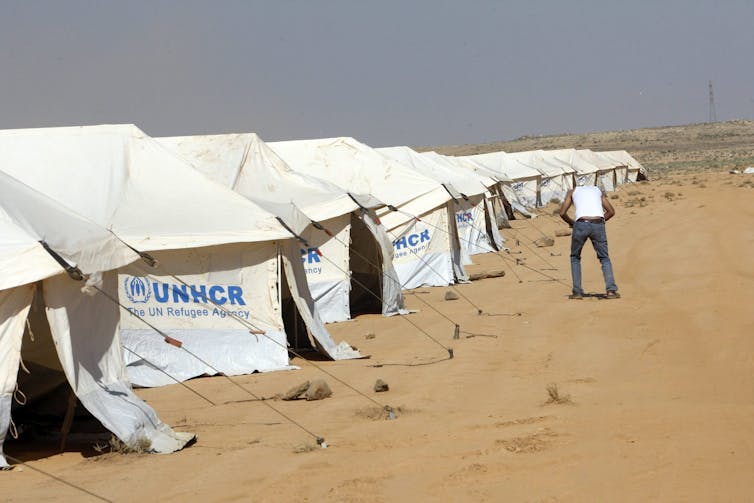 Around the world, refugees from civil war are likely to flee first to the neighbouring countries across their land borders.
Many stay there, usually wasting their lives in camps, becoming ever more depressed, especially for their children who fled with them or were born in the camps, as years pass and the likelihood of returning home fades away.
Besieged as some Australians feel themselves to be by "boat people", most refugees by far are hosted in poor countries. Currently there are half a million refugees in Kenya, mostly from South Sudan and Somalia, and 1.7 million in Pakistan, most of them Afghani.
Worldwide, UNHCR figures for 2011 show 2.7 million refugees from Afghanistan alone, with a million in Iran. In contrast there were just 23,434 refugees in Australia in 2011 - about a quarter of the number in the United Kingdom.
Globally, Iraqi refugees numbered 1.4 million in 2011, with the biggest concentration being in Syria. Many of them must now feel that they have jumped from the frying pan into the fire. Much safer were the 400,000 in Jordan. Just 3,085 were in Australia compared to 15,652 in the United Kingdom.
Afghanis and Iraqis are highly significant to Australia, both because they are among the top three source countries for "boat people" (Iran being the third) and because Australian troops have been engaged in the very wars that triggered these refugee flows.
While some Australians may fear being overrun by boat people, comparative figures show "girt by sea" really is a defence. We are thus largely spared on our island continent, even in an age of mass air travel.
National pride might be chastened to realise how few of those who find themselves approaching Christmas Island actually set out with a specific vision of Australia as their promised land.
Among developed countries, Australia is one of the least favoured destinations for asylum seekers, its one advantage being that it offers a physically warm climate. Asylum seekers who have any choice as to their ultimate destination prefer the United States, Canada or Europe before Australia.
Thus the European Union received more than a quarter of a million asylum applications in 2010, 30% of them minors and 5% unaccompanied minors. Only a quarter of European first instance asylum request decisions result in positive outcomes – suggesting that those boat people who reach Australia, for whom the rate is 74%, constitute a more deserving and desperate category. (The rate for those arriving by plane is a lower 51%, largely reflecting the fact that only 42% of the numerous Chinese applicants are granted protection visas).
Some refugees retain access to limited financial resources. A whole extended family may contribute, even selling the land on which their livelihood depends, to get one young man away from the risk of conscription, persecution and imprisonment. While there are places to which such refugees may buy plane tickets, these are not in countries where they can settle for the rest of their lives.
The Department of Immigration and Citizenship now publishes quarterly tables of asylum statistics divided between irregular maritime arrivals (IMA) and non-IMA.
The Orwellian appellation "non-IMA" essentially refers to those individuals who are able to secure time-limited visas to come to Australia as tourists or students but who, once arrived in Australia by plane, then claim asylum. Boat people are unable to choose to be "plane people", because they are stateless, or hold passports Australia will not stamp even with short-term visas. Airlines simply will not carry passengers without visas into Australia because they will have to return them to the country of departure and risk being fined for having brought them here.
As the DIAC statistics clearly show, IMA and non-IMA come from different countries (the figures which follow are for 2010-11).
The political debate is almost entirely confined to the boat people (IMA) who numbered 5,175 as compared to the greater number of "plane people" (non-IMA) at 6,316. These are mainly citizens of China (1,122), India (555), Pakistan (547) and Egypt (427). Boat people are mostly citizens of Afghanistan (1,612), Iran (1,549), Iraq (542) and Sri Lanka (362) or they are stateless (895).
These DIAC statistics are very limited. They do not personalise the asylum seekers even to the extent of providing information on their sex or age, let alone religion, ethnicity or education.
Last week, Radio Australia reported a brief item about Indonesian police saying that they had intercepted more than 70 asylum seekers intending to board a boat bound for Australia: "Officers say Afghans, Iranians, Sri Lankans and Sudanese people are among those being questioned". If accurate, the inclusion of Sudanese would mark a new departure, presumably of relatives of Sudanese already in Australia grown desperate at the wait to rejoin their kin.
As Australians we can choose to fear that desperation, or accept its place in a global context of war and persecution, against which Australia should stand providing a humane haven proportionate to our resources.
---
Read the rest of The Conversation's asylum seeker coverage:
Asylum seekers and Australia: the evidence
The Conversation panel on asylum seekers: meet the experts
Infographic: global refugee populations 1975-2010
Refugee intake starts in the region: making a difference in regional burden sharing
Refugees and asylum seekers in Malaysia: the good, the bad and the unexpected
What does the Australian public really think about asylum seekers?
Resettling refugees: the evidence supports increasing our intake
What role does Australia play in accepting the world's refugees?
Uncomfortable truths: busting the top three asylum seeker myths
There's no evidence that asylum seeker deterrence policy works
There's more to regional collaboration than the Malaysia Arrangement
How immigration policy harms asylum seekers' mental health
Asylum seekers in Indonesia: why do they get on boats?
Preventing deaths at sea: asking the experts on asylum seekers