Saturday marks 20 years since genocide returned to Europe. In 1995, Bosnian Serb troops under the command of general Ratko Mladić, with the collaboration of a paramilitary unit from neighboring Serbia, murdered more than 8,000 Muslim men and boys in Srebrenica. They dumped the bodies into pits. They videotaped some of the killings.
In 2004, the International Criminal Tribunal for the former Yugoslavia declared that Serb forces had committed genocide in Srebrenica. But on Wednesday, July 8, Russia vetoed a British draft resolution that called for recognizing genocide as "a prerequisite for reconciliation." Serbia vehemently rejects calling the atrocities "genocide." Along with Bosnian Serb leaders, Belgrade lobbied Moscow to block the resolution.
They got their wish. "We are grateful to everyone who helped us," said Serb premier Aleksandar Vučić. "China and Russia and Venezuela and Angola and many others who contacted us and were ready to help."
That the resolution died at the UN serves as a painful déja vu: Srebrenica has always symbolized the weakness of the "international community." At the time of the mass killings, the area was under UN protection. A force consisting of hundreds of Dutch peacekeepers were stationed to keep the town safe. That ended up meaning nothing; Mladić and his henchmen took control anyway.
The international diplomatic squabbles, however, should not obscure the fact that Srebrenica was a distinct European failure. Choosing to mislabel this horrendous act will not strengthen European bonds. Rather, acknowledging failure is a step forward in forging new resolve to avert future tragedies.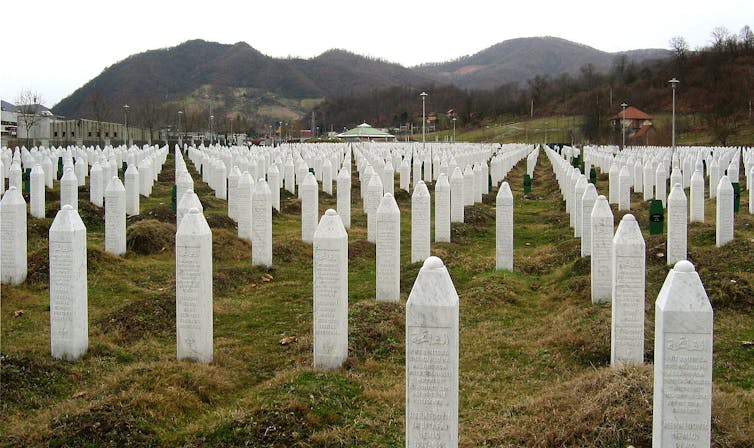 The graves help tell the story
I remember standing at the Srebrenica memorial over a decade ago. I was 22 years old, born and raised in the Balkans. A college student, I was working with the Court of Bosnia and Herzegovina, which was preparing to prosecute war crimes at home.
Yet, I had trouble processing what was happening. There were open graves all around, with numbered coffins lined side by side. Hundreds of women sobbed. Some fainted. It kept raining, so the freshly dug earth quickly turned into mud.
Bodies have continued to be buried because mass graves have kept turning up. It has also taken decades to identify the remains. So the anguish returns to Srebrenica every July, as thousands gather at the site to remember the victims. Hundreds are still unaccounted for.
The Srebrenica memorial reminded me of countless other war memorials across Europe designed to achieve the impossible: capture the sense of loss. How do you visualize entire generations wiped out? A beginning is to name the names. That is what author Dzenana Halimovic does, movingly, by documenting every victim's face. (You can scroll through thousands of photos here.)
Why do some refuse to call the killings 'genocide'?
Denial can serve many purposes, but it is also made possible by the stubborn insistence that what happened in the Balkans in the 1990s was a reflection of mutual age-old hatreds. Historians have rejected this view energetically. If hatred is endemic, responsibility falls everywhere – and so nowhere.
Still, this belief persists. Whenever the Balkans briefly pop up in the news these days, we are quickly reminded that wars stemmed from complicated ethnic divisions. But what wars are not complicated?
In fact, the Balkan conflicts reflect profoundly European problems. In remembering Srebrenica, it is worth considering three of these.
First: We like to teach our students about "the lessons of the Holocaust," but forgetting has been central to the idea of a united Europe. So remembering Srebrenica will require more than memorials and speeches. It will be a long-term battle.
Second: The destruction of Yugoslavia had its undeniable peculiarities, but, in retrospect, the conflicts of the 1990s seem like a foreshadowing of the radicalism and anti-Muslim campaigns that we have seen more recently across Europe. The ghosts of the Balkans are European ghosts. These were Europeans delivering unspeakable suffering upon Muslim Europeans.
Third: European states have been good at devising mechanisms for an integrated Europe but terrible at saving Europeans in times of tragedy. The idea of European unity has been incredibly captivating. But in matters of life and death, European powers have often been impotent. Take the example of Kosovo in 1999, when Serb forces unleashed another human tragedy. It was NATO's intervention that proved decisive. The EU has since directed massive resources to Kosovo, but the problem of timely EU decision making in times of urgent crises remains.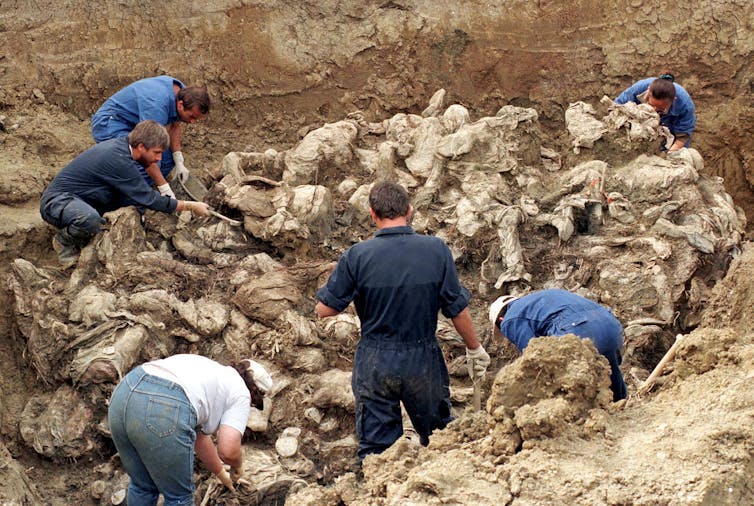 Who gets to forget?
Past events in the Balkans, or in Ukraine today, reveal something obvious but not fully appreciated: East and south of the continent, lives have often been disposable. Some of the most impoverished Europeans also live in geopolitically threatened borderlands. In light of this insecurity, some will continue to look uncritically to the United States for protection. Others will look uncritically to Russia.
It is too easy to bash the EU, especially now. Further enlargement of the union appears to be unpopular. From Denmark to the United Kingdom, anti-immigration parties have gained ground. Moreover, the EU is an ambiguous target: there are the officials in Strasbourg passing resolution after resolution. And then there are a handful of powerful national leaders who worry about domestic voters. Who cares, after all, about Bosnia?
Yet the battle for Europe is likely to play out on the margins. Yes, it will be about the built-in tensions between political and economic integration. Yes, it will be about immigration controls and the inevitable contradiction between opening borders and building new walls.
But the battle for Europe will also be about who gets to remember and who gets to forget. That is also why Srebrenica is a European tragedy.