Since the government apologised for its sluggish and ineffectual response to the Grenfell Tower fire, some steps have been taken to address the disaster. The City of London Corporation is spending £10m on 68 flats in a new development in Kensington, to rehouse some of the tower's former residents. The prime minister, Theresa May, has confirmed that there will be a public inquiry into the fire, and police are considering manslaughter charges, after both the insulation and tiles used on the building failed safety tests.
In the wake of such tragedy, these developments are welcome. Yet they also highlight how little we know about how the process of regeneration that is shaping the lives of the poorest in society. The Grenfell fire has thrown up vital questions about the safety, accountability and regulation of public housing. Our fear – as researchers who work on cataloguing and analysing the effects of council estate regeneration in London – is that they may prove impossible to answer.
Across the capital, estates such as Lancaster West (where Grenfell is located) are undergoing significant redevelopment. Buildings are being refurbished, re-clad, partially demolished and rebuilt. This can serve to address housing demand and make vital improvements – but it also maximises income for landlords, developers and local authorities. In some refurbishments, developers have even managed to squeeze more housing into supposedly unused spaces. For example, the £10m refurbishment of Grenfell Tower involved the construction of nine new homes on the lower levels.
Densification is the name of the game: politicians, private developers and planners are looking to squeeze in more units per hectare wherever possible. To speed this process along, cash-strapped local authorities are handing over some of their housing stock to private sector developers. In return, developers build a mix of "affordable" and market-rate housing, which is supposed to be responsive to local needs.
Vanishing act
Research has shown that this type of redevelopment often destroys communities, displaces families and could one day ensure that working-class communities all but disappear from the capital. A few high-profile redevelopments have attracted national attention, such as the ongoing saga of the Aylesbury Estate, where the government blocked the compulsory purchase of flats in 2016, until leaseholders were offered a better price by Southwark council.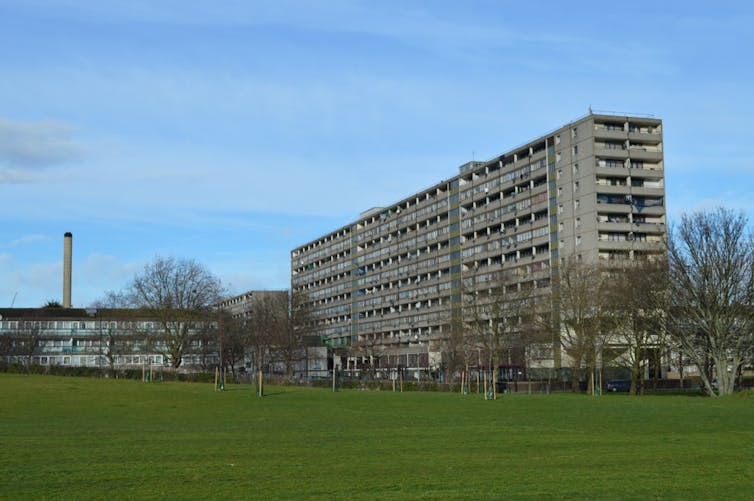 For many, however, such interventions come too late – if they come at all. Over the past ten years, our ongoing research indicates that around 50 compulsory purchase orders have been served, in order to "decant" residents from council estates to allow for redevelopment. But this gives us little real notion of the scale of redevelopment across London, or the number of people affected.
Freedom of Information (FOI) requests to local authorities rarely yield comprehensive data about how many estates there are, who lives in them or how they are being redeveloped. This is partly because many local authorities – including the Royal Borough of Kensington and Chelsea, where Grenfell Tower is located – have handed over the ownership or management of council housing to private companies, which are not obliged to respond to FOI requests.
Likewise, the many different institutions involved in council estate regeneration – from tenant management organisations, to housing associations and private developers – results in long and complex chains of sales and subcontracts, which can be difficult to trace. All this could have serious repercussions for the ongoing inquiries and investigations, following the Grenfell fire.
A conspiracy of silence?
The Labour MP for Tottenham, David Lammy, has called on government and police to do more to dispel fears that evidence relating to the Grenfell Tower investigations is being destroyed. Lammy goes further than many other politicians and activists, by not only calling for central and local government to be held accountable, but for those in the tenant management company, local authority and private contractors to be criminally investigated on charges of corporate manslaughter.
He alleges that development companies have been removing references to their involvement in the regeneration of Grenfell Tower from their website, and questions what else is being deleted behind closed doors. The lack of reassurance that emails, reports and other potentially incriminating documents are being seized by police has left Lammy and others frustrated and angry.
Lammy and others allege that there is a conspiracy of silence among local government and developers. This resonates with our experiences trying to catalogue the scale and impacts of estate redevelopments in the capital. If the government is to be held properly to account, then information detailing who is responsible for council estates across the country must be made publicly available, as a matter of urgency.
Grenfell Tower may not be the only estate which is unsafe for residents – and Kensington and Chelsea may not be the only borough which is failing to safeguard its poorest constituents against harm. Communities must be equipped with the knowledge they need to prevent further harm, and that starts with having access to the organisations responsible for their welfare. Unfortunately, at present, these institutions remain notoriously difficult to investigate.