Charles Manson, the wild-eyed cult leader who claimed inspiration for an apocalyptic race war from the Beatles' "White Album," died in Kern County, California, on Nov. 19 at the age of 83.
Journalist Joan Didion wrote that for many of her friends in Los Angeles, "the 60s ended abruptly on Aug. 9, 1969," the day of the Tate-LaBianca murders, in which Manson and his "family" killed seven people, including pregnant actor Sharon Tate.
While the cultural impact of Charles Manson's life and horrific actions will not soon be forgotten, the pressing concern right now is how we'll choose to acknowledge his death. More specifically, what will happen to his remains?
It's a question that often comes up when a notorious criminal dies. Osama bin Laden, for example, was buried at sea, reportedly in part so that a grave wouldn't become a shrine for terrorists.
It turns out, however, that the answer is more complicated that it would appear at first glance, particularly when the death happens in a prison in California. I study funeral and cemetery law and also happen to be a licensed funeral director in California, yet I'm still surprised by the inconsistency in the state's law governing death.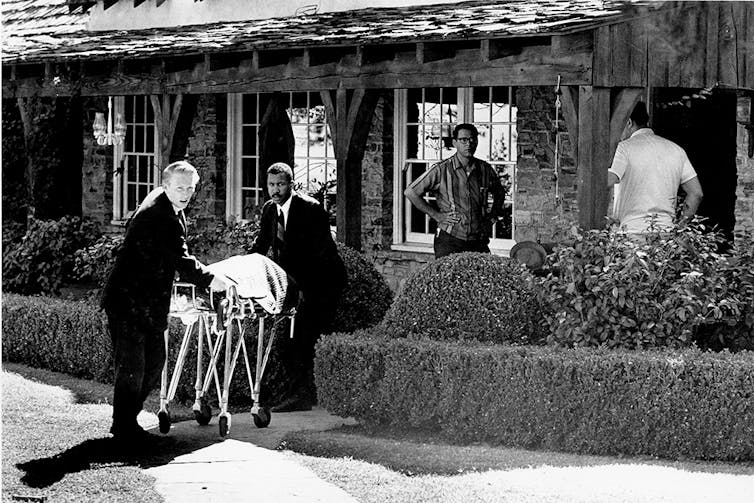 When a person dies in California
When a person dies in California – regardless of where he or she lived – the state's health and safety code determines who has "the right to control the disposition of the remains of a deceased person, the location and conditions of interment and arrangements for funeral goods and services to be provided."
California law grants that right to the following persons, in order of priority: a person appointed by the decedent, spouse, adult children, parents, adult siblings and other adults in the "next degrees of kinship."
If a family member steps up, then the expense of the funeral and burial or cremation will be paid for by the decedent's estate, if he or she left property. If the decedent died without property, then the family member bears the cost or could apply for an indigent assistance program like the one offered in Kern County, where Manson died.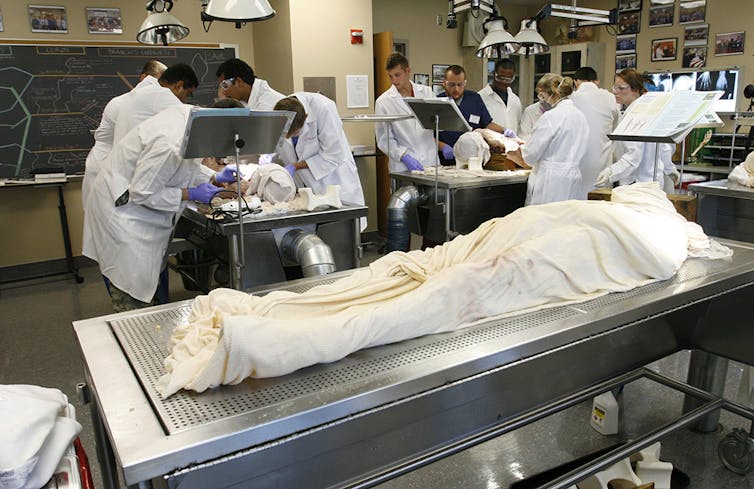 Calling all cadavers
When a person dies in the state without any assets, which is almost certainly true of Manson, another law kicks in.
In those case, the state has the right to send them to a medical school, chiropractic school or a mortuary science program to be used for scientific or educational purposes.
The majority of states have statutes similar to this one. When medical schools began using cadavers to teach future doctors in the 1700s, they had difficulty obtaining a sufficient supply of dead bodies from willing donors. As a result, grave robbery became a significant problem in both the United States and Europe. Medical students were often tasked with obtaining cadavers on their own and would dig up fresh graves.
In response, the states began creating statutes in the mid-1800s that gave bodies that would otherwise be buried at public expense to medical schools. The idea was that supplying cadavers legally would destroy the incentive to commit grave robbery. That turned out to be correct, but as a result most states still have laws like the one in California, which can come as a shock.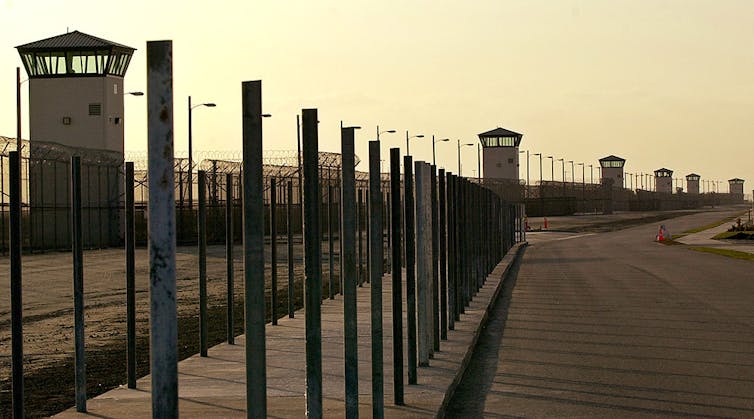 When inmates die
Manson died in a hospital while in the custody of the California Department of Corrections. A couple of specific laws apply to inmate deaths, and surprisingly those laws contradict each other and the general rules.
A Department of Corrections regulation states that every inmate must annually identify his or her next of kin on a form called "Notification in Case of Inmate Death."
Assuming that Manson had one or more living family members and identified them on the notification form, then the department must attempt to notify the listed individual(s) in person, if practical, and, if not, by telephone and offer "consolation." After 10 days, a body is deemed "unclaimed."
The rule, however, is inconsistent with the law regarding the rights of the next of kin to make decisions about disposition because it suggests that only the kin named on the notification form has rights.
The Department of Corrections has not indicated whether Manson actually completed this form or who his next of kin may be.
According to The New York Times, Manson was married twice. Both marriages ended in divorce. He was believed to have fathered at least two children, but The New York Times describes the subject of his descendants as one "which rumor and urban legend have long coalesced."
The New York Daily News reported that the only self-identified descendant of Manson is 41-year-old Jason Freeman, the son of Charles Manson Jr., who committed suicide in 1993. Freeman told the newspaper that he was "going to move towards having a proper burial."
It's not clear, however, whether Manson, who had never met Freeman in person, listed him on his notification form. They reportedly had some telephone contact.
If Manson's remains are not claimed by Freeman or another family member, then what will happen to his body? Although California law and the Department of Corrections regulation state that it should be made available for scientific study, a different California statute requires unclaimed inmate remains to be buried or cremated.
Because of all this inconsistency, it's unclear whether the law intended to give the family members of deceased inmates fewer rights than everyone else.
Anonymous grave or anatomy lab
Manson's remains were last known to be in the possession of the Kern County coroner, according to the Los Angeles Times.
Even if Freeman was named in Manson's notification form and claims him in a timely manner, he may still encounter some difficulty in obtaining a typical funeral and burial for his notorious grandfather.
After Tamerlan Tsarnaev, one of the two brothers believed to have committed the Boston Marathon bombings in 2013, was killed by police, his uncle managed to locate a funeral home willing to handle the remains – amid picketing by the families of his victims – but had a very difficult time finding a cemetery willing to bury the remains. Eventually, Tsarnaev's remains were removed from Massachusetts in the middle of the night and interred in a Muslim cemetery in Virginia.
So what does this all mean for Charles Manson? If Freeman can claim possession of the body, it'll be up to him to find a funeral home willing to handle the mass murderer's remains and potentially a graveyard or crematory willing to take them. If no other kin comes to light, an anonymous box of Manson's remains may find a home at the communal crypt at Union Cemetery in Bakersfield.
Alternatively, it's very possible that medical students in California may find a familiar-looking cadaver in gross anatomy lab next semester.