The dramatic and unexpected 20% fall in oil prices since mid-June has caused alarm in Scotland, the UK and indeed worldwide. Why did oil prices slump to a four-year low of US$84 (£52) per barrel this week, and what are the consequences?
Most experts have certainly been wrong-footed by the fall. The general view of forecasters had been that the Brent oil price would fall marginally from its circa $110-$115 level of 2011-2013 but would remain above $100 throughout 2014. For example the US Energy Information Administration (EIA) had forecast an average 2014 price for Brent crude of $104 per barrel. Some experts such as energy analyst Chris Nelder predicted a range of possible oil prices for 2014 of between $105 and $125 per barrel.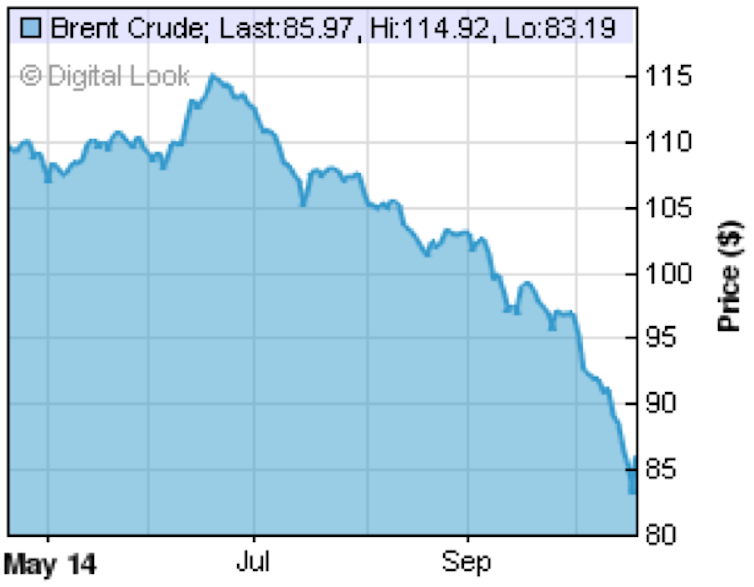 These forecasts seemed sound at the time. Global oil demand has increased annually for many years and is likely to be of the order of 33.7bn barrels for 2014. This is a year-on-year increase, but not as much as was previously expected.
The mixture of a stagnant eurozone economy and a depressed Chinese industrial sector has curbed demand at a time when Saudi Arabia has been attempting to win back market share from the US by increasing production and selling it at a cheap price. This concoction of reduced demand and oversupply has all the ingredients of a perfect storm. And the fallout could well be dramatic for many countries.
Impact on the North Sea
As recently as September 29, trade association Oil & Gas UK (OGUK) predicted an end to the recent UK North Sea production slump – indeed the first year of increased production since 2000, thanks to new fields opening and existing ones coming back online. With still more fields due to start production in the next couple of years, OGUK was optimistic that production would rise steadily and possibly hit 2m barrels of oil equivalent (BOE) per day by 2017 (or 730m for the year).
Daily North Sea oil production, barrels per day (bpd)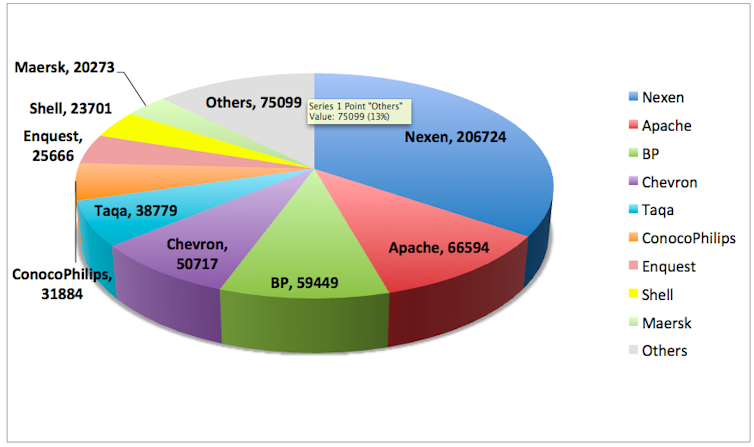 The industry had shown its commitment by investing heavily during 2013 (over £14bn – easily the highest in years) and promising to invest modestly over 2014. So far, that investment has already been disappointing, perhaps due to uncertainty caused by the referendum-inspired negative stance of Westminster, the Office for Budget Responsibility and the department of energy towards the future prospects of the North Sea industry. As at October 1, UK government figures indicate that only £4bn has been committed for the year so far.
If oil prices continue to hover around the $80 a barrel mark for any length of time, even this investment will grind to a halt. It is not that oil can't be produced economically at $80 in the North Sea. The average was cited as $27 earlier this year, but it is rising fast (up 27% year on year) and a rising number of fields require rather higher prices – especially the deep water plays west of Shetland.
And above all, there are much easier pickings elsewhere, so prolonged low prices will encourage the big oil companies to look there instead. There have already been substantial falls in the share prices of Scottish oil companies – for example oil services firm Wood Group is down about 14% over the course of October so far. In short, the market has been spooked.
The oil price also has a significant bearing on the future prospects for fracking in England. Horizontal drilling is expensive and while gas may still be economically exploitable at current prices, tight oil extraction from shale looks a decidedly unattractive prospect. This will make it harder for prospectors to raise investment, at the very least.
Impact worldwide
Many countries' economies depend on oil being priced at least $90 to $100 per barrel, including Russia, Venezuela, Iran and Libya. Perhaps the most vulnerable is that of Russia, where the most influential people in the country have vested interests in oil. Putin's popularity may drop as fast as the recent oil price if these prices stay at a low level.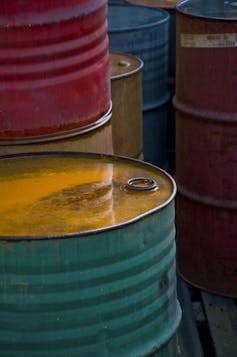 Saudi Arabia has continued to keep production high despite falling prices and seems prepared to let prices fall to $77 per barrel in an attempt to win back market share. This is a direct challenge to the US, where some shale oil extraction becomes uneconomic at around $80 per barrel.
If oil prices do fall below $80 per barrel, tensions between countries would rise and protective measures would be taken. OPEC would carry the can for allowing prices to fall, which would be ironic considering it has been pilloried in the past for keeping them high. One way or another, the powerful countries will prevail through this period. In the long run, oil prices will start rising again. The world's oil producers will simply not be able to meet global demand for any length of time if prices remain this low.