Every year, sporting organisations in Australia receive government funding for Indigenous programming and development. The funding is justified by the widely held assumption that involvement in sport has positive social impacts.
Sports are often regarded as a balm for the ongoing effects of colonisation, contributing to community building and morale, and preventing antisocial behaviour.
Sport has certainly provided inspirational athletic role models for young Aboriginal and Torres Strait Islander Peoples. Four of the eight Aboriginal and Torres Strait Islander Australians of the Year have been sportspeople. Yet researchers have questioned whether sport can really be used to "close the gap" and as a panacea for Indigenous disadvantage.
Only recently, meanwhile, have commentators considered the role of coaches as mentors, community leaders, and educators who can change lives.
Yet there has been little research into Aboriginal and Torres Strait Islander coaches – what they do, why, and the kinds of barriers they face in progressing their careers.
Listening to coaches
For this reason, in 2015 we listened to the stories of 26 Aboriginal coaches from various team and individual sports. They worked in remote, rural, and metropolitan settings, from the community level to high-performance athletics.
We heard from Shennae Neal, a local café owner, who lives in Yarrabah, about an hour south of Cairns. A few years go, she started up a netball team, the Yarra Nighthawks. Shennae said:
It's been a really good initiative because those girls, our young mums who play in the team feel more inspired now to do something with their life … And when they go back to their families, their family sees a difference in them too. They want to do something for the community.
We heard, too, from Jarred Hodges, a health and physical education teacher who has coached at all levels of sport, from his son's cricket team to Eastwood's first-grade Rugby Union team, to his role as a specialist coach for the Wallabies.
When we asked Jarred about his greatest achievements in coaching, he told us about his involvement with the Lloyd McDermott Foundation, a organisation dedicated to supporting young Aboriginal and Torres Strait Islander people through participation in rugby union. He described it as a place where, as a player, he came to terms with his Aboriginal identity and experienced his first sense of belonging:
As my identity grew, I grew confident in my own skin and I guess that helped me relate to people.
Twenty years on, Jarred is now supporting young Aboriginal rugby players forge their own connection to culture and community as a coach and program leader with the Foundation.
Our interviews with Aboriginal coaches uncovered many tales of often unrecognised and unpaid community work. But some participants spoke of feeling invisible and being overlooked for "mainstream" coaching roles.
Despite equivalent qualifications and experience, they believed they were simply not being seen as having the same potential as their non-Aboriginal counterparts. Others highlighted a lack of support from sporting organisations for developing Aboriginal and Torres Strait Islander coaching talent.
Starting a conversation
Last month, Western Sydney University held a community forum in which a number of prominent Aboriginal sports coaches came together to share their experiences and concerns.
They raised questions about racism in sport, the investment of sporting organisations in "mining" Aboriginal athletic talent and the positive social impact that coaches have in their communities. This dialogue is sorely overdue.
One suggestion from the forum was to generate talent identification programs that could help young Aboriginal coaches at the district and representative levels step up to the next level.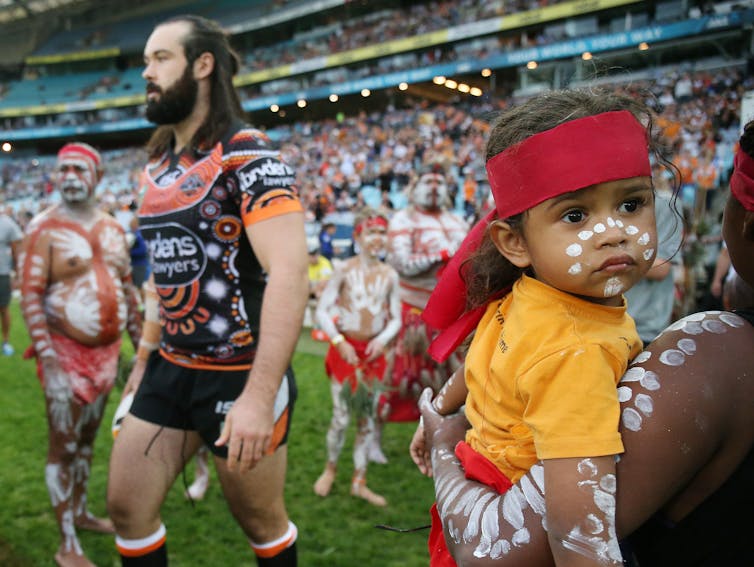 Panellist Phil Duncan suggested it would only take a visit by an NRL to the Koori Knockout – an Aboriginal rugby league competition that's been running since 1971 – to identify and poach the best of this year's cohort:
We've got one of the biggest football knockouts in the world … with over 64 teams, probably three coaches per team …
Others spoke about the importance of starting young. Panellist Bou Ovington suggested it would be great if coach accreditation was subsidised for young people:
[If] you have a 14, 15 year old kid, the more accreditation they have, the more likely they're going to use it … it will eventually get [them] into the high performance positions …
Sport happens because of the tireless work of managers, officials, administrators, parents, and perhaps most importantly, coaches. Coaches often work behind the scenes, and can play a significant role in developing the confidence, life skills, and resilience of their players.
Such roles are important because they are so visible. Seen not merely as superb athletes, high profile coaches like Jason Mifsud, Laurie Daley, Jason Gillespie, and Marcia Ella-Duncan demonstrate to the wider Australian community that Aboriginal and Torres Strait Islander peoples are also capable and inspiring leaders.
This initial dialogue can influence the narrative about sport and what it means for Aboriginal and Torres Strait Islander communities. We need to think more broadly about the coach's role, and the long term benefits of having diverse leadership in sport organisations – as coaches, officials, in management, and governance roles.
Instead of focusing solely on athletes, our research suggests that attention to, and support for, Aboriginal and Torres Strait Islander coaches could be an important tool to help overcome disadvantage and marginalisation.