Black Friday strikes again. The post-Thanksgiving day of shopping discounts is a recent US export and retailers are rolling them out once more. Last year saw crowds of shoppers quite literally battling for the bargains to be had.
Retailers will be hoping that the upward trend in Black Friday sales will continue. The "holiday" made a first tentative appearance in the UK in 2010 when Amazon experimented with offering discounts and last year sales took off. In 2014, UK consumers spent £810m on online purchases alone and a further £720m three days later on Cyber Monday.
This year many of the UK's big retailers, including Tesco, Curry's PC World, Halfords, John Lewis, eBay and Amazon, are looking forward to even better figures. The forecast by the Centre for Retail Research for the 24-hour period is to reach around £1.39 billion – and online sales are estimated to be £966m, and £3.5 billion for the whole weekend.
In 2014, Black Friday sales were helped by the increase of 2.3% in UK disposable income – the fastest rate of annual growth since 2010, which gave consumers the confidence to spend more. With a further rise in 2015 spending is expected to be high once again.
Given our appetite for bargains, retailers are gearing themselves with even bigger promotions to tempt their customers. They use various tactics to encourage us to take up their deals. Asda's "flash sales" in its stores last year led to some of Black Friday's more dramatic scenes. And online Amazon too offers limited-time "lightning deals" which puts new deals up every ten minutes. Buyers have to act quickly to get the deals and may as a result make hasty decisions and buy things they wouldn't otherwise.
Clearly some get excited by the buzz and the adrenalin rush of fighting their way through the temples of shopping malls or waiting impatiently biting their nails for the slow loading websites. For some, competing and getting what they want at a much reduced price – or even in some cases what they don't want – gives a sense of achievement. It can have a positive knock-on effect for the retailers when people take pleasure in boasting to friends and family about the "trophies" they have "won".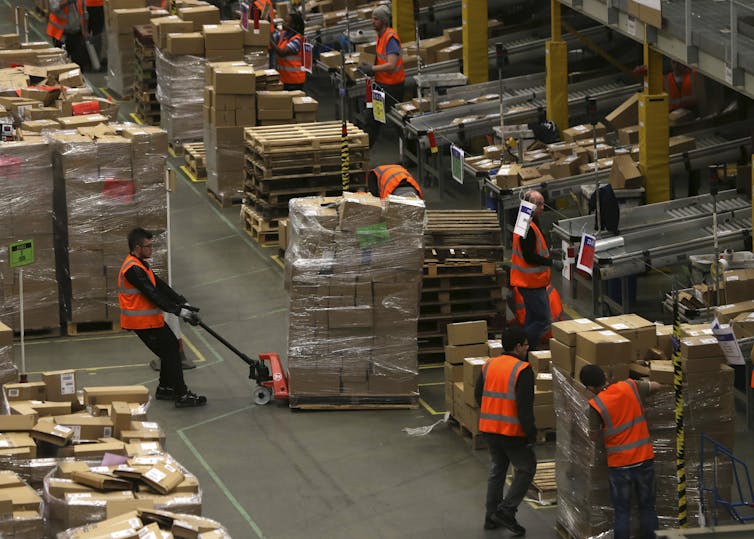 But some retailers have realised there are some who are less inclined to enter into the fray. Argos, for example, is running a campaign called "Red, White and Blue Fridays". The retainer has offered deals on the three Fridays prior to November 27, Black Friday, in a bid to make its shopping experience more attractive to customers. Asda is going one step further and is no longer participating in the event this year – despite being widely credited for making Black Friday popular in the UK. Instead, it is reducing prices by a total of £26m over November and December rather than holding customers "hostage to a day or two of sales".
Perhaps Asda wants to capitalise on the bad press that Black Friday received last year. There was widespread criticism of the Black Friday spectacle which included ugly scenes of shoppers scrambling, fighting and grabbing at goods. But, despite the scenes of bargain bedlam, there's no denying that these kinds of retail events boost the economy and the tax receipts and national insurance contributions all go towards aiding the exchequer.
As well as the huge sales they can make on Black Friday, retailers can also use the event to liquidate any assets into cash and make room for new stock. Clearly this retail strategy has some level of risk, as retailers choosing to partake in Black Friday may experience a sales slump at other times in the year as customers choose to put off any purchases in exchange for the possible rewards of waiting for Black Friday.
Added to this, all retailers need to manage their product portfolio over 12 months of a year and use innovative and sustainable marketing practices to entice shoppers to purchase all year round. So it's a military-style operation for the retailers involved, as much as it is for shoppers looking to snap up the best deals.