In an appeal for equality and inclusivity, the Elementary Teachers' Federation of Ontario (ETFO) has recently reiterated calls for the Ontario government to abolish the province's Catholic schools and move toward one secular school system for each official language.
This is what Quebec did in 1997. Make no mistake, though, it isn't one harmonious system for all. It's still two separate school systems.
Separating children by religion is deemed by the ETFO to be an anachronism and an assault on inclusivity in Ontario's diverse 21st century society. Curiously, separating them by language is not.
The origins of separate schooling
The roots of separate schooling in Canada are often located in Section 93 of the Constitution, which, when drawn up in 1867, granted Protestant and Catholic minorities the Constitutional guarantee to their own schools. We need to go back to earlier debates in our history, however, before Canada was even a country, to understand why we first chose to separate Canadian children from each other.
In the 1830s, political agitations in Upper Canada and Lower Canada led to a series of rebellions in both colonies. In an effort to restore order, the British government sent John George Lambton, first Earl of Durham, across the Atlantic in May 1838 to sort things out.
Durham's stay was brief, but his report, submitted in February 1839, has plagued Canadian history since: "I expected to find a contest between a government and a people: I found two nations warring in the bosom of a single state."
The challenge, as he saw it, was to broker a peace deal by eliminating the French part of the equation.
The report's legacy was the unification of Upper Canada and Lower Canada into a single colony. Union, Durham hoped, would dilute the French Catholic population and cultivate loyalty. Key to his plan was the creation of a single school system in which the children, "accustomed to fight nation against nation," would be brought together.
Durham's vision of a new colony with a new school system, however, didn't include conceptions of cultural integration as we know them today. His language wasn't that of inclusion, it was of assimilation. And so the moment was lost.
In 1841, legislators charged with enacting a single common school law rightfully showed a distaste for cultural assimilation and thwarted Durham's plans. Union didn't erase the differences between French and English, or Catholic and Protestant, and forcing parents to send their children to the same schools in the name of ignoring those differences didn't seem like the right thing to do.
A significant compromise was then made. Article XI of the Common School Act of 1841 allowed for religious minorities to establish dissentient schools. Protestant and Catholic parents were given the right to withdraw their children from the common schools and establish separate schools of their own. That dual school system was carried into Section 93 of the 1867 Canadian Constitution.
We've divided our children ever since.
Separate schooling in the 21st century
Separate schooling for Protestants and Catholics was created in a colonial context that no longer exists in Canada. But does a dual system of secular public education divided along French and English lines really lead to inclusivity and address cultural divides that have historically plagued our nation?
The Quebec example suggests that it does not. Rather than bringing the people of Quebec together, the changes Quebec made in 1997 simply shifted the cultural divide conceptually: From religion to language.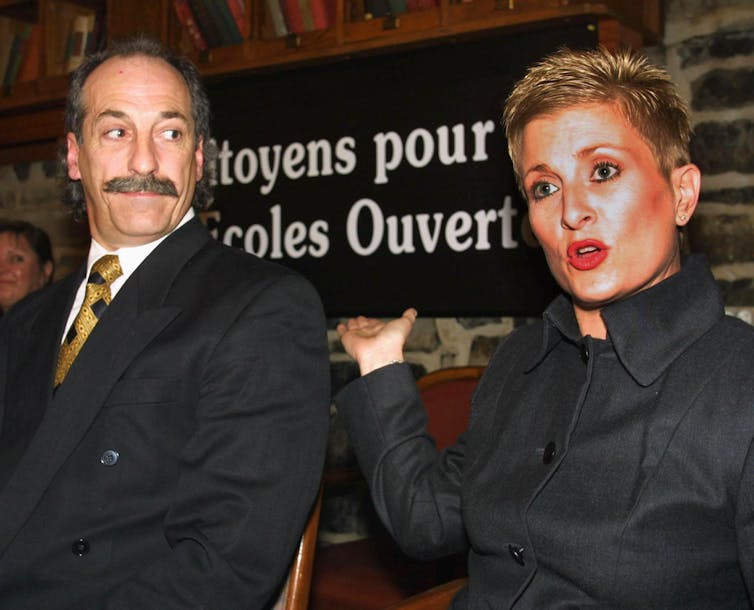 The movement toward secular schooling in Quebec, divided along separate linguistic systems of public education, was not a rejection of Section 93 of the Canadian Constitution but rather a reaffirmation of Article XI of the 1841 Common School Act, which itself resolved that Canada's two warring nations could not, and would not, be brought together.
We've also done little since as a society to address the historical exclusion of Indigenous peoples from these debates, and from the public school system itself.
I'm a parent of two young children in Quebec. As an academic employed in an English university in Quebec, in a school of education that prepares teachers primarily for the English schools, I feel compelled to send them through the English system.
As a parent of two Quebec children whose economic prospects in life would be significantly enhanced by becoming fluent in French, I feel compelled to send them through the French system.
Do I send my children to the English public school or to the French public school in my neighbourhood? I'm torn. A single, bilingual and inclusive system for all of our children would solve my problems.
Canada is also torn. Ending the systemic separation of our children and allowing them to attend school together might do a lot to solve the nation's problems as well.