There were sighs of relief across North America last week when U.S. President Donald Trump announced an exemption for Canada and Mexico from new American tariffs of 25 per cent on imported steel and 10 per cent on imports of aluminum.
American allies in Europe and Asia will have to bargain for similar exemptions separately in the weeks ahead. The Trump administration announced the tariffs pursuant to a 1962 law that allowed for the imposition of tariffs for national security reasons.
New policy, old practice
It's tempting to view the U.S. tariff exemptions for Canada in the context of "exemptionalism."
Canadian diplomatic historians R.D. Cuff and J.L. Granatstein coined this term in their 1975 book, Canadian-American Relations In Wartime: From the Great War to the Cold War and defined it this way: "The Canadian habit of seeking exemptions from American economic regulations in order to avoid the costs of national independence."
Cuff and Granatstein argued that U.S. President Richard Nixon effectively ended American exemptionalism with regard to Canada when he refused to exempt Canada from a 10 per cent import surcharge imposed by the United States in 1971. It was designed to address a balance-of-payments crisis.
Nixon believed U.S. allies and economic partners were benefiting from the American crisis and flooding the U.S. market with their exports while refusing to allow the American dollar to decline in value relative to their own currencies. Co-operation on this front would have made imports relatively more expensive than domestic products in the United States.
At the time, the United States was in a period of fiscal expansion due to the costs of the Cold War struggle with the Soviet Union and its ally China, as well as the Vietnam War, an enduring conflict in which the U.S. had few allies.
Nixon would not exempt Canada because it was seen as unco-operative, and a contributor to America's woes. Canada did not support the Vietnam War. But more important to Nixon was Canada's economic policy toward the automotive industry.
At the urging of U.S. automakers, Nixon's predecessor in the White House, Lyndon Johnson, had negotiated the Auto Pact of 1965 that helped Canada manage a balance-of-payments crisis of its own, one that had forced Canada to abandon its peg to the U.S. dollar under the Bretton Woods Agreements. The Auto Pact allowed Canada to stabilize its commodity-driven macro-economy with an expanded manufacturing sector.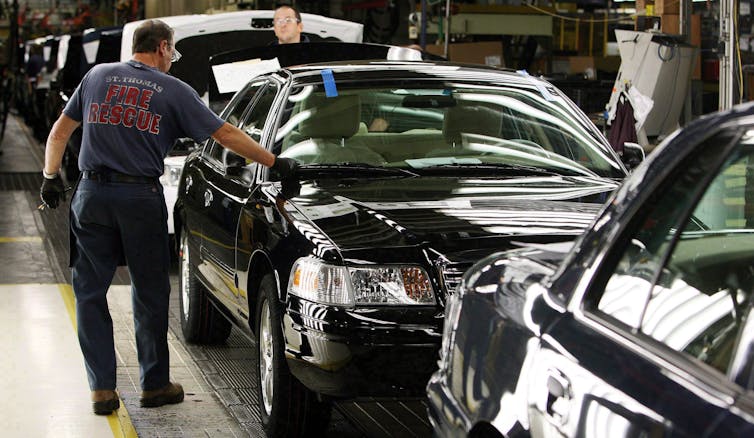 Yet as Canadian economist Carl Beigie wrote in 1970, the government of Prime Minister Lester B. Pearson had negotiated separate "letters of undertaking" with Detroit automakers that committed the firms to increase their investments in Canada and maintain vehicle production at agreed levels.
Nixon proposed the cancellation of the Auto Pact, convinced that Canada had "cheated" and cost the United States both jobs and investment.
Sound familiar?
Trump echoes Nixon
Trump's charges that Canada is treating the U.S. unfairly and taking advantage of bad trade deals negotiated by a previous administration are an echo of Nixon's views.
Almost a decade after Cuff and Granastein published their study of U.S.-Canadian relations, American scholar Charles F. Doran wrote an extremely insightful book on bilateral relations from a U.S. perspective. In Forgotten Partnership: Canada-U.S. Relations Today, Doran argued that the United States' security partnership with Canada justified Congress and U.S. officials granting occasional exemptions for Canada from U.S. economic policies.
Reflecting upon the later U.S. shift away from exemptionalism for Canada, Doran observed:
Cancellation of exemptions for Canada, urged on the United States by its balance-of-payments problems, was considered comparatively cost-free because the interdependence of the two economies would ensure cooperation in trade and commercial matters. (…) Canada tended to neglect the possibility that efforts to extract greater benefits from foreign investment and efforts to reduce the U.S. share of Canadian trade might eventually impinge on the willingness of the United States to create an implicit exemption for Canada in terms of sharing the defense burden.
Doran argued that the United States granted exemptions based on an "implicit quid pro quo" that neither side would seek to exploit the other: The U.S. would not wield economic leverage against Canada and Canada would not attempt to take advantage of U.S. defence spending by underfunding its own military and national security.
The Trump administration's invocation of national security as a justification for its tariffs on steel and aluminum echoes this implicit quid pro quo.
"The countries that treat us the worst on trade and on military are our 'allies,' as they like to call them," Trump said when he announced the new tariffs. He went on to add: "The workers who poured their souls into building this great nation were betrayed. But that betrayal is now over."
Trump made the link explicit when he noted that exemptions to the new tariffs might be granted to European and Asian allies if their contributions to allied defence improved.
The quid pro quo
Trump's foreign policy has not fulfilled the predictions of many who saw his "America First" slogan as a signal of a retreat from global leadership.
Indeed, during his first speech before the United Nations General Assembly last fall, he warned: "If the righteous many do not confront the wicked few, then evil will triumph. When decent people and nations become bystanders to history, the forces of destruction only gather power and strength." Accordingly, Trump has accused allies of under-spending on their militaries. In that same address, Trump said:
For too long, the American people were told that mammoth multinational trade deals, unaccountable international tribunals, and powerful global bureaucracies were the best way to promote their success. But as those promises flowed, millions of jobs vanished and thousands of factories disappeared. Others gamed the system and broke the rules. And our great middle class, once the bedrock of American prosperity, was forgotten and left behind, but they are forgotten no more and they will never be forgotten again.
In fact, Trump has repeatedly accused U.S. trading partners of taking advantage of U.S. economic openness to enrich themselves at the expense of American jobs.
The Trump administration has also signalled publicly through its National Security Strategy and National Defense Strategy that it wants U.S. allies to share in the rising costs of responding to the re-emergence of great power rivalries as Russia and China challenge the U.S.-led economic and security order.
And now Trump has exempted Canada from new tariffs. Why?
Cuff, Granatstein and Doran all saw exemptions as something that the United States chose to do to support Canada as a partner during wartime, including during the Cold War.
For Trump, a Canadian increase in defence spending might be more important than changes to Canada's widely maligned supply management system in the dairy sector in getting U.S.-Canadian economic relations back on track.