While for some Australians the recent leadership spill will be viewed as a simple act of restorative justice, many others would have spectated on events in Canberra with an equal measure of indifference and disdain. Is it any wonder that Australians hate politics?
In February of this year we asked a representative sample of 1,377 Australians to consider various issues regarding Australian politics and their role in making democracy work. Our findings should give all democrats pause for thought.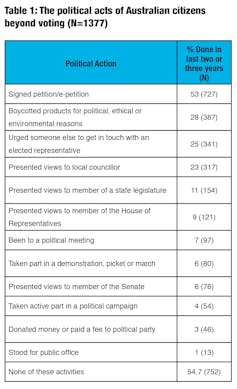 Australians feel they are observers rather than participants in formal politics. Nine in ten of those interviewed regard themselves as without influence over the federal government and seven in ten feel the same about other levels of government. There is widespread evidence of negative attitudes towards politics and politicians.
Comparable to those found in other democracies like Britain, the United States and Finland. Yet Australian negativity has emerged in a relatively well-off economic period.
Over a quarter of Australians combine a specific set of negative attitudes towards politics and politicians. We are irritated by politicians talking rather than acting, annoyed with the compromises of politics, and supportive of a greater role for non-political actors in public decision-making.
Other findings give reason for hope about the future of Australian democracy. Elements of malaise in Australian politics linger but the core issue appears to be with the politics currently on offer. We show that most Australians do not hold the ideals of the democracy in contempt. They show strong support for its processes such as consultation, compromise and democratic judgement.
Citizens also display a considerable understanding of its complex processes and could be up for a more extended role if a different politics was on offer that was more participatory, open and perhaps local.
Rather, democratic decline in contemporary Australian politics is increasingly attributed to the politicians. Our findings draw attention to two important issues for Australia's political class. First, that citizens view politicians and democratic politics as one and the same – anti-politics equals anti-party politics.
Also, the artificial separation of representative and participatory democracy has reinforced a culture of anti-politics at the heart of the Australian political system. Our findings show that citizens have complex feelings towards democracy. There is support for a new participatory politics, but with the aim of reducing representative democracy and developing a more more integrated, inclusive and responsive system.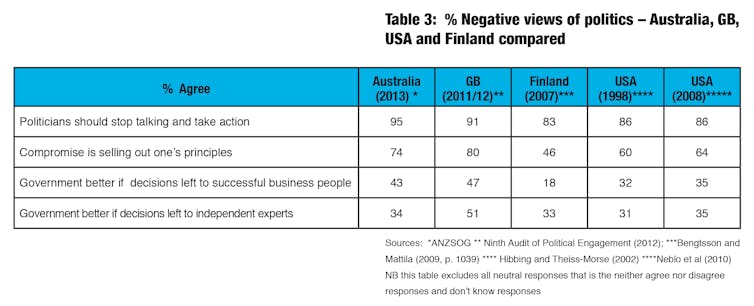 The reform process would need to proceed on the basis of four fundamental principles – politicians as the key agents of change, non-partisanship, institutional strengthening and connecting the citizen with the Canberra village. The first principle assumes that politicians should act as the bridge between representative and participatory democracy. The second follows the understanding that anti-politics is about the health of Australian democracy and is a problem for all politicians regardless of party politics.
The third principle is based on the idea that it makes sense to use existing parties which already have public legitimacy and trust to build the new politics. This would also show care from a financial perspective in an austerity climate. The fourth principle is rooted in the popular perception that the Canberra "bubble" is disconnected from the everyday lives of Australian citizens, and changes are needed to bring Canberra closer to the people.
The following reforms flow from these principles: including lay representation on parliamentary select committees; establishing public sector juries managed through the criminal jury system and chaired by MPs; providing advisory referenda through online petitions managed by a cross-bench committee of MPs; establishing a single-member constituency link to encourage greater MP responsiveness to community needs; and introducing a new localism starting with constitutional recognition for local government. The details of these reforms would need to be thought through carefully.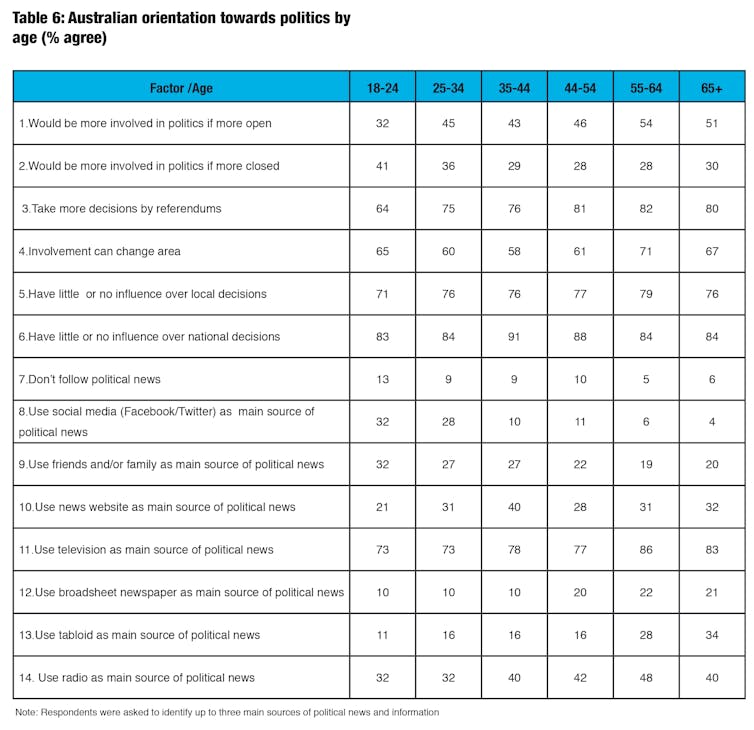 Our research shows there's need for reform although its outcome is of course a question of political choice. The proposals in our report are in keeping with our evidence about the multifaceted way Australians imagine their democracy. Citizens are clear about what they do not like about what's currently on offer.
The issue is whether elected leaders are listening. These leaders will have a critical role to play as agents of change, or else the reform process will be doomed to failure.