Iran's Ayatollah Ali Khamenei – the Islamic Republic's ultimate authority – reluctantly blessed the nuclear agreement between Iran and the West that was signed in June 2015 and went into effect in January. Since then, he has gone out of his way to emphasize that his endorsement didn't mean he wanted to normalize economic ties with the U.S.
Iranian President Hassan Rouhani, on the other hand, has frequently made clear he wants improved relations with the U.S. and Europe. He believes that repairing Iran's economy requires active trade with and investment from the West.
The latest example of Rouhani's effort at "détente" with the U.S. is the recent announcement that Iran Air had reached a tentative agreement with Boeing to buy 80 commercial airplanes and lease 29 more in a deal valued at as much as US$25 billion. The Obama administration issued a special permission for Boeing to negotiate with Iran because it did not want the U.S. planemaker to lose the entire Iran market to European rival Airbus.
The deal prompted outrage from Republicans, including presumptive presidential nominee Donald Trump, who were already firmly against the nuclear agreement itself. But back in Tehran, news of the deal raised barely a peep from Rouhani's hardline opponents, despite their open hostility to opening economic ties with the U.S.
So why would this be? The answer is all about strategy, as I'll explain.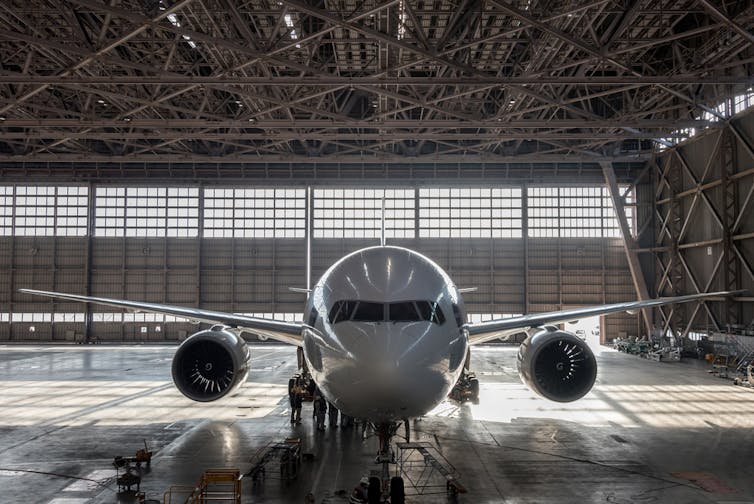 Where the real power lies
Similar to former Iranian presidents such as Akbar Hashemi-Rafsanjani and Mohammad Khatami, President Rouhani has called for a moderate foreign policy. The president's influence in foreign affairs is, however, limited.
The real power in foreign affairs lies with the supreme leader, who has preserved the ideological and revolutionary character of Iran's foreign policy since 1989 with the active support of the Revolutionary Guards (IRGC).
That's why it's so odd that Rouhani's conservatives opponents inside Iran have not attacked the Boeing deal. Instead, they have primarily speculated that it will be killed by the anti-Iran lobby in the United States.
And here, they may be right. The initial announcement of Boeing deal on June 15 has already provoked a barrage of criticisms from conservative circles in the United States.
And this week, House Republicans tried to raise the cost of a Boeing deal by proposing a bill to double taxes on any deal if the end user is based in a country designated as a state sponsor of terrorism. Another proposal would make it more difficult to raise financing.
Why Iran's conservatives are allowing Boeing deal, for now
But in Iran it is likely that the supreme leader and his supporters – despite their opposition to a grand detente with the United States – have approved Rouhani's negotiations with Boeing for several strategic reasons.
First, a purchase agreement with Boeing will increase the economic costs of canceling the nuclear agreement for the United States and reduce the possibility that opponents of the deal in the U.S. will be able to derail it. Khamenei may have only reluctantly backed the deal, but he and other conservatives still want the nuclear agreement to survive so that the Iran economy will not become the target of new economic sanctions.
In addition to the Boeing negotiations, Iran has also shown interest in attracting American oil companies for the same purpose. But the Obama administration has not authorized these companies to negotiate with Iran yet – even though it is actively encouraging other businesses to do deals with Iran to cement its nuclear deal.
Second, negotiations with Boeing will give Iran more bargaining power in its negotiations with Airbus. Soon after the Joint Comprehensive Plan of Action (aka the Iran nuclear deal) went into effect in January, Iran and Airbus announced an agreement worth at least $10 billion. Since Boeing is the only global competitor of Airbus in the market for large commercial planes, Iran will be in a better negotiating position with Airbus if it has the option to purchase from Boeing too.
Furthermore, Iran is concerned about the French government's heavy influence on Airbus as a major shareholder. On some issues the French government put more pressure on Iran during the nuclear negotiations than the Americans did. Iran fears that France might find an excuse to delay or cancel the Airbus contract.
Third, Iran's purchase agreement with Airbus remains vulnerable to U.S. non-nuclear sanctions, which are still in effect. So far the implementation of this agreement has been slow because European banks are reluctant to offer financing (for fear of being punished by the U.S.). Furthermore, since Airbus uses several patented parts and technologies that are produced in the U.S., current or future U.S. administrations could prevent the French company from selling airplanes to Iran.
By offering a share of its market to Boeing, Iran will also reduce the likelihood that the U.S. will force Airbus to cancel its sale with Iran. Even Iran's foreign minister, Mohammad Javad Zarif, acknowledged this strategic value of the Boeing deal in a recent visit to France.
Roadblocks to Rouhani's economic vision remain
These aircraft purchase agreements are key components of President Rouhani's economic development vision, which relies heavily on international trade and attracting foreign investment.
However, he is pursuing this strategy with very limited influence over Iran's foreign policy, and as a result it remains vulnerable to the ongoing tensions between Iran and Western countries.
Even if the U.S. and European governments do not block these aircraft agreements, future tensions in Syria and elsewhere could serve as an excuse for the U.S. or French governments to delay them.
Similarly, the fact that hardline opponents of Rouhani have not taken any steps to block the Boeing agreement or provoke a backlash against it in Western capitals does not mean that they might not do so in the future. The reason they have remained passive so far is most likely the supreme leader's approval of these negotiations.
Regardless of all the ongoing hostilities, Iran badly needs the new planes to upgrade and replace its aging fleet. In the absence of any other suppliers of large commercial aircraft, the supreme leader has set aside the ideological and anti-Western priorities of the Islamic regime for this exceptional case.
On all other economic and trade issues the supreme leader has instructed the government to adopt his Resistance Economy model, which calls for reduced reliance on economic engagement with countries that are hostile to Iran and might threaten its domestic economic stability by sanctions and embargoes.
So as the Obama administration decides on whether to support or reject the Boeing-Iran deal, it should take these broader strategic issues into account. This deal means much more to Iran than just an attempt to rescue its troubled airline industry.