Many Australian women will know the G20 summit is coming up in Brisbane, but they may not think it has much relevance to their daily lives. But that is not the case. Joe Hockey needs us, and he may not even realise how much yet.
A key initiative in Australia's 2014 G20 Presidency is to lift global growth by a cumulative additional 2% by 2018, above what the IMF was forecasting in the October 2013 World Economic Outlook. The Brisbane leader's summit action plan will detail the new policy measures proposed by G20 members to achieve the growth target. Since the target is for an extra 2% in global growth, it will require extra policy measures.
At the G20 Finance Ministers and Central Bank Governors meeting in Cairns in September, the IMF and OECD said the new policy measures submitted by G20 members to date would increase global growth by an additional 1.8% over the next five years. They noted "high implementation risks". The policy gaps identified by the international organisations in their advice to ministers in February 2014 were in six areas – fiscal, rebalancing, labour supply, other labour market reforms, product market reforms, and infrastructure investment. Buried in these areas is the need for some pressing reforms to promote gender equality.
To get an idea of what some of the ideas were, one key recommendation to Australia from the OECD was as follows:
"Improve performance of early childhood education by reforming childcare support to account for the high cost of pre-primary education and to encourage parents' labour force participation."
The OECD told Germany to:
"Remove obstacles to full-time female labour participation by introducing mandatory health care contributions for non-working spouses and by reforming the joint taxation of married couples."
See where I am going with this? Many of the preoccupations of the working woman are shared by the leading economic institutions, because women are now seen as a valuable economic resource.
"Forget China, India or the Internet", as The Economist put it way back in 2006, "economic growth is driven by women". As the article said: "Women complain (rightly) of centuries of exploitation. Yet, to an economist, women are not exploited enough: they are the world's most under-utilised resource."
Economic evidence isn't enough
And yet, the economic evidence is not moving the political mountains in the way it should. Leaders still want to build roads and bridges rather than invest in their human, female, capital. And so while governance scholars like me opine over the recent shifting of the weight of global wealth to the emerging economies for the first time, another monumental change has gone unremarked.
Women's labour force participation (ages 15–64) worldwide over the last two decades has stagnated, declining from 57 to 55% globally. That is right. The rates of women entering the world of paid work declined for the first time since World War II. Partly this is due to austerity measures hitting the public sector jobs held by women.
Jim Yong Kim, President of The World Bank Group states:
"Globally, fewer than half of women have jobs, compared with almost four-fifths of men. Girls and women still learn less, earn less, and have far fewer assets and opportunities. They farm smaller plots, work in less profitable sectors, and face discriminatory laws and norms that constrain their time and choices, as well as their ability to own or inherit property, open a bank account, or take out a loan…"
But women don't want to take on the double burden of precarious paid work while remaining responsible for the unpaid care economy. G20 member states should take active steps towards more comprehensive measurement of economic activity. Unpaid care work and participation in the informal economy should be valued and included in the national accounts.
Since the promising language on "women's full economic and social participation" in the Los Cabos Declaration, progress on women's economic empowerment in the G20 agenda has been too slow and too peripheral. That's why the G20, for all its talk of sustainable, balanced and inclusive economic growth, must put gender on the agenda – particularly as the "premier" forum for economic cooperation across the globe. Sustainable growth is not possible when the economic potential of half the world is ignored.
The status of women in G20 countries varies greatly, from Canada and Germany as star performers, through to Saudi Arabia.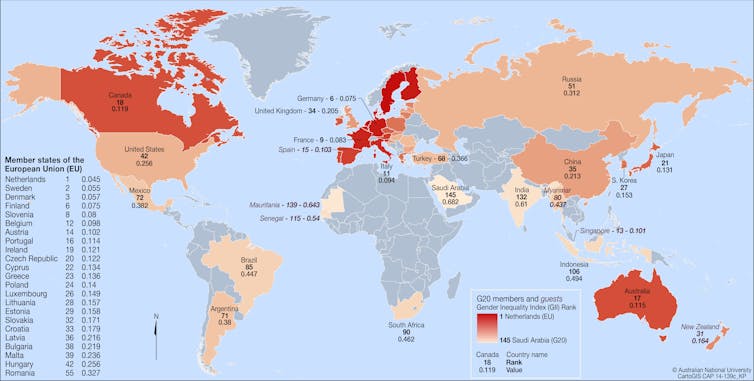 But momentum is growing among the members of the G20 for action. The G20 Labour and Employment Ministers meeting recommended G20 leaders adopt the goal of a reduction in the gender participation gap by 25% by 2025. A communique from the meeting entreats the G20 Leaders to adopt this goal and urges each G20 member to outline their strategies to achieve the target.
G20 members should also consider adopting the OECD Gender Recommendations which include a comprehensive set of policy principles, as put forward in the ILO-IMF-OECD-WBG report. This proposal also appears to be gaining momentum.
A new five-year Financial Inclusion Action Plan will also guide and promote the uptake of policies or services which encourage women's economic empowerment.
Action begins at home
But G20 members must also promote more diversity of representation in all G20 processes with a target of at least 30% female representation across all delegations (including working groups and engagement groups). This is particularly important for the finance ministers and central bank governors track.
To deliver greater accountability on this front, Sherpas should meet with Ministers for Women - or equivalent Ministers - to develop country-specific objectives. This should include a targeted peer-review system with appropriate metrics and benchmarks in order to improve accountability of progress on gender-inclusive growth.