The Grenfell Tower fire inquiry has received more than 500 requests from individuals and organisations seeking "core participant" status. This would allow them advance knowledge of some evidence, and the opportunity to make statements during certain hearings. The number of requests is thought to be the highest ever for a public inquiry in the UK.
The importance of this inquiry for residents and families is clear – although many have reservations about its ability to examine the issues thoroughly and independently. Its chair, Sir Martin Moore-Bick, has already admitted feeling "doubtful" that the inquiry would be as wide ranging as residents hope. So how optimistic should people be?
Usually chaired by a prominent judge or lord, a public inquiry accepts evidence and conducts hearings in a more public forum than typical government workings. It is often seen as a form of discourse with authorities that engages local communities – an opportunity for the powerless to hold the powerful to account.
For authorities, holding public inquiries can suggest that ministers share public concerns, and depoliticise issues by removing them from the political arena. While independent from the government, they are largely under its control in terms of members, remit, and the publishing of their reports. Proposals for new systems of press control by the Leveson Inquiry, for example, have largely petered out, and the second part of it has been quietly dropped.
Many residents demanded a Grenfell inquest rather than inquiry. They hoped to avoid a "whitewash" by setting up an investigation "truly independent from government", in the words of one online petition signed by almost 50,000 people. Criminologist Phil Scraton, drawing comparisons with inquiries into the Hillsborough disaster, suggested inquest juries are now seen as being able to reach "a verdict independent of government influence" in a way public inquiries are not.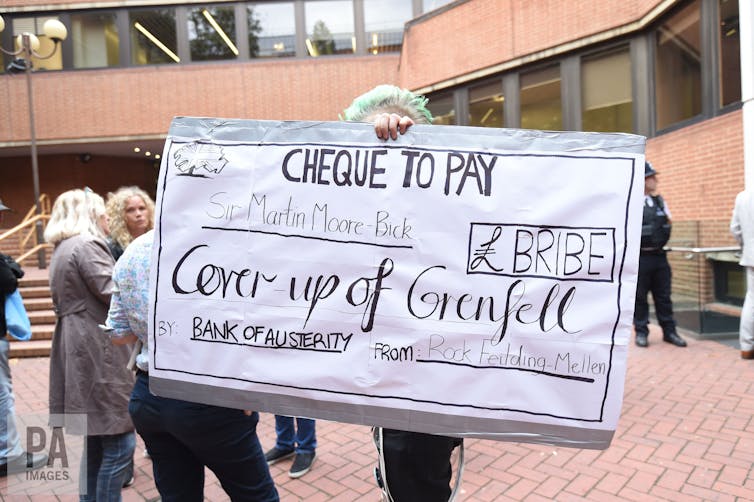 Such mixed feelings about the value of public inquiries are not new. They certainly appeared after the riots that spread around England in 1980-1981, which can be broadly characterised as anti-police disorders largely involving members of Britain's black community.
Disturbances in Bristol, Brixton, Liverpool, Manchester and beyond led Margaret Thatcher's government to set up a public inquiry. Lord Leslie Scarman chaired a "local inquiry" into the Brixton disorders, which had a greater focus on policing than on the broader social, political, and economic issues.
Metropolitan Police Commissioner Sir David McNee was one person who criticised this focus. He believed it was an effort to protect the government during the first turbulent years of Thatcherite policies – at the police's expense. This was an unsurprising view from the head of the police. Nonetheless, governmental decisions on the remit of public inquiries have certainly had an influence on their outcomes, even if they remain apparently independent.
Outsiders and insiders
In 2017, Sir Martin Moore-Bick's appointment was questioned due to his unfamiliarity with the lives of Grenfell residents. Kensington MP Emma Dent Coad believed Moore-Bick lacked "credibility" with victims who needed "somebody we can trust".
Similar attitudes were obvious in 1981. Representatives of local black communities criticised government inquiries appointing "some bloody grandee, who has no understanding whatsoever and has no reason to understand". As in 2017, a main concern appeared to be: "If somebody comes in from outside, do they understand the issues in the first place?"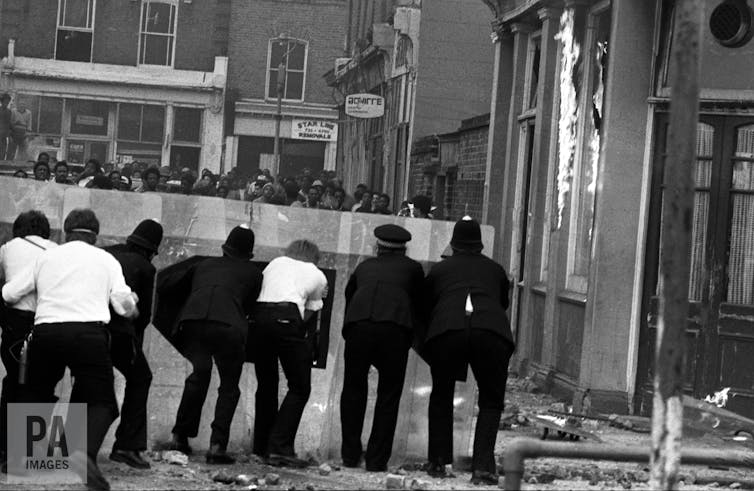 Scarman's 1981 inquiry was only set up after the Brixton disturbances that April. Widespread calls for a public inquiry into disorder in the St Pauls area of Bristol one year earlier had been rejected. Home Secretary Willie Whitelaw believed the police would be criticised "to no good purpose", showing the government's level of control over public inquiries.
Despite many appeals, demands for a public inquiry in Bristol were far from universal. While some argued that nothing else would help, other black Bristolians believed it would be a "whitewash" that would simply clear the police and white authorities of any wrongdoings.
Certainly, many complaints of police misconduct during the disorders were not addressed by Scarman. Also his inquiry's limited policy proposals were not fully carried out by Thatcher's government, who refused to admit links between their policies and the disorders. This led observers such as The Guardian to criticise the government's response and accuse Scarman's public inquiry of failing to "grasp various crucial nettles".
The residents and families of Grenfell need and deserve more than just a diversionary mechanism. The proposed "Hillsborough Law", which would make it illegal for those in public service to give misleading information, would ensure that the public bodies involved had to fully cooperate with the inquiry. While not resolving all the concerns about the Grenfell inquiry, it would be a good start.
Some observers have commented in recent years that, in an age of increasing public mistrust of politicians and governments, the relative credibility generally retained by public inquiries is remarkable. But concerns, past and present, over their ability to hold authorities to account suggests that their seemingly illustrious position in British society has never been universal.