Virgin Care recently won a £700m contract to run adult social care for a council in the west of England. The seven-year deal will see the company take over three important areas of council provision: adult social care, children's community healthcare, and continuing healthcare, provided to those leaving hospital which is funded by the NHS.
The services that Virgin Care will run are currently run by Sirona Care, a "not-for-profit" organisation that was created out of the council's social services department in 2011. There are other examples of this private spin-out model, whereby local authorities contract out statutory services to the non-profit sector. For example, Salford adult social care services moved to this approach in 2015 to try to minimise the impact of austerity cuts on services. The significance of the Virgin Care move is that it will be the first time that these services will be run by a commercial organisation seeking to make a profit.
The moves have been opposed by anti-privatisation campaigners who see it as part of broader moves to privatise healthcare. Unions also argue that the pay and conditions of staff will be driven downwards as the focus moves towards the bottom line.
Trends and tendencies
A recent report from the Care Quality Commission, which registers and inspects social care providers, highlighted a number of demographic and policy trends that make adult social care provision one of the most important domestic issues that governments will face over the next ten to 20 years.
The first is that we are living longer. This is clearly a positive thing, and although there is a danger of falling into the stereotypical view that all older people need care and support, there is clearly a need to rethink the ways in which health and social care are delivered.
Figures from the Office of National Statistics show that the fastest population increases are happening in the over 85 age group. And it is predicted that by 2035 those over the age of 65 years will account for nearly a quarter of the population.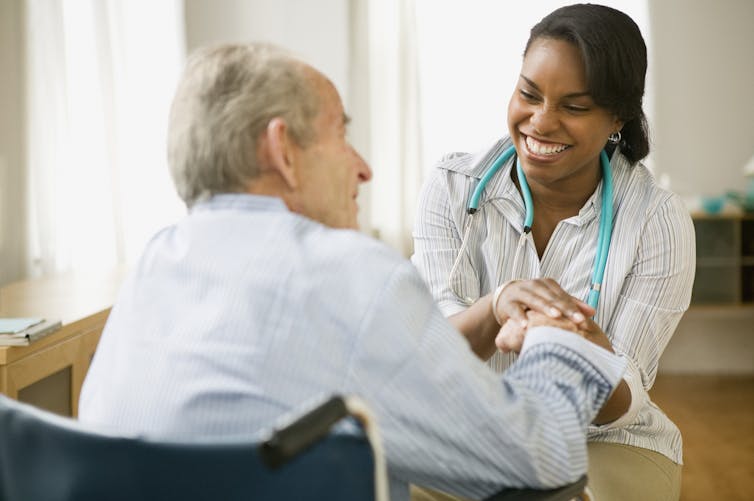 Unfortunately, these pressures are combined with significant cuts in resources. As the CQC report indicated, 81% of local authorities have cut adult social care funding over the past five years. One impact of this has been a slow down in the number of nursing home beds being provided.
In addition, private care home providers are pulling out of local authority contracts because of the low levels of funding, including the biggest not-for-profit provider, Housing and Care 21. The result is an inevitable increase in the pressure on hospital A&E departments. CQC chief executive, David Behan, said he thought that people who weren't getting access to adult social care were turning to emergency departments. "Emergency admissions of older people are increasing, and the number of delayed bed days in hospital is increasing," he explained.
The response to this issue is often presented in ageist terms – and terms such as "bed-blocker" or "bed-blocking" are used, despite this being offensive, depersonalising and showing an underlying lack of dignity and respect.
So there is an urgent need to tackle care issues – but are private for-profit companies the way to go?
Organisational challenges
There are a number of concerns that the Virgin Care deal raises. It is assumed that staff will transfer from their current posts to work for Virgin Care. This is a huge assumption as the terms, conditions and working environment will likely be significantly different. Similar changes in the probation service have led to plummeting staff morale amid organisational chaos. Even the smoothest organisational change is bound to lead to some disruption.
One of the major claims made about these sorts of new commissioning arrangements is that the private sector will bring a new, much more customer-focused approach to the delivery of services. This wrongly assumes that current services do not.
The legal and policy framework in this area has become more and more complex. Virgin Care have been around for ten years and have a track record in delivering health services, including running children's services in parts of Devon, Surrey and Wiltshire. We will have to see how well they are able to oversee major legislation such as the Care Act, the Mental Capacity Act and other adult safeguarding procedures that are designed to ensure that vulnerable people have a real say in decisions about their care and are protected from abuse and exploitation.
There is clearly also the potential for significant ethical issues to arise for individual social work practitioners if they are asked to balance commercial imperatives which might well conflict with meeting the care needs of vulnerable people. Questions could also be raised about how the commercialisation of social care fits with the ethics and values of the social work profession.
This experiment will be watched with interest across the health and social care sectors, with a focus on the pay and conditions of staff, and the levels and quality of care being provided to vulnerable people. The ultimate question will be whether an organisation concerned with profit making can focus on meeting the needs of vulnerable people. Or whether applying a business model to social care is ethically sound.