Sergio Marchionne, Fiat Chrysler's former CEO, was renowned in the car industry for succeeding in adverse circumstances. After his sudden death, he leaves large shoes to fill at one of Italy's biggest businesses. Marchionne was instrumental in building the company, as well as leading it with huge amounts of energy and vision.
In June 2009, Marchionne, then Fiat CEO, entered Chrysler's headquarters in Auburn Hills, Michigan. America's third largest car manufacturer had just declared itself bankrupt and was in dire straits. Marchionne engineered a takeover and oversaw Chrysler's turnaround. January 2011 saw it launch 16 new products at the Detroit Auto Show, presenting a new and revived Chrysler to the marketplace.
Marchionne then oversaw Chrysler's merger with Fiat in 2014 to create FCA Automobiles. This, along with a number of spinoffs, brought an ailing conglomerate back to profitability. By 2017 the new company's net profit amounted to €3.5 billion, from €111 billion in revenues.
The roots of Marchionne's success were his leadership style and the bond he had with FCA chairman, John Elkann, who is also chairman and CEO of FCA's holding company, Exor.
Leadership style
A pressure cooker best explains the essence of Marchionne's leadership style. And, while many focus on his charisma, he was also skilled in unlocking his top management team's potential, enabling the company to overcome particularly complex situations and achieve its ambitious targets.
Managers were given a great deal of freedom when it came to achieving results – so long as they delivered them. And if any issue arose, Marchionne would be available 24/7 for help and decision making. This was especially demanding for the leader of such a big global company.
As Marchionne once said in a private conversation to one of us:
I live in planes; I don't have a home. In one year, I spend the equivalent of 169 days flying. I wear a black sweater because it is simpler … I need as much simplicity I can in the complex life I live.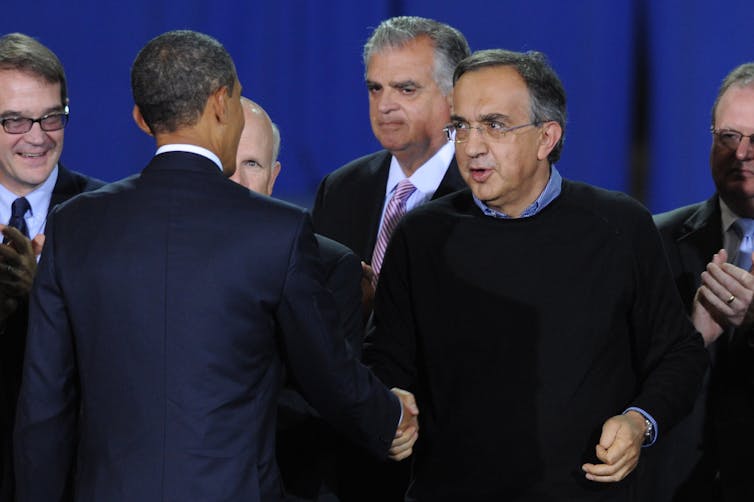 As a result, the business management system was always switched on and connected, it never stopped. Managers in the system could not stop to wait for some inputs, decisions were always there to be made. There were no progress reviews for managers, they simply had to achieve the results.
Marchionne instituted a committee system of regular manager meetings to discuss how the business was doing. These meetings would last one or two days and were typically held on the weekend once or twice a month, with Marchionne always present. The intervals between them would be dedicated to operations, but the meetings themselves were deadlines that served as an opportunity for Marchionne to hone the organisation's rhythm and establish the tempo that motivated people to achieve the company's goals.
Working with the family
Marchionne joined Fiat at the behest of its owners, the Agnelli family. For generations, it had been a family-run business and it was crucial that Marchionne was successful at working with the family, particularly its new head, Elkann.
As research clearly shows, when it comes to family businesses, the family's goals and the business' goals do not always go hand-in-hand. But Marchionne worked hard to ensure that these goals converged. As he once put it: "Don't do anything specifically for the family and don't do anything without them."
Marchionne also had a lot of support from the Agnelli family. The family backed having a professional CEO and both the family goals and the business' goals were clearly communicated and discussed. This laid the foundations for the stability and openness of the company's shareholder structure, which lent, for instance, much credibility with the US government over the course of the Fiat-Chrysler merger.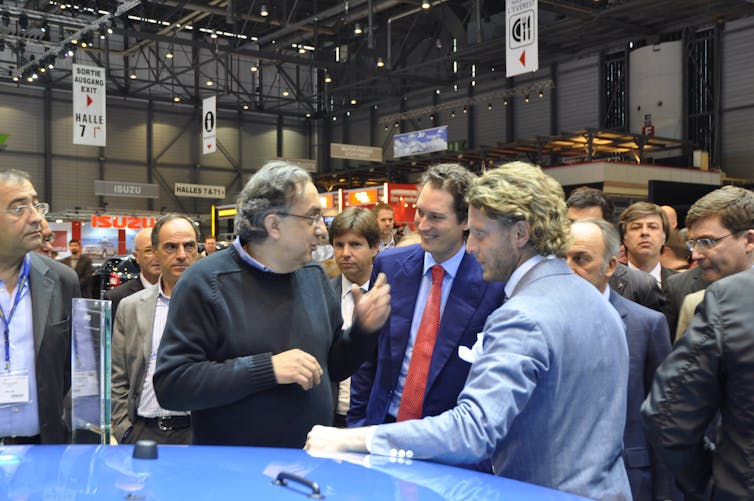 Elkann also worked hard to oversee the family business' succession planning process. This included reassuring the company's stakeholders (including customers, employees, shareholders and suppliers) about its future. Elkann proceeded to act quickly to ensure a continuity of leadership after Marchionne's death.
Mike Manley was the natural choice as successor. His track record at Jeep (part of the FCA group), where he oversaw a successful turnaround of fortunes, made him an obvious candidate. He will likely adopt a similar leadership style and organisational structure to Marchionne, and is already experienced at managing FCA business across continents, spending a lot of time on a plane like his predecessor.
The most important challenge for Manley will be to develop the organisation, while protecting its traditions. To do this, he will have to work hard, in cooperation with the family. And he will have to have political foresight to navigate various governments and regulators – not least the challenge that an escalating trade war between the US, China and potentially others could bring. He will also need to build partnerships with the tech giants like Google and Amazon if we wants to successfully lead a global company in an industry in technological transition.
Manley will long be compared to his predecessor, as Marchionne clearly set a new leadership standard for the car industry and future family business CEOs, restoring the reputation of family businesses in financial markets and instilling a high degree of confidence that goes beyond the day-by-day "car guy" merits that Manley clearly already has.
As our research into the strategies of long-lasting family businesses illustrates, continuity and change should not be seen as conflicting. Innovation through tradition will be the most important challenge for the next CEO of FCA, as it is for the future of all global family businesses.