Sexual expression is a fundamental part of being human, with most of us able to choose our sexual partners and, to varying degrees, meet our intimacy needs and desires. While not all people with disabilities will have sexual issues or concerns, some need assistance and support to express their sexuality in satisfying ways.
This issue was brought to the fore recently in the Oscar-nominated film The Sessions, which tells the story of a severely disabled poet who enlists the services of a "sex surrogate" so he can lose his virginity and learn about sexual intimacy. His "sessions" are awkward at first but they enable him to overcome his fear of sex and move on to other intimate relationships.
Closer to home, submissions to the parliamentary inquiry into draft legislation for the National Disability Insurance Scheme (NDIS) have called for sexual assistance to be included in the list of services offered to Australian with a disability. The draft rules on NDIS eligibility and the recently revised bill are silent on the issue. But the Commonwealth Department of Community Services has not ruled it out.
So why should taxpayer funds be used to pay for the services of sex workers for people with disabilities?
As a sex therapist and academic researcher in the field of sexuality and disability, I often see couples with a disabled partner struggling to resume sex and intimacy without professional guidance. Some struggle with body image; while others are unsure of their sexual capabilities. By not having access to a sexual outlet, I see clients losing their self confidence, sexual self-esteem, temper control and certainty about their sexual identity.
The NDIS could primarily cover two types of sexual services:
Professional sex therapy, to provide sex education and guidance to couples and individuals with a disability. Such therapy would focus on how to enjoy or resume sexual and intimate activities after an injury or as the client's disease progresses.

Sexual services, for those who don't have potential partners or physical and/or the intellectual ability for sexual expression. This should be seen as a legitimate option.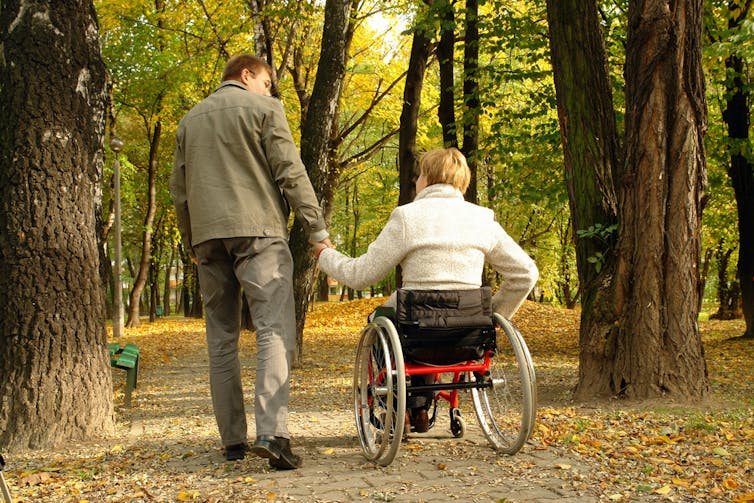 Decades of research have uncovered the many benefits of sex, which include physical health, quality of life, psychological well-being and sexual self-esteem. Unfortunately, because of social taboos and hypocrisy surrounding the topic of sexuality, barriers are created to stop people from fully realising these benefits.
We also know that disability will not dampen one's sexual and intimacy needs. Most of us, whether disabled or not, have a basic need to be loved and intimate, as well as express love and affection.
People who have a physical or intellectual disability, whether from birth or through accident or disease later in life, might find it difficult to express their sexuality in satisfying ways. Their sexual function or feeling might be limited. And they may be uncertain about how to negotiate relationships and express their sexuality due to lack of knowledge or physical or cognitive limitations.
Some people with disabilities have limited opportunities for sexual relationships because they lack privacy and are dependent on others for daily living tasks. They may be well cared for, but a lack of access to sexual release means their quality of life is diminished.
Among the Scandinavian countries that have adopted the Nordic Model of laws that are aimed at enhancing individual autonomy and ensuring the universal provision of basic human rights, disabled persons are able to access government-funded sex therapy as part of their rehabilitation and community living re-integration programs. In Denmark, for example, public funds can be used for a disabled person to access a sex worker at least once a month.
Similarly, disabled Australians should be entitled to assistance for everyday tasks, whether that means going to the shops to buy some bread, visiting friends, or hiring a sex worker to satisfy their needs. It should be up to their own discretion to choose how to use their allocated services.
One may argue that we can't reduce sex to primary biological needs. Yes, it's true not every disabled person has to have a sexual partner. But if we strive for equality as a human race, equal access and availability should be our goal.
Including access to professional sex therapy or sex worker services in the NDIS would not necessarily increase the costs. Government funding which might already be allocated for rehabilitation services or mental health services could legitimately be spent on sex services if preferred by the disabled clients.
Including the access to sex therapy or sex services for disabled people in the NDIS is an important milestone in recognising the intimacy needs of people with a disability and giving individuals greater autonomy to fulfil these needs and desires. We're still in the NDIS planning stage, so now is the time to make this a reality.