A forthcoming by-election in the Cumbrian constituency of Copeland is shaping up to become a key test for the Labour Party's electoral prospects under the leadership of Jeremy Corbyn.
The vote was triggered by the resignation of incumbent MP Jamie Reed, who decided to take a job at the nearby Sellafield nuclear plant.
Copeland is a parliamentary constituency in Western Cumbria, centred around the industrial town of Whitehaven. It has been held by the Labour Party continuously since 1935 – although never by huge margins. In the 2015 general election, Reed held the seat for Labour by just over 2,500 votes. In that vote, the seat registered a 1.2% swing to the second-placed Conservatives. Traditionally, Copeland's rural and more Conservative-inclined hinterland has been outvoted by the Labour-leaning urban parts of the constituency, which were at one time linked to the mining industry.
While by-elections are often used as protest votes against governments and have lower than usual turnouts, this parliamentary contest has a whole number of potentially significant ramifications for British politics.
In normal circumstances, the major opposition party would feel confident in defending one of its own seats at this stage of a parliamentary cycle. It would have reason to feel particularly confident at a time when the Conservative government is side-tracked by its major difficulties with Brexit and a brewing NHS crisis with specific local implications.
But these are not usual circumstances. Corbyn's controversial and divisive leadership of his party since September 2015 has seen Labour's opinion poll ratings struggle to improve. The Conservatives have led in the polls by double-digit figures for much of this period.
That raises questions about whether Labour can hold a seat as marginal as Copeland. If the polls are correct (and many Corbynistas doubt they are), then Labour is heading for defeat. Losing such an established Labour-held seat will almost certainly re-ignite the debate about Corbyn's leadership and its effectiveness.
Nuclear issues
On the ground, some Labour activists have acknowledged the potential unpopularity of Corbyn in this part of the world. For one thing, he could be perceived as a London-based politician without links to this peripheral region. But another big issue could be his avowed opposition to nuclear weapons.
Although Labour's official position is to support the renewal of the controversial Trident nuclear submarine programme, Corbyn's personal opposition will not be that popular in a constituency where the nuclear industry is a major employer.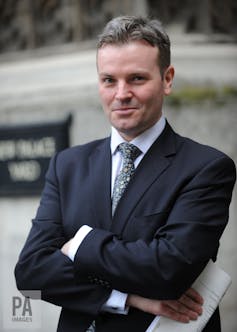 There have also been claims that the local party will distance itself from the leader on such issues during the campaign and may even choose a candidate who supports the national party's broadly pro-nuclear position.
As a positive for Labour, its inflated membership means a large number of party footsoldiers will be available to work on the ground. A date has not yet been set for the by-election but a campaign operation has been in place since late 2016, so Labour is starting from a position of relative strength over its rivals. However, the other parties will certainly seek to make an issue of Labour's muddled message on the nuclear industry. Yet, how much of a factor this issue will be "on the doorstep" remains to be seen.
What is clear is that both the Conservatives and indeed UKIP will fancy their chances of making inroads in Copeland. Theresa May's governing party started the contest as the bookies' favourite and requires a swing of just over 3% to gain the seat. Such a result would provide a major boost for May, offering a much needed counterbalance to the difficult EU-related matters looming on the horizon.
UKIP finished a distant third in Copeland at the 2015 election, with just over 15% of the vote, but this is a relatively firm base from which to build. What's more, the Copeland area voted strongly for Brexit at the June referendum.
Party at a crossroads
Copeland therefore encapsulates the problem facing Labour in several its northern working-class seats. The party's cosmopolitan, pro-EU stance is at odds with many of its traditional voters in predominantly white, working-class locations like these.
This could offer a rich seam of working-class votes for UKIP. And while a UKIP victory is a long-shot from third place, the party could still play a key role in shaping the by-election's outcome. Even a relatively small Labour-to-UKIP swing could open the door for the Conservatives. A fragmentation of Labour's core vote provides the perfect opportunity for a Conservative victory.
The absolute nightmare scenario for Labour is that it could even slip to third place in Copeland. If that were to happen, Corbyn's position would be subjected to major scrutiny and further turbulence would await the Labour Party as 2017 progresses.
Labour's failure to win this by-election would not only defy the usual patterns of UK politics, but would also play a large part in deciding the party's future direction – as well as the evolution of the UK's increasingly multi-party political system.