Severe mental illness is on the rise in the UK, and an increasing number of people with mental illness are behind bars and supported by inadequate mental health services. This is a situation that could be improved by the introduction of courts specifically geared for hearing cases involving defendants with mental health issues.
In England, there are more than 31,000 people with mental health problems in prison. In one sample of prisons in England and Wales, more than one-third reported significant symptoms of anxiety or depression and 10% were identified as having a psychotic disorder.
The neglect and mistreatment of defendants with mental health issues raises human rights concerns.
The prevalence rate of defendants with serious mental illness coming before UK courts is not well known. As of 2006, one study estimates that slightly more than 1% of defendants appearing at magistrates' courts were identified as having a serious mental illness – and the percentage rose dramatically to almost 7% for those held in custody. The numbers for those falling under the broader "mental disorder" categorisation are undoubtedly higher. The majority of offenders with mental health issues go through the normal sentencing process.
There are some safeguards. The Crown Prosecution Service may discontinue the prosecution in cases of minor offences, especially if there is past evidence of a hospital order. Or if questions of fitness (for the trial process or to plead) are raised, it triggers a psychiatric assessment. This can lead to a hospital order, supervision order or, in rare cases, absolute discharge. If remanded to hospital for treatment, the majority respond to treatment and the trial process continues.
Efforts are increasing to provide more mental health services throughout the court process – but not under a specialist court model.
Mental health courts
Mental health courts, on the other hand, treat defendants with mental illness as a special population. In the US, for example, more than 300 mental health courts have now been established as a part of a broader problem-solving court movement. Drug courts were at the forefront of this trend. Developed in the late 1980s, these specialty jurisdiction courts attempt to get at the underlying problems related to criminal behaviour.
In the UK – especially in England and Wales – problem-solving courts have emerged in many areas, notably drug courts, but not in mental health. According to a recent report, there are no concrete plans to move forward with the introduction of specialist mental health courts, despite two year-long pilot studies in England. Expansion of existing liaison and diversion services are not currently being incorporated into a mental health court model.
Efforts need to be redoubled. I have shown that mental health courts work to reduce reoffending, enhance public safety and improve the well-being of individuals with mental illness. Mental health courts place more emphasis on the therapeutic and are less adversarial than traditional criminal justice.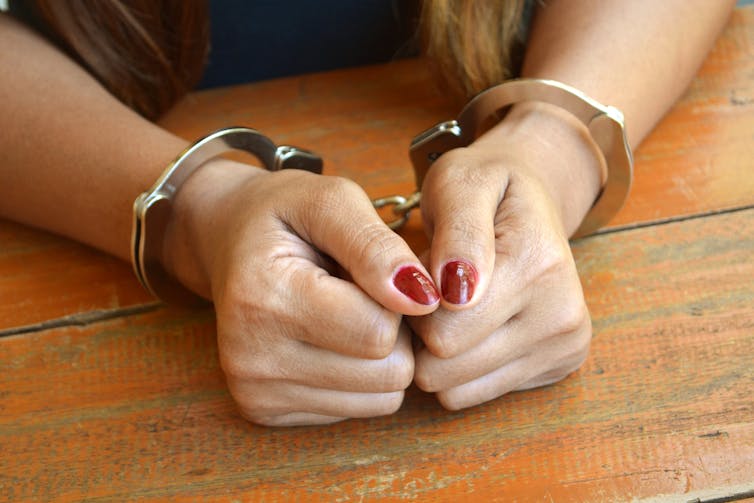 Such courts often have a staff that include both traditional positions (judge, attorney, probation officer) and newer social positions (social worker, neutral court liaison). One judge I interviewed described the court as "a place where it was possible to promote wellness and recovery". Another judge described the shifting thought processes involved: "You are not seeing a criminal who is mentally ill. You are seeing a mentally ill person who is engaging in criminogenic behaviour."
In mental health courts, clients are treated holistically, with individually-tailored plans combining community-based treatment (mental health and in many cases for alcohol or drug addictions), housing and social support. Once a defendant has an eligible diagnosis (such as depression OR schizophrenia) and are perceived as amenable to treatment, clients or participants (as opposed to defendants) must volunteer to participate in a mental health court. Opting-in requires agreeing to a set of conditions for a period (which varies but is typically around two years) with frequent probation and judicial reviews.
In exchange, clients are offered a reduced sentence or dismissal of criminal charges, as well as access to additional resources. When they do not comply with court expectations, "creative" responses are favoured. Jail is seen as a "last resort".
Successes
Along with other studies, my research shows that there is a significant reduction in reoffending rates. In one US mental health court, 47% of clients had not been re-arrested within the two years after court exit. If you only count those people who complete the court programme, the percentage goes up.
The goals of these courts go beyond reducing reoffending rates – they aim to enhance the stability and quality of life of clients. "You should help people be in a better position than they were when they came in" suggested one prosecutor I interviewed.
Of the seven clients I interviewed and observed in court, it was the unique approach that led to (some degree of) success. For Monique, support from the team was critical: "During the time I was on probation, the monitoring of my life and what I was doing was good for me because it kept me on the straight and narrow", she told me. Meanwhile, the court helped Jennifer to "build healthy habits" and Isaiah, another client, to "get the tools he needs". Robert credited his success in court and in turning his life around to the supportive housing he gained through the court – after being homeless and suffering from alcoholism – along with his probation officer, who "saw some hope in me". Shima highlighted the supportive team and transformative power of mental health courts: "It made me believe that I don't need to get in trouble no more. I am fresh now".
Mental health courts can reduce stigma and lead to a renewed identity.
Now is an ideal time to consider the UK's criminal justice policy concerning defendants with mental illness: attitudes towards mental illness are becoming more tolerant, opening up the way for public support for mental health courts.
Meanwhile, the policy of austerity in Europe, and the UK is associated with weakening (mental) health apparatuses and less generous welfare benefits and available social services. This is not to mention that people with severe mental illness often suffer from other risk factors – homelessness and substance abuse – which mental health courts are better equipped to address that traditional courts.
While mental health courts can improve the lives of clients, they do not work for all clients. Importantly, they cannot ameliorate the problems in the criminal justice system or the welfare state. Solutions to managing mental illness largely occur outside the criminal justice system. But efforts within the criminal justice system, such as the mental health court, can alleviate some problems and represent an important step forward.