The recent wave of industrial action affecting sectors including the railways, airlines, postal workers and delivery drivers has sparked debate about the prospect of a new "winter of discontent" for the 21st century.
This term, although Shakespearean in its origins, is used to refer back to the period when large-scale strikes organised by Britain's leading trade unions brought Britain to a virtual standstill during the winter of 1978-79. These events ultimately heralded the end of James Callaghan's beleaguered Labour government in 1979, with Callaghan and his ministers blamed by many voters for this turbulent state of affairs.
While the current industrial unrest has some echoes of this earlier period, it provides fresh challenges for both major UK political parties. For the governing Conservatives, it offers a renewed opportunity to take a tough line against "disruptive" trade unions, spurred on by pressure from some elements of public opinion.
However, for the Labour Party it potentially opens up further splits within its already fractured ranks. While the leadership advocates general solidarity with striking trade unionists, pragmatic moderates see political danger in this unwavering approach.
Back to the 1970s?
For much of the 1970s, co-operation with trade unions was seen as a vital means of ensuring effective government. Even the 1970-74 Conservative government of Edward Heath sought to engage with trade unions, despite the mutual suspicion and distrust between his party and the more left-wing unions.
Heath was right to tread carefully. His government became engaged in a high-stakes political battle with the powerful National Union of Mineworkers in the winter of 1973-74 over pay and conditions. This episode culminated in the so-called "three day week" in early 1974 and Heath's decision to call an election in February 1974 on the issue of "who governs Britain". Unfortunately for Heath, the result indicated that voters didn't believe it was him, and his subsequent replacement by a minority Labour government marked a powerful moment for trade union power in Britain.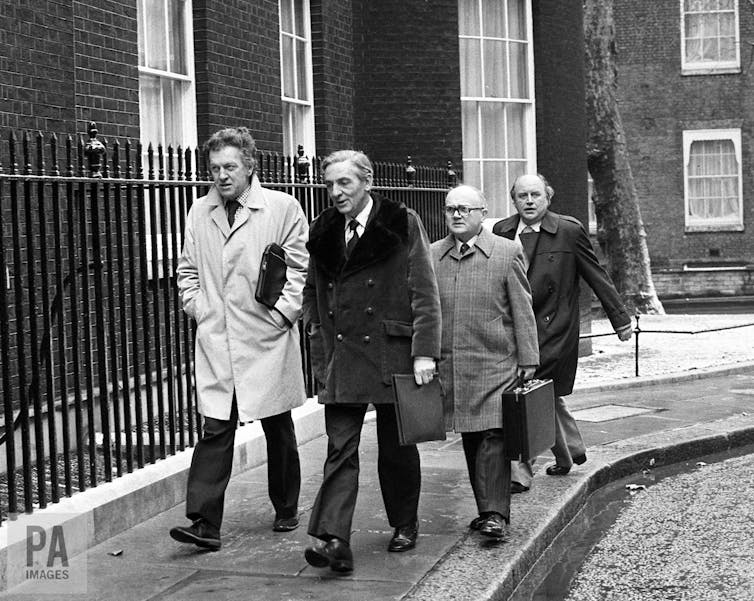 The role of trade unions within the higher echelons of power during the 1960s and 70s has been described as "corporatist" in nature, with many unions and their prominent leaders effectively becoming part of the government in all but name. Trade union titans like Jack Jones, Hugh Scanlon and Len Murray had a close relationship with Labour prime minister Harold Wilson in these decades, leading to observations about the cosy "beer and sandwiches" relationship between union leaders and politicians inside Number 10.
Labour's union problem
This perceived cosiness with trade unions ultimately became a negative image that damaged Labour following the sustained industrial action of that "winter of discontent" in 1978-79. It was subsequently used as a metaphorical stick with which to beat Labour during its attempts to regain power throughout the 1980s and 90s.
Margaret Thatcher passed a raft of legislation to restrict trade union powers and to make strike action more difficult, and the positions of unions were further weakened by her programme of privatising key industries because it reduced the size and influence of public sector unions. The icing on the cake for the Thatcher government was the symbolic and significant victory when her government emerged triumphant from the high-profile miner's strike in 1984-85.
Many Conservatives viewed this as revenge for the downfall of Heath's government at the hands of trade unions a decade earlier, and it had long-term ramifications for the balance of power between government and trade unions, as well as for British politics and society in general.
This high-voltage history has some major implications for today's politicians when dealing with the current trade union unrest. Within the governing Conservative Party, there have been renewed calls to adopt a tough Thatcherite line on strike action, with calls for further limitations on union powers, specifically due to commuter misery on the railways.
However, prime minister Theresa May does not appear keen on such a confrontational approach and has instead called for compromise between the train companies and the rail unions, whose strike actions have been triggered by proposed staffing reductions on the roll-out of a modernised fleets of trains.
Yet on a tactical level, May has been quick to highlight the Labour Party's financial and institutional links with the powerful rail unions such as ASLEF and the RMT. This is designed to stoke negative public opinion that Labour has some responsibility for such union-led action.
For Labour, its more explicitly left-wing leadership under Jeremy Corbyn has been more vocal in supporting recent trade union strike action – in contrast to the caution of previous party leaders such as Ed Miliband and Tony Blair. But this has opened up further internal party divisions, with some Labour politicians welcoming a revival of trade union power and others warning of further dangers to the party's reputation if it again appears to be perceived by mainstream votes as being responsible for such industrial turmoil.
Given the anti-trade union legislation that has been in place since the 1980s, there is little chance of the scale of industrial unrest of the 1970s being repeated in the winter of 2016-17. The 170,000 days lost to strike action in 2015 was the second lowest figure on record.
Yet, beneath what is supposed to be a growing and successful UK economy, there appear to be tensions among many unsettled workers facing an uncertain future both due to globalisation and events such as Brexit.
Corbyn's leadership has broadly supported the collective "strike" powers of trade unions, in line with Labour's ideological traditions. As a cherished civil liberty, such powers can be used as a potential weapon against government and employers, albeit not on the same scale of the past. Yet given the volatile and often hostile nature of public opinion towards strike activity, it is a risky position to adopt.