The Netflix show 13 Reasons Why has stirred debate recently, with growing numbers of calls to counselling services from those alarmed the show's graphic depiction of suicide could be harmful to vulnerable teenagers.
Some have complained about the simplistic, cause-and-effect portrayal of suicide. Others have chosen to see it as an educational tool and conversation starter.
Certainly, there are concerns, including the graphic suicide scene in the last episode. But, overall, the story of high school student Hannah who took her own life and left 13 tapes explaining why, raises many realistic and relevant topics for adolescents.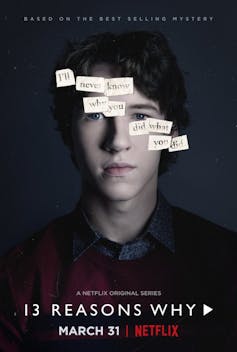 It shows compounding associations between mental health issues and a range of behaviours documented to impact a young person's mental health. These include social exclusion, rumour and innuendo, bullying, regrettable sexual behaviours, alcohol and other drug use, drink driving and sexual assault.
The storyline plays out a tangled web of everyday life: peer relationships, friendships, sexual identity, family dynamics, social media and, importantly, the school environment.
Friends' reactions to Hannah's suicide and their response to her depiction of their behaviour also provide the opportunity to discuss how different people relate with and react to each other.
Issues with the show
Certainly the media should be careful when portraying suicide. Research shows depicting the means of suicide and/or glorifying the act can in some instances result in suicide spikes. However, researchers also suggest there are usually complex underlying issues associated with copycat suicides (when one person from a community suicides after someone else has).
The association between media exposure and subsequent suicide is not a simple one, while evidence for the impact of fictionalised depictions of suicide isn't as robust as when it comes to real-life portrayals.
In Australia, the media follow guidelines such as those produced by Mindframe. These recognise the importance of raising awareness of suicide and suicidal behaviours, but caution against depicting the method.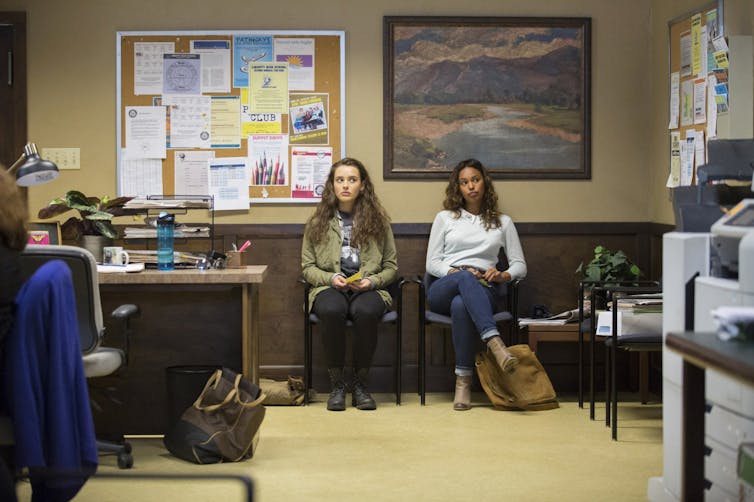 Australian fictional television programs and movies that portray suicide and other mental health issues provide information for where to go for help at the end of each program.
Although Netflix provided such information on its website and a supplementary episode describing the issues raised and options for help, helpline details were not given after each episode.
Raising awareness is important
Raising awareness and talking about mental health issues is important and young people are certainly talking about 13 Reasons Why. But talking isn't everything. Health and education professionals, as well as parents, need the skills to respond appropriately to these conversations.
Given the show's focus on the school, it is important school staff – especially health service staff and teachers – feel confident discussing mental health problems and influences. This does not mean teachers should become counsellors; rather, teachers need resources and support to enable meaningful discussions about issues with older teenagers as appropriate.
While some may feel confident discussing such issues, studies have found there are a range of topics, such as a relationships, gender identity, bullying and mental health, that can be challenging and for which many teachers have little or no professional development.
The national secondary curriculum already includes options to discuss literature reflecting many of these issues. The Australian and Western Australian Health and Physical Education Curriculum provides a specific focus on mental health and relationships issues.
Seeking help
School staff also need accessible services to refer students to if necessary. Access to school nurses, psychologists and pastoral care professionals varies considerably across schools. Access to community mental health services also varies. In some areas there may specific services that meet the needs of LGBTI or culturally or linguistically diverse young people.
While accessing help for mental health problems is recognised as a protective factor, it is not always easy to do so. Stigmatising attitudes towards mental health problems are improving in Australia, but they are still evident.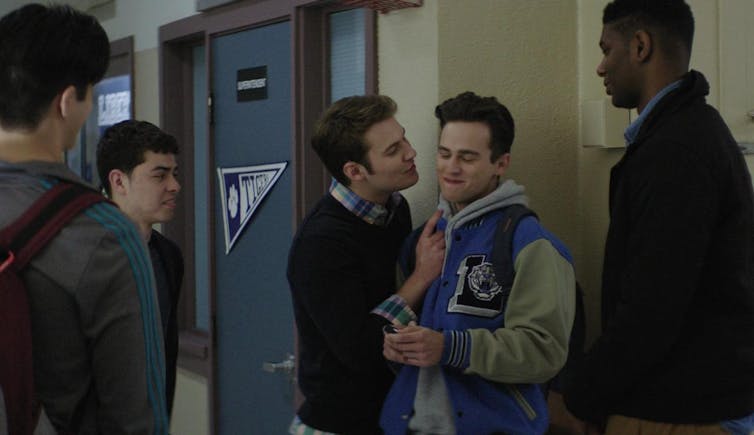 We also know young people are less likely to seek help if they feel negatively about it, which may be influenced by previous experiences. In 13 Reasons Why, Hannah sought help from the school counsellor but her efforts were ignored. Mr Porter could have referred her to a more qualified health professional or taken more time to listen.
Young people may also be hesitant to seek help if they feel they should resolve the issue themselves. And those with suicidal thoughts are less likely to seek help, so there is concern they may feel that programs such as 13 Reasons Why validate their thoughts.
It is important to enhance health literacy so young people are better able to recognise signs of problems and feel confident seeking help. It is also important friends, family and other significant people look out for warning signs and encourage young people who are feeling distressed to seek help.
Such signs may include withdrawal from activities people usually enjoy, changes in sleep or appetite, being unusually moody, angry, stressed or anxious, participation in risky behaviours they would usually avoid, and expressing negative thoughts.
If, as in Hannah's case with the counsellor, the help isn't great, then seek another source. Acting on issues early and preventing problems from developing should be a focus. Similar to 13 Reasons Why, too often interventions are implemented only after a crisis. Prevention programs that consider the complexity of mental health and include strategies that focus on the broader environment and ethos are important.
Should you watch it?
Netflix suggests viewing 13 Reasons Why for young people aged 15 years and over (MA15+) and the New Zealand Classification Office recently rated the program as RP18. Concerned parents can help by watching the program with their teenager and discussing salient issues.
---
If you are feeling distressed or are concerned about a friend, family member or work colleague, call Lifeline 13 11 14 www.lifeline.org.au, Suicide Call Back Service 1300 659 467 www.suicidecallbackservice.org.au or Kids Helpline 1800 55 1800, www.kidshelp.com.au