Women who have a family history of breast cancer can reduce their risk of getting the disease by more than a third if they take a drug called tamoxifen. But our latest study shows widespread reluctance, with only one in seven women choosing to use this preventive therapy.
For our study, published in Clinical Breast Cancer, we collected survey data from over 400 women at 20 different hospitals following an appointment to discuss their breast cancer risk. We asked questions about their attitudes towards medications, generally, as well as specific beliefs about tamoxifen. After three months, more than 250 women completed a second questionnaire that recorded their decision on whether to start using the drug.
Our survey showed that more than half of the women were worried about long-term outcomes and side effects. Almost a third of women thought doctors prescribed too many medicines, while just over a third (35%) believe doctors would prescribe fewer drugs if they had more time. Concerns about the nature of medicines were also common; 23% said they were very sensitive to medicines, 17% believed natural remedies were safer and 13% thought medicines were addictive.
Of course, like all drugs, tamoxifen has side effects. Women using tamoxifen for prevention are more likely to have menopausal symptoms and blood clots. They also have a small but important increased risk of womb cancer. So women who are considering using this preventive medication have to weigh the potential harms against the potential benefits.
We found that beliefs about medication influenced whether women took tamoxifen. We identified an important subgroup of women, accounting for almost two-fifths of the sample, who reported the strongest concerns about medication. Only 6% of women in this group decided to take tamoxifen, compared with 18% of women who were less concerned about medications.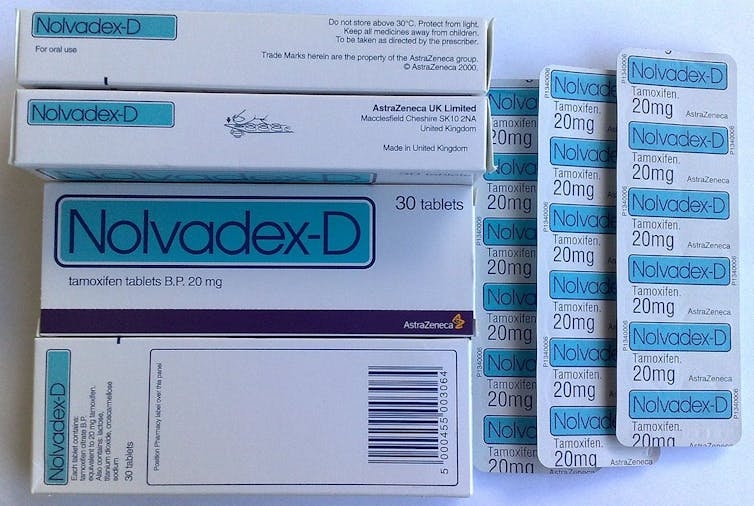 Supporting decisions
It seems clear that the benefits of preventive drug therapy don't outweigh the harms for everyone. For some women, the decision to reject preventive therapy will be an informed one. But some women may be reluctant to take tamoxifen because they don't fully understand its potential benefit. Others may be put off because of misunderstandings about the nature of medicines, such as potential addiction, as well as heightened concerns about side effects.
Healthcare professionals need to be better equipped to address uncertainty and ensure realistic treatment expectations. We previously reported that some healthcare professionals aren't confident in prescribing tamoxifen and feel uncomfortable discussing its harms and benefits. In another study, we showed GPs need more support to help them prescribe the drug appropriately.
The decision to take preventive therapy isn't always easy. Accurate information is needed that describes how tamoxifen can prevent cancer while balancing this against potential side effects. This is especially true for these women who may have seen family members taking these drugs as part of breast cancer treatment.
Decision support tools that help women consider these pros and cons are available. But these are rarely used in clinic and can be difficult to understand. The next step in supporting women who are considering preventive therapy should be to develop simple and accessible information to help them make the best decision for them.