When Belgian artist Wim Delvoye broke onto the international scene back in the 1990s, he was one of those artists (like Sigmar Polke before him) that critics found difficult to pigeonhole. His works ranged from the ornate to the scatological, and were often both. Two decades on, and now in his late-40s, his work is often placed within the tensions of the "sacred" and the "profane".
Delvoye's current exhibition at Galerie Perrotin in Paris continues to play with this apparent contradiction, and in the process, presents commonplace mass-produced objects, such as tyres and luggage bags, manipulated in the most visually astonishing ways.
The room sheet explains:
Wim Delvoye has developed an art that offers a reinterpretation of artworks of the past while laying down a lucid and amused glance at contemporary society.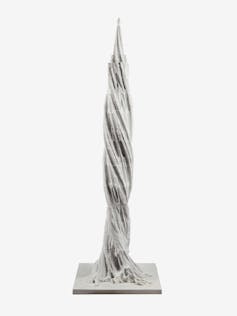 Here, the art historical references are found in religious architecture and artefacts, combining their ornamentation with functional mass-produced objects.
The exhibition is divided into three rooms. The first room contains five hand-embossed aluminium Rimowa suitcases, and three seemingly unrelated works.
Suppo (Karmanyaka), 2012, is a carved two-metre marble model of a twisting and stretched gothic tower. The forms seem computer generated and the hand-carved marble is incredibly intricate.
Double Helix Alternating Current, 2009, is a similarly stretched and twisted form of a chain of crucifixes, including Christ, which resembles a strand of DNA.
Delvoye's Icon (Self-Portrait), 2013, has the artist grinning cheesily while tattooing a pig's backside and raising his middle finger to the camera. His face is truly comical. This photographic print is set against a hand-embossed zinc plate, which echoes the complex ornamentation of the five aluminium suitcases.
Each of the cases carries religious iconography and decorations – a "Baroque gesture", according to the gallery's room sheet; yet, because these are suitcases, these embellishments push them to be read as hand-made luxury goods. One case carries the words "Wim Delvoye", as though consciously acknowledging the "brand" of the artist's name, placing it alongside other top-end luxury brand bags.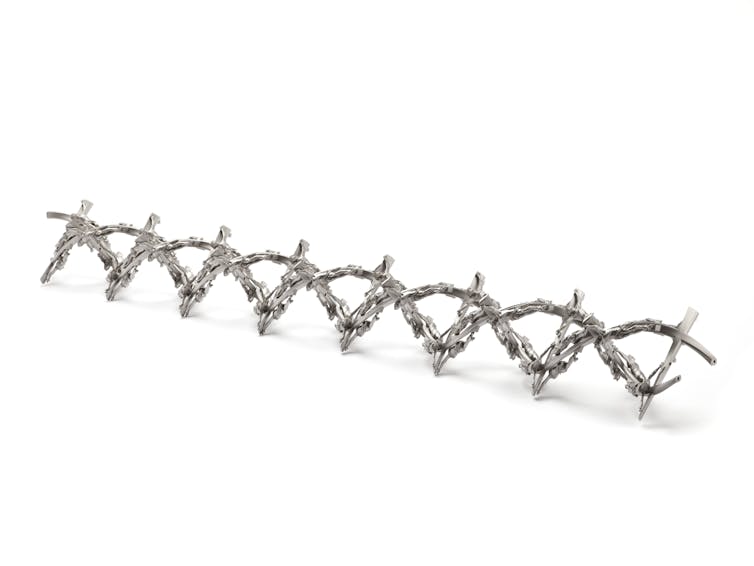 While these hand-embossed aluminium suitcases embellish their functionality with ornamentation, the work in the two remaining rooms de-functionalise car, truck and motorcycle tyres. In one room, Dunlop Geomax motorcycle tyres become twisted Mobius strips on contorted wheels, their splayed chromed spokes evoking Barbara Hepworth's modernist sculptures.
Like the marble Suppo (Karmanyaka) tower, the fabrication of these five knotted tyres is as mint-condition as any mass-produced tyre and wheel on a showroom floor.
This tension between the ordinariness of these materials and their extraordinary hyper-skilled construction is characteristic of Delvoye's work.
The third room delivers the jaw-dropping highpoint of the exhibition. The small darkened room is punctuated by six spot-lit car tyres, three on each side of the room with a large truck tyre placed centrally at the end. Each tyre is hand-carved with a different ornamental design that incorporates the regular functional form and treads of the tyre.
The intricacy of the hand-carved designs plays-off the mass-produced origin of these objects. The acrid smell of the tyres hangs in the air, reinforcing at a sensory level that these are industrial manufactured tyres.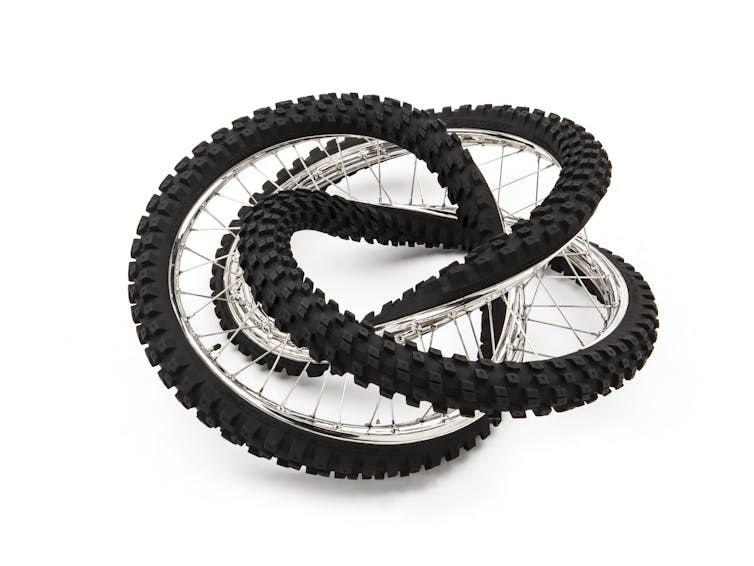 Tyres are seemingly the most endlessly disposable mass produced objects. They are so commonplace that it wouldn't be accurate to say they're iconic of modernity. We barely think about them, until they wear out and need replacing, but modernity literally runs on them. Carved like ancient objects of worship, they present themselves with the audacity of sacred icons; yet they are just tyres.
Since Marcel Duchamp attached a bicycle wheel to a stool in 1913, we have thought of art as providing a context that de-functionalises objects by placing them in a different context – one that's about removing everyday systems of use and exchange value and is instead aims at contemplating ideas, materials and aesthetics. Delvoye's tyres and embossed suitcases (albeit in a different way) "play at" re-functionalising these objects.
The tyres no longer retain their original intended function, yet the suitcases actually remain useful (although it would be a brave or foolish art collector that would actually check these bags in for a flight). Nevertheless, both the cases and tyres also partake in the fiction that they are repurposed as sacred objects.
In their metamorphosis into art objects, their monetary value becomes detached from the use value that once determined their price. They become enmeshed in the nexus of the contemporary art market and draw their value from Delvoye's brand.
Delvoye's performs through his work this tension of the sacred and banal, icon and brand, seemingly conscious of creating bizarre, beautiful and desirable things. These extraordinary objects let us imagine for a moment there could be something more lurking within the absolutely banal.

Wim Delvoye is showing at Galerie Perrotin, Paris, until October 31. Details here.