Sports betting, it seems, is in your face pretty much everywhere these days. Sports fans certainly can't escape its lures – gambling ads are seen anywhere professional sport is played.
In 2013, bookmakers cobbled together a new self-regulatory approach to advertising, agreeing that they wouldn't promote odds during the relevant game. This was in response to a public outcry fuelled by Tom Waterhouse's unremitting ad-driven campaign to make his eponymous online bookmaking operation a shiny takeover target. The government threatened to intervene.
But, since then, the number of ads has increased massively. So, it seems, have the losses.
Sports betting is already a pretty big business and it's growing fast. Poker-machine gambling remains the biggest game in town, by a huge margin – as the bookies themselves point out. The pokies account for A$11 billion of the A$20 billion Australians lose every year on lawful gambling activities.
However, on the basis of trends over the seven years to 2012-13, I estimate that sports betting punters will lose around $750 million in 2015-16. Poker-machine revenue is up too, but nowhere near the 16% sports betting increased on average in real terms (that is, adjusted for inflation) over that period. Last year, poker-machine expenditure in Victoria increased about 1% in real terms, adjusting the 2.7% nominal growth in revenue for inflation.
But just because sports betting is still relatively modest compared to poker machines doesn't mean it's not a big problem. Australia has 20% of the world's poker machines, which explains why we're the world's biggest gamblers. Poker machines are also responsible for around 75% of gambling problems. But, it does appear that increasing harm is associated with interactive gambling in line with the growth in revenue.
The scale of the problem
These gambling problems are concentrated in young men. The proliferation of online and mobile technology to facilitate this type of gambling is almost certainly a major contributor to this burgeoning locus of harm. As per other gambling explosions (poker machines, for example), accessibility is a key determinant of gambling, and subsequently of harm.
Accessibility via the internet is a key element of the sports betting scene, and characterises the nature of both its growth and target market. Added to this is the potential for constant utilisation. Poker machines are dangerous because they're ubiquitous and continuous in operation. Online – and particularly mobile – gambling has the same potential.
Internet-savvy young people with an interest in sport are right in this business's crosshairs. We can anticipate a tsunami of gambling problems from this group over coming years.
The online bookmaking scene has also been shaken up in recent years. Large British bookies such as Ladbrokes and William Hill have swallowed up existing outfits – including Tom Waterhouse's – and begun to carve out significant market share for themselves. They are global giants and will do what they need to do to make their businesses grow.
Significant investments in advertising help to fuel growth in TV broadcast rights, which is no doubt welcomed by (some) sports organisations and TV executives. But, as with cigarette advertising, growth in this business seems to go hand-in-hand with relentless advertising and marketing activity. And the bookies are quite happy to push the boundaries.
Although interactive gambling on outcomes is prohibited in Australia once a game is underway, some bookies have sought to get around this by asking customers to turn on their microphone during a betting session. This creates a voice link akin to a phone call. Since you're allowed to bet in-game by phone, this, the bookmakers argue, is lawful – even though no-one speaks.
A new report, Duds, Mugs and the A-List, published on Monday by Financial Counselling Australia (FCA), highlights some of the other practices that sports betting agencies have been using to get punters hooked and spending. It's pretty serious stuff. ABC's Background Briefing also covered this material last weekend, highlighting the industry's practices in the context of its desire for rapid growth.
The title of FCA's report refers to industry terminology for customers. Duds and mugs are small-time gamblers, afforded modest credit. The A-list and the B-list are self-explanatory – the higher your grade, the more they'll advance you. But no category can protect punters from a merciless debt collection regime.
The bookies need debt collectors because it's perfectly OK under current law for a bookie to offer you unsolicited credit. Because interest isn't charged, this practice is not covered by financial regulation. Nor is it banned by the relevant gambling legislation, the Interactive Gambling Act.
Bookmakers also share data about customers – at odds with privacy legislation – and use this to establish new accounts to lure customers who may have stopped betting with another company. And they refer customers to payday lenders so they can meet their "obligations".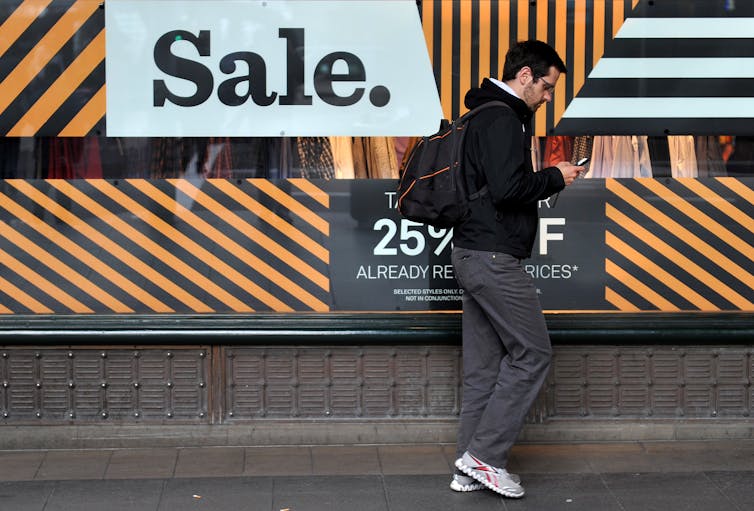 Minimising harm
What measures will help to minimise harm without banning sports betting outright? If you aren't a prohibitionist, but want to reduce harm to the greatest extent possible, adopting a preventive public health strategy to this problem is relatively straightforward.
There's a couple of low-hanging fruit. First, at present, gambling (and alcohol) ads are not permitted on TV before 8.30pm – unless they're on a sports broadcast. It wouldn't be too hard to make that prohibition hard and fast. The idea of the ban is to stop kids being exposed to such advertising, but that intention is completely undone by the exemption.
Second, it would be very beneficial if the federal government could enact its policy on prohibiting credit betting.
More ambitiously, the Productivity Commission made two major recommendations about reducing harm from poker machines that could be applied to sports betting.
The first of these was a pre-commitment system. This is a technological intervention that requires all users to nominate an upper limit for their gambling in advance (per day, week, month), and to stick to it regardless of the platform they are gambling on. By its nature, online and mobile gambling is instantly amenable to such a system. Once set, these should stick for a specified period.
The second was a reduction in maximum bets. At present, there is no limit on how much you can bet with an online bookie (except, perhaps, their nerves). Reducing the stakes would go hand-in-hand with prohibiting credit betting and mean that people are much more likely to stick to a reasonable limit.
Gambling can be dangerous when it's not properly regulated, just as cars used to slaughter thousands every year. Then we wised up and started regulating for seatbelts, safer cars, better roads and the enforcement of sensible laws about drink- and drug-driving and speeding.
We need to take the same approach to gambling. Sports betting hasn't quite got the hold on us that the pokies have – yet. We can stop the harm from growing if we act early. And, as with pokies, effective regulation of sports betting will demonstrate that reasonable harm-reducing standards need not preclude enjoyment.