The Anzac legend remains firmly centred on the ill-fated Gallipoli campaign of 1915, and the sacrifice of "sons and fathers" in frontline combat. The place of women in this foundational story is also made clear – that of onlookers and supporters.
In concluding her 2017 dawn service address at Gallipoli, Foreign Minister Julie Bishop told a story about Len Hall, one of the original "diggers" who fought at Gallipoli. He is said to have noticed a girl in the crowd who had gathered to farewell departing soldiers, and given her an emu feather that he plucked from his slouch hat. When he returned to Australia at the close of the war, this girl — who later became his wife — was waiting in the crowd to return the feather.
This is a story of hope, and of an ongoing fascination with and idealisation of the "digger". It is also a story about the passive role of women as waiting mothers, wives and sisters. But women's contributions are more complicated, varied and controversial than these stories allow.
---
Read more: Why China will be watching how we commemorate Anzac Day
---
Undervalued women's work
Women were entirely absent from the Gallipoli landings; the only women in the vicinity were nurses serving on hospital ships and in the field hospital in Lemnos. These crucial and dangerous roles as nurses and ambulance drivers were publicly acknowledged in the early Anzac commemorations.
However, as Anzac Day rituals evolved into the current dawn service, veterans' march, and afternoon celebrations and sporting events, public recognition of this service declined.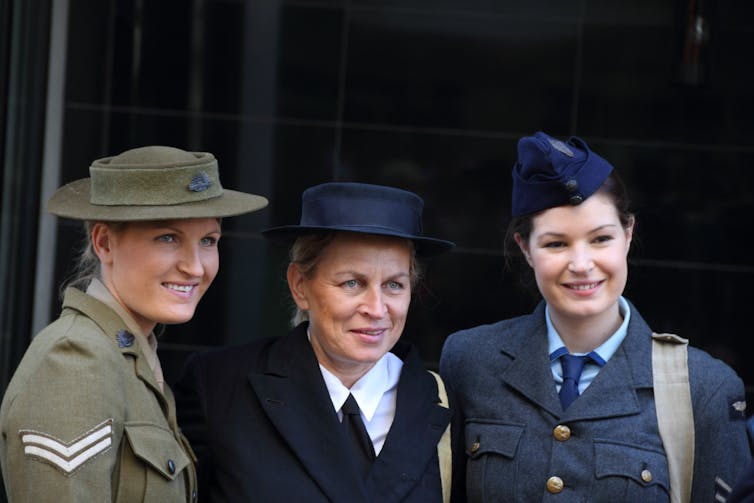 For many years, ex-service women attended Anzac Day marches as spectators or walked in marches without service identification and without mention in the official program. While some were satisfied with this, others were not.
In a 1963 newspaper article the President of the Australian Women's Army Service shared the group's experience of "being ignored". She pointed out they had until then received "less recognition than the boy scouts" (who were officially included in the march).
The Australian Women's Army Service was actually formed in 1941 to free up men for combat roles. Women performed a wide range of (largely uncelebrated) work, ranging from intelligence analysis to operating fixed gun emplacements in Australia, to working as canteen staff.
In 2002, Annie Leach headed the Perth Anzac Day march on the 100th anniversary of the army's nursing corps, noting that WA nurses returning from the second world war were largely "a forgotten race".
---
Read more: Mary Beard and the long tradition of women being told to shut up
---
Challenging core Anzac beliefs
Women have not only had to fight to be recognised for their noncombatant war service, but are also credited with presenting the most serious of all challenges to Anzac core beliefs and rituals. This took the form of non-violent Anzac Day protests seeking to draw public attention to the issue of rape in war, and to oppose the system supporting wars and rape.
In the 1970s and 80s, groups such as the Women Against Rape in War collective bravely staged several such protests around Australia. These protests included the attempted laying of "rape wreaths" during dawn services as a way to mourn women raped in war. This stands in stark contrast to the comforting notion of wartime women waiting safely at home.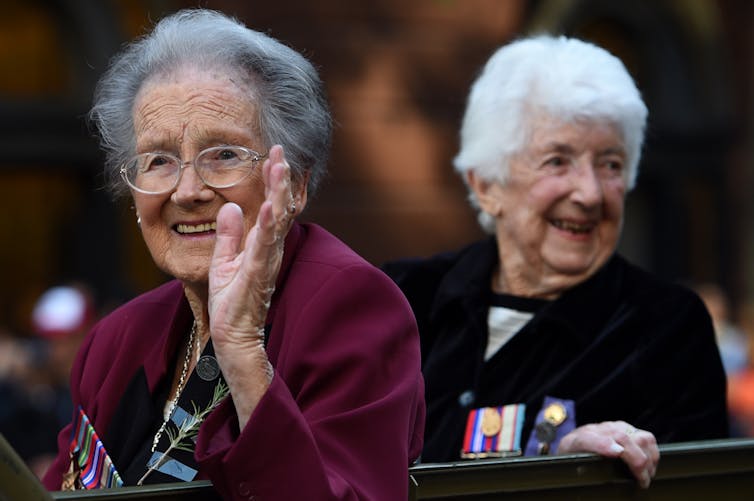 Such activity was vilified and indeed punished. In Sydney, 160 women protesters were charged with participating in the Anzac Day march without permission, which they had sought and been refused. As sociologist Catriona Elder has documented in her 2007 book Being Australian: Narratives of National Identity three women were jailed for one month for failing to keep a minimum distance of 400 metres from the end of the Anzac Day parade.
Keepers of the tradition
ABC coverage of the 2017 Gallipoli dawn service reported many people were moved to tears, as evidenced by inclusion of a photograph of a young woman wearing an "Anzac Day" beanie wiping her tears away. Other coverage of Anzac Day 2017 features an image of a woman "watching as people sleep overnight".
An examination of media coverage of Anzac Day in Perth since the 1980s shows a growing expectation around women's emotional engagement with, and support for, Anzac Day rituals. It also shows the emergence of an explicit contemporary role for women as guardians of the ongoing relevance and importance of the Day. This includes making sure that the family attends Anzac Day marches.
---
Read more: Flies, filth and bully beef: life at Gallipoli in 1915
---
The 'modern' digger
In a contentious move, since the first of January 2013 women currently serving in the ADF have been entitled to take up front line and combat roles while direct entry to these roles has been permitted from January 2016. In 2015, women constituted close to 15% of the deployed force. In 2017 the official definition of "veteran" was revised so that many older service-women will for the first time be officially recognised on Anzac Day 2018 as veterans.
Word is that in Sydney, Perth and Melbourne this year the march will be led by service women.
Even though it is mooted as a "one-off" occurrence, is this a turning point after which women will be more equally recognised for their military service to the nation? Will women veterans be accorded the revered title of "digger"?
The role of women in the Anzac tradition is not just about the "one day" and fair recognition of women's sacrifice and service; it's also about how we understand quintessential "Australian" characteristics and the formation of the nation as the preserve of not just men but also women, and not just those who support but also those who challenge.