As the award season gets into swing, the number and quality of books published in 2013 show that this was another bumper year for work by Australian women.
The winner of the 2014 Stella Prize for Australian women's writing will be announced in Sydney tomorrow evening. Awarded for the first time in 2013, the Stella is the only major Australian literary prize to be funded by donations rather than by the taxpayer or from bequests.
Inspired by frustration at the relatively low number of women who had won or even been shortlisted for the annual Miles Franklin Literary Award – which has been operating since 1957 – the Stella also takes its name from the author Franklin. Stella was her first Christian name. Miles, her fourth, was adopted in the hope her first novel My Brilliant Career (1901) would be read as a work by a man.
Ironically, 2012 was an especially strong year for Australian women's fiction. For the first time the 2013 shortlist for the Miles Franklin was entirely made up of novels by women. Women went on to win all the major literary prizes for fiction.
In addition to its source of funds, the Stella is also unusual in being open to a wide range of literary genres, non-fiction as well as novels, short stories and young adult fiction. As a result, the five judges of this year's award were faced with more than 160 entries.
Last year, the shortlist featured no non-fiction but a wide range of types of fiction, including a verse novel, a collection of stories and a young adult novel. This year the judges have opted for an even split between fiction and non-fiction. As well as three very distinctive and distinguished novels, there is a memoir, an innovative historical work and a detailed account of a court case about the rape of a woman by a footballer.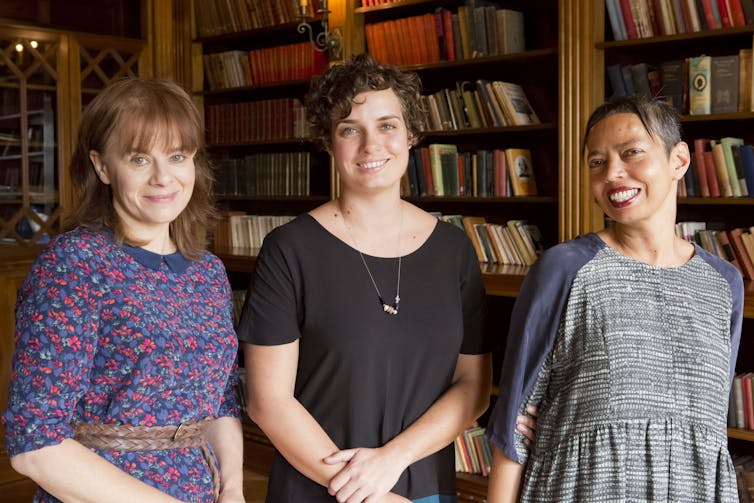 I have always believed that one can never have too many prizes, since Australian writers need all the publicity and money they can get. But for all the media attention given to the Stella, nobody seems to have realised a prize for Australian women writers had already been in existence for 20 years.
The Kibble Awards for Australian women writers were first presented in 1994. Like the Stella, these awards cover non-fiction as well as fiction, though they have more restricted eligibility, being given to a book that can be classified as life writing.
Like the Miles Franklin, the Kibbles were established by a bequest. They are named after Nita B Kibble, the first woman librarian at the State Library of NSW. The bequest was made by her niece, Nita B Dobbie, whom she had brought up. Neither woman married, and both were apparently great readers.
In making her bequest, Nita Dobbie seems to have been influenced by Miles Franklin's. Franklin, who had spent time in America, seems to have been influenced in her turn by the Pulitzer Prizes.
While they only specify a preference for works on American themes, Franklin's will requires that novels eligible for her award "must present Australian Life in any of its phases". But she was an internationalist as well as a nationalist. The Miles Franklin is the only major Australian literary award open to writers who are not Australian citizens or permanent residents.
Like Franklin's, Nita Dobbie's will also contained a clause relating to the Australian content of eligible works. They had to deal with "normal Australian life". It was decided, therefore, not to limit the award to fiction, but to make it a prize for "life writing".
As the then Professor of Australian Literature at Sydney University, I was among the people named in the will as potential judges and so consulted when the Kibbles were being established. I was worried that if these awards were limited to fiction, they might be seen as a sort of poor woman's Miles Franklin. Perhaps the same worry motivated those establishing the Stella to also make it a prize for non-fiction as well as fiction.
Unlike the Stella, the Kibble Awards do not allow entry by novels aimed at young adults. This is probably the main reason why this year we had to read only 105 books as against the Stella's 160 plus.
Two of the novels shortlisted for the Stella were entered for the Kibbles but were not eligible. Hannah Kent's Burial Rites is set entirely in Iceland, and so was not eligible for the Miles Franklin either. Alexis Wright's amazing The Swan Book has been longlisted for the Franklin. But works of fantasy or speculative fiction are not eligible to be considered as life writing.
Fiona McFarlane's The Night Guest, the Stella's other shortlisted novel, is longlisted for the Miles Franklin, and for the Kibble's Nita B Dobbie Award, given to a first book. Of the non-fiction works on the Stella shortlist, both Clare Wright's The Forgotten Rebels of Eureka and Kristina Olsson's Boy, Lost are also longlisted for the Kibbles.
For some reason, Night Games by Anna Krien was not entered for the Kibbles, though it would seem to have qualified. Other books longlisted for the Kibbles include excellent collections of short stories by Debra Adelaide and Georgia Blain, as well as several novels also long-listed for the Miles Franklin.
Short stories, like young adult novels, are excluded from the Miles Franklin. And other strong novels and works of non-fiction have been longlisted for the Dobbie Award. The winners of the Kibble Awards will not be announced until July 23.
For now, we have the Stella decision to look forward to. Whoever wins, 2013 has certainly proved another very strong year for books by Australian women.