Chinese President Xi Jinping's trip to Moscow this week has been more about reiterating China and Russia's shared interests, and less about any concrete pathway towards ending the war in Ukraine.
While a joint statement issued by the two countries yesterday said Russia aims to restart peace negotiations as soon as possible, Russian President Vladimir Putin said settling the conflict would only happen "whenever the West and Kyiv are ready for it".
Indeed, while Russia made note of China's 12-point peace plan and appreciated Beijing's good will, no concrete proposal to end the war has emerged in bilateral discussions. Both sides were critical of Western sanctions.
The two countries resolved to further strengthen their "comprehensive strategic partnership of coordination in the new era".
Economic cooperation has dominated the visit. China has gained significant economic wins as Russia continues to face sanctions and is eager to look for assistance. Moscow welcomes Chinese businesses to replace Western companies that have vacated the Russian market due to sanctions. The two sides will also expand cooperation in the financial sector and in Eurasia.
Xi's visit is also symbolically significant. This will be the 10th anniversary of his first visit to Russia after assuming the position of China's president in 2013, and the first since securing an unprecedented third term as president earlier this month.
Resentment over US dominance
China-Russia relations have evolved over the past three decades to become a unique strategic partnership.
The countries' relationship is firmly anchored in their opposition to the United States' dominance of the international system. They promote "multipolarity", the notion of multiple superpowers sharing power in the global arena, as opposed to one. And they're vehemently opposed to "unilateralism", the idea of any one country taking action alone without consulting the global community.
They often coordinate their policies on issues ranging from humanitarian intervention to opposing sanctions on North Korea.
The most important pillar of their relationship is cooperation on security and defence, marked by technology transfers and joint military exercises. Russia has historically been a major supplier of arms and military technology to China.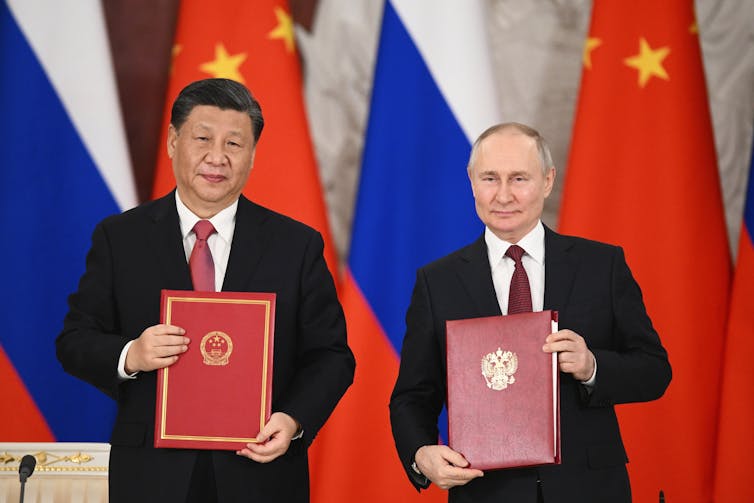 Their economic ties have made rapid progress in recent years, with bilateral trade reaching USD$190 billion (A$283 billion) in 2022.
Several factors explain this. One is the complementary nature of their economic ties. China imports oil and natural gas from Russia, while Russia imports many of its consumer goods from China.
Western sanctions since Russia's seizure of Crimea in 2014, and jacked up further since the invasion of Ukraine last year, have forced Russia to turn to China to compensate for its economic losses.
This partnership is further cemented by the strong personal friendship between Xi and Putin, who have met more than 40 times.
---
Read more: Russia wants military aid from China – here's why this deal could help China, too
---
China's dilemmas
The quagmire of Russia's bogged-down invasion of Ukraine presents China with uncomfortable policy dilemmas.
While sharing Russian resentment over US dominance, China is less interested in openly disrupting the international system. It's much more integrated into the global trade and financial structure. China would risk sanctions if it was to offer explicit economic and military assistance to Russia.
At the same time, Beijing remains reluctant to openly condemn Russian actions and can ill afford to cut off ties, given its growing strategic rivalry with the US.
Washington is further imposing restrictions on technology exports to China, and continues to build up regional security arrangements, from AUKUS to its Quad partnership with Australia, India and Japan. So Beijing would prefer to keep Moscow on its side rather than face the US and the West alone.
These explain why there's little room for China to play an honest mediator between Ukraine and Russia to end the war.
The recent Iran-Saudi Arabia diplomatic truce brokered by Beijing heightened expectations of Xi's visit and China's ambition to play a peacemaker role. But the Ukraine case is vastly different and it's much more difficult to arrive at any quick solution.
Xi's reported upcoming virtual meeting with Ukrainian President Volodymyr Zelenskyy will provide another opportunity, but no more promise, for China to demonstrate its credentials as a peacemaker.