Problem or issue-based young adult novels are not new occurrences. From John Green's Fault in Our Stars (2012) to Jay Asher's Thirteen Reasons Why (2007), books aimed at readers as young as 12, and as old at 35, have long been exposing and exploring adult themes, at detriment only to characters on the page.
S.E Hinton's The Outsiders (1967), sometimes considered the first young adult novel, dealt with the darker side of adolescent life showing the violence of America's gang culture.
During the 1990s novels based around social issues were being published regularly. Australia's John Marsden was one of the leading authors of novels of this kind with work such as Dear Miffy (1997). Killing Aurora (1999) by Helen Barnes, Care factor Zero (1997) by Margaret Clark, and Shoovey Jed (1997) by Maureen Stewart are further examples Australian Young Adult fiction from the 90s that dealt with confronting themes – anorexia, child abuse and depression amongst them respectively.
This wasn't just an Australian phenomenon; British author Melvin Burgess was producing even more confronting work with his novel Junk (1996) depicting heroin addicted teenagers.
The questions about whether these books prompt experimentation with drugs and sex and incite ideas of suicide or bullying are also not new. But to my mind discussing life's tougher issues is not in itself pessimistic or disheartening.
Inspiration in obstacles
Overcoming obstacles, developing strength through hardship, experiencing human kindness in the face of traumatic events are not depressing themes; they can be powerful and uplifting and inspire hope. Perhaps more so for adolescents than for adults as teenagers may have little experience of sadness, grief and loss and are yet to learn the value of triumph through adversity.
The use of fiction as a tool to educate and inform adolescents is as widespread today as it has ever been. It may seem like young adult fiction is all vampires and werewolves right now but in amongst the supernatural romances there is a regular output of novels that focus on teenagers doing it tough.
The protagonist may be facing their own death through illness such as Tessa in Before I die (2007) or the death of a loved one in Patrick Ness' A Monster Calls (2011), cyber-bullying in Destroying Avalon (2006) by Kate McCaffrey, or the suicide of a friend in Thirteen Reasons Why (2007).
Copycats or coping skills?
There are two schools of thought on the impact these novels have on young readers; those who believe they may spark copycat behaviour and those who believe information and emotional insight will help readers develop coping skills.
The advocates of bibliotherapy, the use of books for therapy, would argue that reading novels can help young people to understand social and emotional problems and develop insight into themselves.
Bibliotherapy is based on the reader's identification with the characters or situation, their emotional engagement with the characters, insight when the character resolves their problem and the reader's realisation that they are not alone and can also find solutions to their challenges.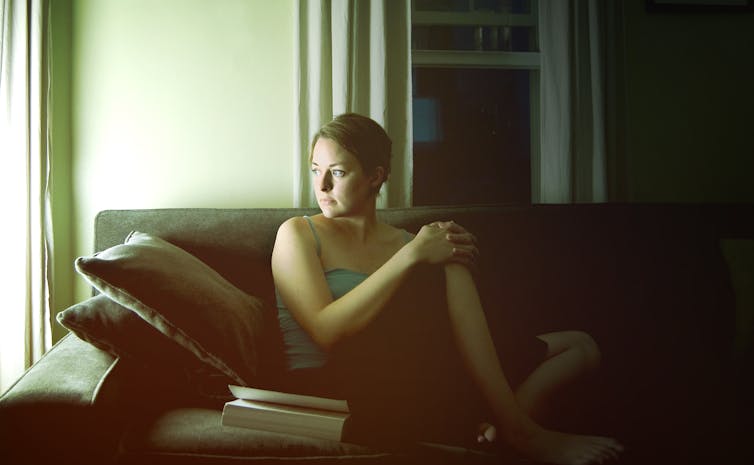 Reading novels dealing with social and personal problems is a safe way to bring these issues into focus and give adolescents a chance to talk about their own experiences or relate their own lives to what others have gone through.
The idea that discussing risky behaviour will in itself lead to increased participation is not supported by evidence. Sex education in schools, for example, can be effective in reducing unwanted pregnancy and the spread of STDS, rather than the opposite.
Copycat behaviour is not unknown, however, with other types of behaviours; suicide contagion through schools or communities has been reported though it is not predictable. Kurt Cobain's suicide did not increase the suicide rate, while Marilyn Monroe's did.
The lessons of real life
The key to how fiction as opposed to reportage of real events can help readers is the way in which issues are presented and how successfully the characters overcome the challenges they face.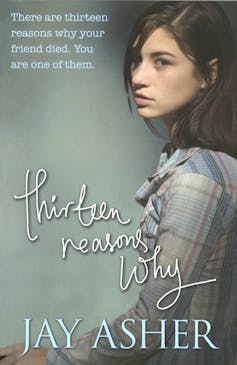 Jay Asher's Thirteen Reasons Why begins with the completed suicide of teenage school girl Hannah Baker; there won't be a positive resolution to her problems but the story is not only about her, it is also about how those that knew her cope with her death. Hannah did not reach out for help and those that could have provided support were too inhibited or timid to do so.
But the text does not judge or lay blame but rather gives an almost forensic account of the thought processes that lead to Hannah's suicide; insight that would rarely or ever occur in reality.
The overwhelming emotion felt by Clay, the novel's narrator, is regret for not trying harder to engage with Hannah. On the novel's final page Clay has the chance to reach out to another classmate who he is worried about; he almost lets the chance slip by but motivated by Hannah's story and hope for a better outcome he grabs the moment.
The novel informs readers on the signs of suicidal intentions and engages them emotionally ending on a positive note, functioning to the formula prescribed by the bibliotherapists.
Young people are experiencing traumatic events in real life; reading a work of fiction that may help them cope is tame in comparison. Young people do get bullied, they do die of terminal illnesses, they do commit suicide, and they do get addicted to drugs.
These things can take the sufferer and their friends and family to the edge of human experience – it can be a lonely place and any gesture of help can be a life raft.
The cruelty of bullying, the unfairness of dying young, the horror of suicide are inexplicable, and there are no neat answers as to why these things happen.
The incomprehension and confusion when they do happen are part of the overall trauma of the experience and if fiction can bring even the smallest glimmer of understanding or the tiniest comfort then bring it on.