We all know physical activity is good for us; that most of us should do more of it; and that walking is a cheap and convenient physical activity. So, all those people we see out there pounding the pavement are doing it to get healthy, right? Well, no, especially the young people.
When you ask people aged 15 to 20 why they walk, they'll likely tell you it's to get to places cheaply and independently, or to relax or calm down when stressed or angry. They largely see health as a byproduct of walking, rather than a reason for walking.
It is, however, a very valuable byproduct. Walking for transport alone accounts for 48% of total physical activity time for 18-to-24-year-old Australians.
---
Further reading: Health Check: in terms of exercise, is walking enough?
---
Creating the sorts of spaces and places that encourage otherwise inactive young people to be physically active "incidentally" through walking is a classic example of Richard Thaler's Nobel prize-winning concept of nudge. So, what sort of neighbourhoods encourage young people to walk for transport and recreation?
What do young people want?
In a recent online survey, 1,089 young Victorians (aged 15 to 20, 76% of them female) shared their views on walking, independent mobility and the type of community they want to live in. I conducted the VicHealth-funded study for Victoria Walks and the Youth Affairs Council of Victoria (YACVic).
Young people strongly preferred to live in walkable communities rather than car-dependent areas. That means having shops, services and other common destinations nearby, as well as safe, natural and green spaces and walkways.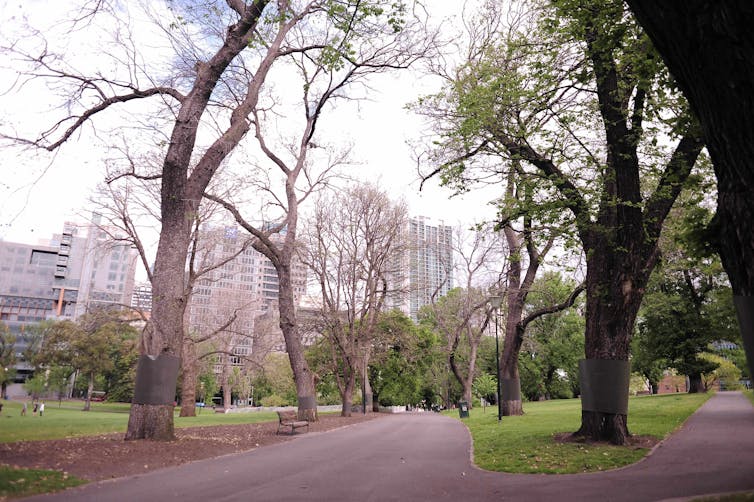 When asked where they would like to live in future, most (84%-89%) opted for living close to shops, services, entertainment, work, study and public transport; being able to walk to these destinations; and not "having to drive everywhere". Living in an outer suburb "with lots of space" was less appealing (35%).
The dual requirements of living in a pleasant green, walkable environment with good access to services, facilities and public transport might invite the question: "Do young people want it all?" Perhaps. But, if so, they share these preferences with the developers of countless plans and strategies for 20-minute neighbourhoods, sustainable cities and communities and healthy spaces and places.
---
Further reading: This is how to create social hubs that make 20-minute neighbourhoods work
---
However, the sad reality is that in Australia we talk the talk while often failing to provide good access to green spaces in higher-density developments. We continue to invest in hugely expensive freeways and toll roads with questionable benefit-to-cost ratios. At the same time, we fail to invest in walking and cycling infrastructure with benefit-to-cost ratios that road-builders can only dream of – a median ratio of 5:1 based on a systematic review.
Fear for safety deters women from walking
Personal safety is another key concern, which prevents many young women from walking in public places after dark or alone. They feel highly constrained in their walking, use of public transport and participation in community life.
In my study, only 15% of young women felt safe walking at night, compared to 54% of the men. These findings are consistent with surveys by The Australia Institute and Plan International Australia and Our Watch.
The recent OECD Better Life Index shows this level of fear is not "normal" in wealthy developed countries. Only 64% of Australians feel safe walking alone at night, well below countries such as the US (74%), UK (77%) and Canada (81%). This relatively low level is largely due to women feeling unsafe.
Tellingly, Australia has the greatest gender difference in feeling safe among the 35 OECD countries. Australian men (77%) are close to the OECD average (79%), but Australian women (50%) are well below the average (61%). Only women in Chile, Mexico and Hungary feel less safe walking alone at night than women in Australia.
So why do Australian women, and young women in particular, feel so unsafe walking alone after dark? Data from the Australian Bureau of Statistics Personal Safety Survey show that while men experience higher rates of violence overall, women are twice as likely as men to experience sexual harassment.
Young women in the Victoria Walks/YACVic survey made comments like:
CAT CALLING SUCKS!! I hate just spending time with my friends walking around in public places and being cat called. It's disgusting and makes me feel greatly violated.

Very common to have people call out to you from their cars. Makes you feel like shit and vulnerable.

I look to see if anyone is ahead or behind me and cross the road if they are. I hate that I can't feel safe to walk alone at night.
These forms of harassment are not permitted in organisational and institutional settings, and should not be tolerated in public places.
---
Further reading: Safe in the City? Girls tell it like it is
---
What makes an area safe?
Further insights emerged from the responses when asked to complete the sentence: "I think a liveable community is one where…" In the 713 responses, safety was the key theme.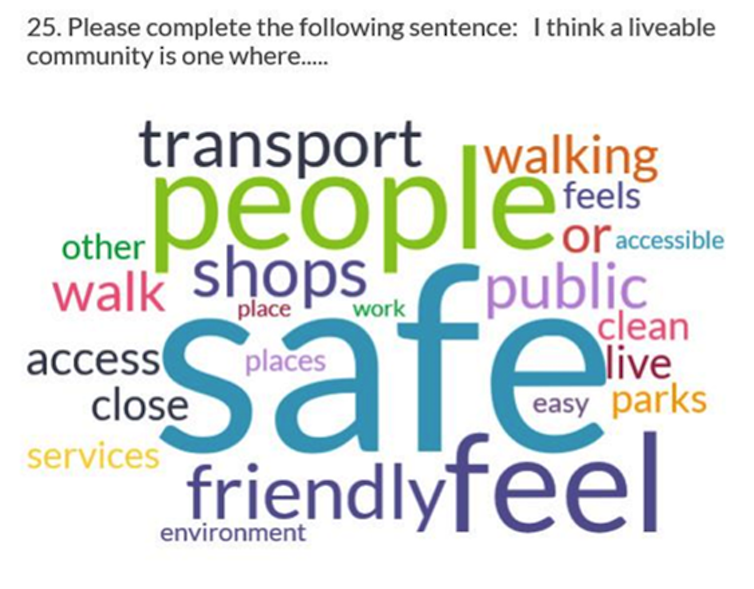 Many survey participants also expressed a strong desire to live in a place where people are friendly, kind, caring and engaged in community life; where the community is inclusive, tolerant and respectful of diversity; and where people are both trusting and trustworthy.
For young people, these qualities appear to be important indicators of a community that is safe to live in and to move about freely. Public safety concerns often lead to calls for increased law-enforcement measures, but it appears much can be done to create safe communities that also feel safe by fostering social cohesion, community engagement and good old-fashioned neighbourliness.
Walking has many benefits for community health, sustainability, transport efficiency and liveability. Despite walking being widely promoted, progress towards establishing walkable communities in Australia has been slow. We can help accelerate much-needed change if we act on what young people are saying.