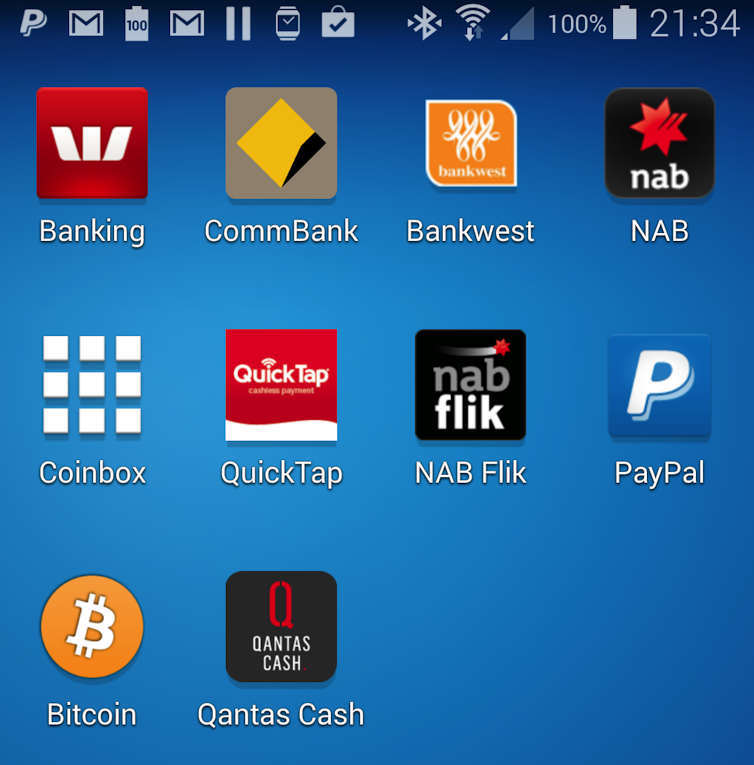 Visions of a cashless society started being portrayed from the 1950's along with other aspects of a future waiting to be transformed by technology. That future has not yet arrived but it is now possible to exist without using cash on a daily basis. In fact, in a survey released this week, 25% of Australians claim not to use cash in a given month. In the US, 50% of Americans carry less than $20 in cash at any time
Although the survey should be treated with a certain degree of scepticism because of the ways the questions were phrased, it has highlighted that there are an increasing number of ways to pay for goods. From a user perspective, traditional cash represents one of the least efficient forms of payment. Consumers have to carry cash around with them and find machines to withdraw the cash without paying fees. Businesses have to have cash floats and have to deposit cash regularly, both of which involves the risk and inconvenience of carrying sometimes large amounts of cash to a local bank branch.
Society's move away from cash has been accelerating since the late 2000's when contactless payments were introduced for transactions under $100. The convenience and speed of this type of payment has been a boon for cashless payment and the availability of "tap and pay" on mobile phones was set to drive this transition even faster.
Tap and Pay is only one of a number of different ways that a mobile phone can be used to replace cash when paying in a store. Here are five ways that a mobile phone can be used instead of cash:
[1] Tap and Pay
In Australia, both the Commonwealth Bank and Westpac both offer the ability to use a Samsung mobile phone to use PayPass and PayWave contactless payments. The Commonwealth Bank also offers the ability to stick a "tag" on other phones not equipped with near field communication (NFC) capability but this is the equivalent of using an ordinary card and so doesn't really count as a mobile payment. In the US and other countries, Google and other companies provide NFC-based payment using mobile phones.
[2] PayPal and Apple Store apps
The PayPal mobile app allows people to pay in a store that accepts it. In this case, the payment is made on the phone and the display is shown as proof of payment. Apple provides a similar facility using its Apple Store app although as a young teenager who was arrested after failing to complete a mobile transaction in an Apple Store can attest, sometimes it is not so easy.
[3] QuickTap
Another app that works using NFC is QuickTap that can be used with vending machines from Coca-Cola. A phone is placed on a tag on the machine and automatically deducts the purchase from a prepaid account. The QuickTap account can be topped up using PayPal.
[4] Bank apps
Most of the major banks allow mobile phone users to transfer money using their apps. NAB for example has an app called NAB Flik that allows the user to send or receive money from another NAB Flik user by tapping the phones together. Money can also be sent via a barcode or through Facebook or email.
[5] Bitcoin apps
If there was ever a currency designed for mobile payment, it was Bitcoin. As a peer-to-peer currency, sending and receiving Bitcoins does not involve a third party and so can go straight from the consumer to the business with no fees or intermediaries to deal with. Apps like Coinbox implement a point-of-sale functionality for Bitcoin that makes the process of accepting Bitcoin as a merchant relatively easy.
A cashless future?
The main enabler behind all of these forms of payment is going to be how quickly businesses adapt to offering payments using these technologies. The most promising of these, NFC-based payments is currently hamstrung by the implementations being limited to the Samsung phone and by Apple's refusal so far to support NFC in its phones. The adoption of mobile transactions is also going to vary markedly from country to country. Australia and New Zealand's adoption of contactless technology for example is far more extensive than in the US which is likely to lag in mobile payments of this type for some time to come.
A cashless future is an inevitability. The passing of the use of paper cheques attests to how forms of transaction change with technology and the demise of cash is something that will surely follow.