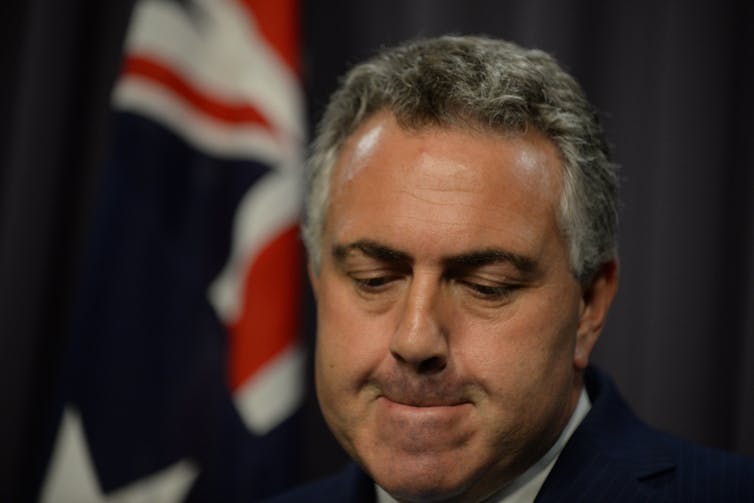 Treasurer Joe Hockey says we need to have a "sensible discussion about the sustainability of our entire quality of life". Hockey's absolutely right, but what we are getting is actually something between a dance of the seven veils and a traditional pre-budget softening-up process.
To have a "sensible discussion" would require both a detailed spelling out of options or proposals and some time for them to be chewed over, before decisions are taken or confirmed.
This is not how budgets normally operate.
We have had put into the public domain by Hockey, Tony Abbott and the heads of Treasury and the Reserve Bank some nasty scenarios of how spending will balloon in various areas, especially health and pensions, if something is not done in the medium term.
There have been pointers to possible areas for attack.
Hockey said at the weekend, as he again talked up raising the pensions age: "It's not just pensions and the sustainability of pensions, but it's our health care, the quality of our education – it's right across the board."
But the community has not been given detailed information about what is being looked at.
This is not a conversation, and it is unlikely to be because the government is right now taking the decisions for a budget that is one month away.
If the government were serious about the discussion, it would have released the Commission of Audit's report the day that it got it – before it took decisions.
Hockey says the West Australian Senate election didn't have an impact on the timing of the release (which is hard to believe) but the government had to "carefully consider the details".
The government would release it in good time before the budget and people would then understand "that in the budget we must start the process of responding to the great detail of the … report".
With decisions taken or on the brink of being taken, this is nothing like a discussion process.
Hockey's idea of such a discussion appears to be around the extent of the financial problem, rather than a full examination, before policies are finalised, of what the government thinks should be done.
There have been a few genuine national conversations about proposed policies over the years.
One was after the Liberals' release of Fightback in the early 1990s. That was a huge blueprint for reform by the then opposition, full of detail. Earlier there was the Labor government's discussion of a consumption tax in the mid-1980s, which came with a tax summit. (Not that either of those conversations went that well for those who started them.)
Then there was John Howard's proposal for a GST in the late 1990s, accompanied by an election. (That went better, though it was a close-run thing.)
Hockey is throwing out hints left, right and centre – but who knows whether it is a wish list or a real list? Surely he can't do all of them.
It does seem that lifting the pension age to 70 is on a real list. "That's certainly one of the issues that needs to be addressed," Hockey said at the weekend. "It will affect my generation." (He's in his 40s.) Labor's decision to lift the pension age to 67, which is being phased in, is implemented by July 1, 2023.
The assets test for the pension "is something we need to discuss, and we are discussing with the nation", Hockey says. Well, not really, when there are no public details.
There is also a broad hint at changes to indexation – the pension is presently linked to male average earnings rather than the consumer price index.
Asked about this on Sunday Hockey was "not going to speculate on the budget".
But he then went on to talk about "something interesting" he'd found out during his trip to the US.
"Over the last 40 years, 60% of male workers in the US have had a real cut to their incomes.
"In Australia we've been the beneficiaries of having real income increases. Now the pension is attached to male total average weekly earnings, which is a higher rate.
"But it is not always going to remain a higher rate. So we have to look at how sustainable pension increases are."
This is clear as mud.
(Seniors representative Michael O'Neill speaks about another index – the basket of goods older people buy, which sounds worth exploring, but wasn't mentioned by Hockey.)
No wonder Hockey quickly moved on to his familiar line that everyone will be asked to do their bit in the budget – this time he threw in the politicians too.
If the government really wanted a meaningful discussion it would, rather than announce firm decisions, put out a detailed paper about what could be done – or what it thought should be done – and then let the debate be fed by some solid meat.
There are good reasons why it would not want to go down this path – including the fact that putting off tough decisions would make them harder to take later.
That might be fair enough – although it is hard to see how Tony Abbott can square pensions squeezes with his promise of "no change to pensions" - unless he delays implementation of them all until after the election.
But just don't try to kid us that we're involved in a "discussion". And let's have that audit report ASAP please.