Over the past few years, policy-makers, academics and practitioners have paid more and more attention to children who are trafficked into and within the UK. But while children are trafficked for various different purposes, such as sexual exploitation, domestic servitude, exploitative labour, criminal activity, benefit fraud and forced marriage, the emphasis in policy and research is usually on sexual abuse.
It is of course vital that attention be given to the rights and needs of children trafficked for sexual exploitation – but it is also important to question the absence of similar interest and concern for other trafficked children, or for those who are irregular migrant children but who are not defined as "trafficked".
Legal and policy frameworks tend to distinguish between "trafficked children" and other irregular migrant children. Children who migrate through irregular channels can be exposed to many of same harms as trafficked children; they too suffer violence, sexual abuse, forced separation from families, incarceration, discrimination and the strictures of a punitive immigration system. Two groups of children in particular come to mind: Vietnamese boys trafficked to the UK to work in cannabis factories, and separated children seeking asylum from Afghanistan.
In 2013, a Serious Organised Crime Agency (SOCA) report on human trafficking identified Vietnamese children as the UK's largest group of trafficked children. For almost a third of the children surveyed, the type of exploitation they suffered was not known; the proportion of children trafficked for sexual exploitation was 28%, with 24% trafficked for criminal exploitation including cannabis cultivation. Of all the people found to have been trafficked to the UK for cannabis cultivation, 81% were children and 96% were Vietnamese.
More recently, figures from the National Referral Mechanism similarly recorded that the largest group of children referred from cannabis factories were those from Vietnam. It is well established that these children are often physically abused and locked in hazardous conditions in the houses where cannabis is grown. They often come to the attention of public authorities following a police raid; they are often not identified as possible victims of trafficking, but instead charged with criminal and immigration offences. If placed in care, many of these children go missing and some are rediscovered in cannabis factories.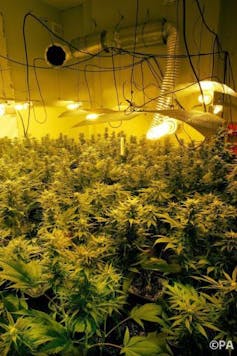 Children who are convicted and serve custodial sentences can be particularly vulnerable to re-trafficking on release from detention. In addition, proof of "compulsion" can be difficult to produce in a criminal court, even though trafficking law does not require it. Last year, however, a groundbreaking case in the Court of Appeal allowed child trafficking victims to appeal against their criminal convictions, and gave guidance to criminal courts about how the interests of those who are or who may be victims of trafficking should be dealt with.
Culture of disbelief
More than 1,000 unaccompanied and separated children seeking asylum arrived in the UK in 2013, mainly from Albania, Afghanistan and Eritrea, and since 2009, almost 3,000 children from Afghanistan have sought asylum in the UK. No Afghan children were identified as having been trafficked in the 2013 SOCA report and only nine were labelled as such in the 2014 NCA statistics. But studies that examined the conditions under which Afghan children migrate to Europe have confirmed the various risks that they are exposed to during their journeys – risks that overlap greatly with the experiences of trafficked children.
These children also face severe risks to their health and lives as a result of the hazardous conditions of the journey. Their earlier trauma is compounded by the stresses and uncertainties of asylum processes, from age assessments to a general "culture of disbelief". Most of the young people are given temporary leave to remain in the UK until they are seventeen and a half, when they have to reapply to stay in the UK. It is well-known in migrant studies that having an uncertain future at 18 can have a profound detrimental impact on young people's mental and physical health.
These children face anxiety over the uncertainty of their immigration status, the prospect of forced return to a country where they face danger and have limited or no links and connections, and rejection by the society that had offered some degree of care. Only a minority of young people get leave to remain; others are forcibly returned. Some don't return and "disappear", living in the UK or elsewhere as undocumented migrants with all the risks that entails. Some of the young people who were returned to Afghanistan will re-migrate and are again vulnerable to exploitative forms of trafficking and people smuggling.
Why do we pay due care and attention to some children facing emotional and physical harm, and not to others? As Julia O'Connell Davidson has argued, the dominant legal and popular conception of child trafficking creates a very exclusionary notion of who counts as a child. The idea of the "child migrant" brings together two powerful cultural categories: the innocent child and the threatening migrant. The discussion of child trafficking avoids the collision of these two contradictory concepts, especially in relation to sexual exploitation – where the child is defined by innocence, passivity and vulnerability.
This is how the context of children's exploitation determines how they are treated. It is easier to make a case for the child victim of sex exploitation, the "correct" sort of victim, than for the Vietnamese boy found working in a cannabis factory. Uniquely among separated irregular migrant children, child sex trafficking is framed as abuse, not migration. Children trafficked in the sex trade are seen as an emotive, "moving" problem in contrast to other children.
Issues of gender and race can also determine who gets care and attention and who does not. Adolescent males, especially from Muslim countries, don't easily fit the image of the displaced child as a depoliticised and passive victim; others describe the presentation of child trafficking as a moral panic, complete with imagined "goodies", "baddies" and "saviours". Both these points alert us to an awkward truth: it is far easier to condemn the harms caused by traffickers than the punitive and inhumane harms that stem from the British state's immigration policies.
Separated migrant children – of whom trafficked children are a subgroup – need to be seen as sharing common needs. The transnational movement of children and their protection has to be addressed more broadly than the current restrictive interpretations of trafficking can allow. To meet our obligations under the United Nations Convention on the Rights of the Child, we need to find lasting solutions for all separated migrant children that give consideration above all else to their best interests.
As things currently stand, immigration policies, systems and priorities take precedence at the expense of children's rights and welfare. If we are to fulfil our human rights obligations to these vulnerable children, we urgently need to move from our harsh immigration processes and uncritical knee-jerk responses to a child welfare system built on principles of child, family and human rights law.