Tonight's ABC Four Corners program investigates the influence of the sugar industry on global policy efforts to curtail the rise of obesity. This includes the industry's involvement in thwarting implementation of a sugar tax, and in watering down Australia's now largely ineffective health star rating system.
Called Tipping the Scales, the program will highlight some of the tactics the industry employs. The ABC reports companies such as Coca-Cola, Pepsico, Unilever, Nestle and Kelloggs "have a seat at the table setting the policies that shape consumption of their own sugar-laced products".
A public health advocate is quoted as saying:
The reality is that industry is, by and large, making most of the policy. Public health is brought in so that we can have the least worse solution.
The Conversation's experts in health policy and economics have weighed into this debate over the years. Here's our pick of five analysis pieces that will get you informed before tonight's program.
1. How industry influences research
The sugar industry hasn't only had its finger in the policy pie, it has also pulled some strings behind the scenes of scientific research into sugar's health effects.
A study published in the Journal of the American Medical Association in November 2016 revealed that, in the 1960s, the sugar industry paid scientists at Harvard University to minimise the link between sugar and heart disease. The paper's authors suggested the sugar industry may largely have shaped many of today's dietary recommendations. And some experts have since questioned whether such misinformation may have led to today's obesity crisis.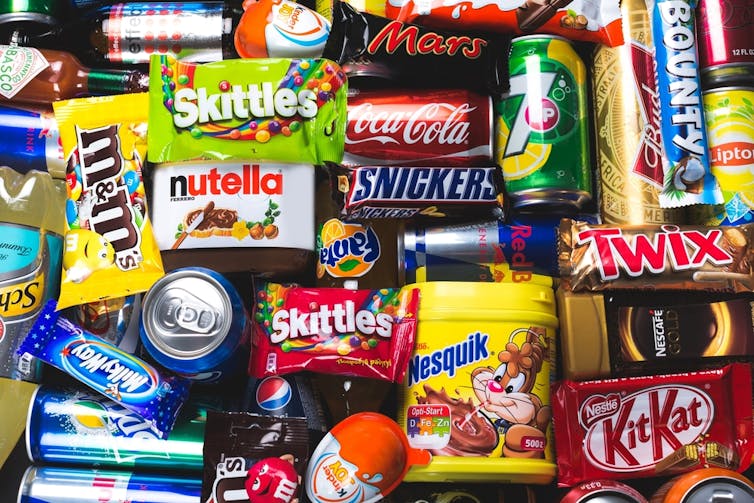 In an essay on health, the University of Sydney's Professor Lisa Bero – an internationally renowned expert in the integrity of scientific research and its use in policy-making – has outlined how food companies can sneak bias into scientific research:
She writes:
Pharmaceutical, tobacco or chemical industry funding of research biases human studies towards outcomes favourable to the sponsor…

A 2007 paper that compared over 500 studies found those funded by pharmaceutical companies were half as likely to report negative effects of corticosteroid drugs (used to treat allergies and asthma) as those not funded by pharmaceutical companies.
---
Read more: Essays on health: how food companies can sneak bias into scientific research
---
2. Sugar's role in health star ratings
The ABC's Four Corners team interviews the Obesity Policy Coalition's executive manager, Jane Martin, who is frustrated that industry lobbying has scuttled efforts to make the health star system mandatory.
The health star rating system was introduced in June 2014. It's a front-of-pack labelling system that rates the nutritional profile of packaged food and assigns it a rating from ½ a star to 5 stars. The more stars, the healthier the choice.
As Deakin University's public health and nutrition professor, Mark Lawrence, and Curtin University's public health research fellow, Christina Pollard, explained:
The system is supposed to help consumers discriminate between similar foods within the same food category that contain different amounts of undesirable ingredients. It should, for instance, help compare two loaves of bread in terms of their salt content …
Writing a year after the rating system's implementation, the authors note the flaws in the policy. The main flaw is its voluntary nature, which can lead to manufacturers putting labels on only those foods that will get a high rating:
While manufacturers might be happy to display stars on foods that attract between two and five stars, they are less likely to put one or half a star on their products.
---
Read more: A year on, Australia's health star food-rating system is showing cracks
---
3. How a sugar tax would benefit health
Since Mexico introduced a sugar tax in 2014, nearly 30 countries have gone on to do the same. Last month the UK introduced a levy that manufacturers must pay for their high-sugar products.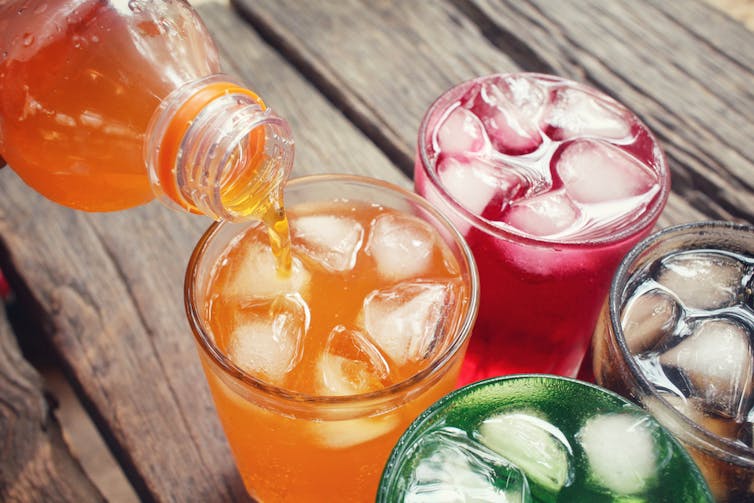 Companies will have to pay 18 pence per litre on drinks with more than 5g of sugar per 100g. Drinks with more than 8g per 100ml will face a tax rate equivalent to 24p per litre.
But the ABC reports efforts to introduce such a policy in Australia have failed, due to the lobbying efforts of the Beverages Council.
The evidence for sugar's negative effects on our health is well known. A study published in the journal PLOS ONE in April 2016 showed a tax on sugary drinks in Australia would prevent 4,000 heart attacks and 1,100 strokes.
The researchers examined the potential impact of a 20% rise in the prices of sugar-sweetened carbonated soft drinks and flavoured mineral waters on health, healthcare expenditure and revenue.
Writing for The Conversation, the study's authors note:
As expected, the tax would result in people decreasing their consumption of sugary drinks. The influence of a price increase would be greatest on those who drink a lot of sugary drinks, so the greatest impact would be on younger age groups. This is an important result that is difficult to achieve through other obesity-prevention measures.
---
Read more: Australian sugary drinks tax could prevent thousands of heart attacks and strokes and save 1,600 lives
---
4. How a sugar tax would save us money
The UK's Treasury is estimating the sugar tax will raise £240 million per year. Modelling done in Australia by the Grattan Institute shows that a tax of 40 cents per 100 grams of sugar could raise about A$400-$500 million per year.
The Institute's Stephen Duckett and Trent Wiltshire write that the sugar industry's concerns over the tax are overblown. They say:
A sugar-sweetened beverages tax will reduce domestic demand for Australian sugar by around 50,000 tonnes, which is only about 1% of all the sugar produced in Australia. And, while there may be some transition costs, this sugar could instead be sold overseas (as 80% of Australia's sugar production already is).
---
Read more: A sugary drinks tax could recoup some of the costs of obesity while preventing it
---
5. How bad is sugar, really?
And finally, if you're wondering how much sugar you can eat to stay healthy, here's an article written by Flinders University nutrition lecturers Kacie Dickinson and Louise Matwiejczyk that explains exactly that.
In brief:
If you're an average-sized adult eating and drinking enough to maintain a healthy body weight (roughly 8,700 kilojoules per day), 10% of your total energy intake from free sugar roughly translates to no more than 54 grams, or around 12 teaspoons, per day.
A 600ml bottle of Coke contains more than 14 teaspoons of sugar.
---
Read more: Health Check: how much sugar is it OK to eat?
---