To improve is to change; to be perfect is to change often.
—Winston Churchill
KETIKA kami pertama terbit pada 6 September 2017, kami mengawalinya dengan langkah kecil, disertai keyakinan bahwa kami senantiasa bertumbuh dan berkembang. Keyakinan itu mewujud. Hari ini, kami ingin berbagi kabar mengenai perkembangan The Conversation Indonesia dalam tiga bulan terakhir:
Berapa artikel yang sudah diterbitkan?
Kami telah menerbitkan lebih dari 150 artikel, baik dalam bahasa Indonesia maupun Inggris. Dan ada lebih dari 170 akademisi dan peneliti yang menjadi penulis di The Conversation Indonesia.
Berapa banyak pembaca The Conversation Indonesia?
Dalam tiga bulan, The Conversation Indonesia memiliki hampir 480 ribu unique user dan dibaca lebih dari 1 juta kali, termasuk melalui metode republikasi.
Republikasi adalah publikasi ulang artikel kami di media online lain (dengan kredit kepada penulis), supaya pengetahuan para akademisi dan peneliti tidak berhenti di kami.
Terima kasih kepada rekan media yang selama ini telah membantu misi kami menyebarluaskan pengetahuan dari akademisi ke masyarakat umum!
Di mana kalian bekerja?
The Conversation Indonesia menempati kantor mitra tuan rumah kami, Akademi Ilmu Pengetahuan Indonesia, di lantai 17 gedung Perpustakaan Nasional yang masih gres di Jl. Medan Merdeka Selatan No. 11, Jakarta Pusat. Pendingin udara memang terkadang bikin menggigil, tapi pemandangannya indah sekali di sini!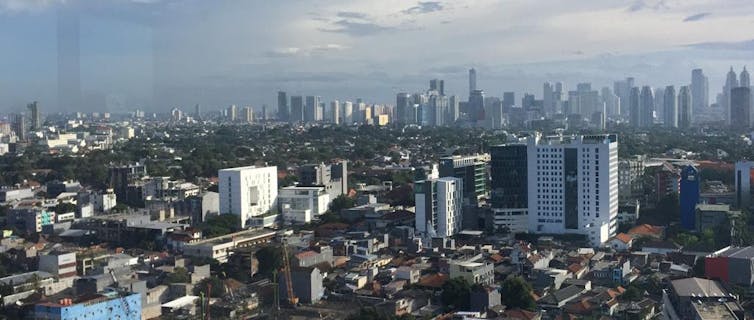 Lalu ada perkembangan apa lagi?
Last but not least, seiring banyaknya artikel yang terus akan bertambah, mulai hari ini kami mengelompokkan artikel-artikel yang ada ke dalam delapan rubrik: Bisnis + Ekonomi, Seni + Budaya, Kesehatan, Kota, Pendidikan, Politik + Masyarakat, Sains + Teknologi, serta Lingkungan Hidup.
Situs kami pun jadi lebih lengkap.
Kami berharap keberadaan rubrik-rubrik ini akan lebih memudahkan pembaca dalam menemukan artikel yang relevan dan menarik, serta media lain yang ingin merepublikasi konten.
Terima kasih banyak kepada rekan-rekan developer di Melbourne, yang telah membantu menjadikan situs The Conversation Indonesia lebih lengkap :)
Sampai jumpa lagi.