There were more hours of Australian-made television drama broadcast in 2012/13 than in any year since 2009, after a considerable boost to production following a substantial funding increase received by the ABC.
Production companies continue to receive substantial levels of government support, with $51 million in tax offsets, an increase of 26% from the previous year.
The Drama Report, commissioned by Screen Australia, listed 56 Australian TV dramas produced at a cost of A$372 million, up from 45 released last year.
Ruth Harley, CEO of Screen Australia, said the rise in the number of drama productions was better than previously seen and underlying trends were encouraging.
"There are a number of second and third round series' [so] the audiences really like those shows, and networks want to commission more of them," she said. "These shows only exist because audiences really like them."
Vincent O'Donnell, television commentator and honorary associate at RMIT, said Australian audiences have always responded very well to seeing their own stories on the screen.
He said without government support, there is no doubt the number of productions "would be nowhere near today's level".
Direct government funding made up 9% of total financing at A$37.9 million, against a five-year average of A$36.6 million comprising 10% of funding. Producer tax offsets, at A$51 million for the year, made up a further 13% of financing, in line with the five-year average.
Dr O'Donnell said the producer offset program, which was reformed in 2011, was an improvement from previous schemes, especially the 10Ba tax scheme, where production companies controlled the mechanisms directly. "[It resulted] in numbers of rip offs. The new system is certainly more transparent," he said.
But direct funding reached only 33 programs, and only 44 programs were eligible for the producer offset. The TV industry invested more than A$272 million in Australian drama for the year, up from A$213 million last year.
Seven Network and Network Ten once again recorded the largest share of production hours due to long-running Australian serials Home and Away and Neighbours.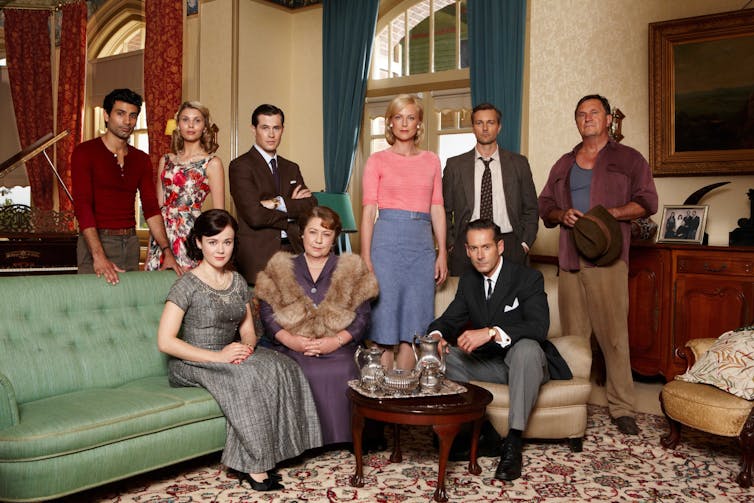 A large part of the 107 hour increase over the year was because the ABC made a record 19 programs for the year, including new programs like Serangoon Road and Old School. The national broadcaster ran returning seasons of programs including Redfern Now, Rake, Miss Fisher's Murder Mysteries and Twentysomething.
Ms Harley said the diversity of programs was a strength in the industry, as was the exportability of formats developed in Australia.
"It's something that doesn't come out of the report because its difficult to measure it in the year in question, but we have a lot of quality formats for export," she said.
And several programs, including Top of the Lake, children's program Mako Mermaids, and another yet to be announced, would would screen on Netflix in the US.
"We haven't seen this much international interest for a decade, or frankly ever," she said.
Dr O'Donnell said it was important for producers to export programs. "The [producer offset] makes it possible to offer Australian audiences a higher quality of drama production from the outset. Without it, the potential for overseas sales will be drastically reduced," he said.
"However, the trend in some drama production seems to be moving towards producing prototypes for exportable formats, instead of programs that express the Australian experience."