Australia could double its energy productivity by 2030, increasing economic productivity while reducing greenhouse gas emissions, according to a report released today by ClimateWorks Australia.
The report, Australia's Energy Productivity Potential, found Australia could increase its economic output from 24.3 cents of GDP per megajoule of energy in 2010 to 47.9 cents of GDP in 2030 – a 97% improvement.
This would be achieved without major structural change to the economy and using technologies that are already available or in development.
The Australian government is currently finalising its Energy White Paper, including a proposed Energy Productivity Plan. The paper offers an opportunity to set an ambitious national energy productivity target, which would help accelerate improvements across the economy.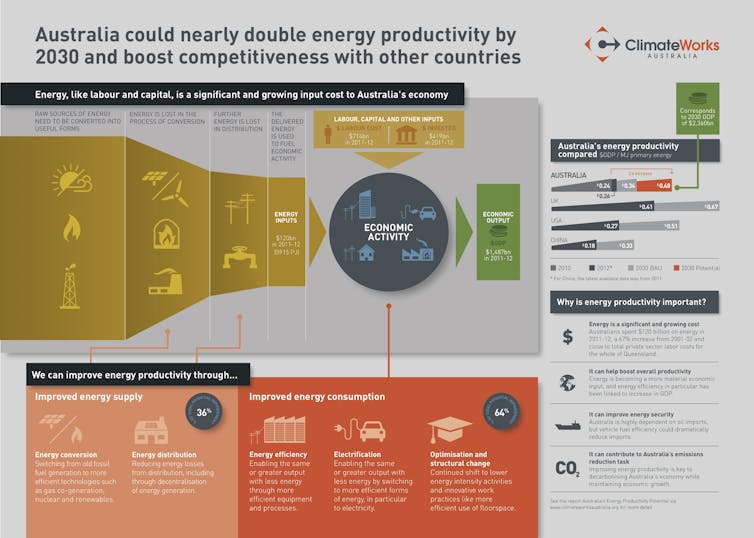 Australia's energy productivity potential
Energy is a fundamental input to any modern economy, and governments around the world are taking steps to ensure that energy – like labour, capital and other economic inputs – is used productively.
At the 2014 G20 summit in Brisbane, countries agreed to collaborate to improve energy efficiency as a way to drive "economic activity and productivity, strengthen energy security and improve environmental outcomes".
How can we reach our potential?
The report found that more than half of the potential increase in energy productivity can be achieved through energy-efficiency activities in our homes, offices, buildings, vehicles and industries.
This ranges from simple measures, like using LED lighting and more efficient heating and cooling systems, to the automation of some industrial processes and improving energy data systems.
A further third of the potential can be realised by switching from old fossil fuel generation to more efficient technologies such as gas co-generation and renewables (our modelling suggests reducing the proportion of fossil fuels to a third by 2030, from nearly 90% in 2012), and reducing energy losses that occur through the energy distribution process.
The remaining potential can be achieved through electrification in the transport and industry sectors.
For example, an electric car uses about four times less energy than a new internal combustion engine car today. Switching from some fossil-fuelled activities such as trucking ore on mine sites to electric alternatives such as conveyor belts can deliver substantial reductions in energy use.
Why do we need to increase energy productivity?
Energy costs currently account for almost one-tenth of Australia's GDP. In 2011-12, Australians spent A$120 billion on energy across the economy – 8.2% of Australia's GDP in that year.
Increasing Australia's energy productivity could deliver substantial benefits to households and businesses facing rising energy costs. It could also increase Australia's competitiveness.
Improving energy efficiency would also help reduce Australia's increasing reliance on oil imports, which constitute over 90% of our oil use today.
Energy use also accounts for more than 65% of Australia's greenhouse gas emissions, so improving energy productivity will help achieve our emissions-reduction goal.
Australia is lagging behind
Australia has made some progress in energy productivity but lags behind many other countries. The United States, China and the European Union have all taken strong action on energy efficiency to increase productivity and reduce emissions.
The US recently announced it intends to double its energy productivity by 2030. This is estimated to save US$327 billion annually in avoided energy costs and create 1.3 million jobs.
What can we do?
Australia could achieve its full energy productivity potential if there was a greater push to accelerate the uptake of recent technology advancements. Our report shows the technology is available for Australia to modernise its energy system.
The food giant Simplot Australia is one company that has taken up the challenge to dramatically improve its energy productivity. Under its energy program, Simplot has a goal to improve energy intensity (energy consumption per tonne of production) by 25% in 10 years. It has already achieved a 12% improvement in energy intensity since the program began in 2008. Energy intensity is the inverse of energy productivity, which is the amount of productive output per unit of energy consumed.
While some businesses like Simplot are implementing energy-efficiency measures, a national energy productivity target would help accelerate this activity across the economy. It would also help Australia align with other G20 countries that are taking action to increase energy productivity and reduce emissions.
The Energy White Paper provides an opportunity to set an ambitious national energy productivity target and plan that can help drive a cleaner economy. It's an opportunity we can't afford to miss.