It was not so long ago that the name of Bo Xilai was largely unknown outside of China. Although his father is one of the "eight elders of the Chinese Communist Party" and he had grown to be one of the "princelings" who dominate public life, Bo's work in the 30m-plus city of Chongqing remained off western radars. He was a provincial politician doing largely provincial things.
On July 25, Bo was charged with bribery, corruption and abuse of power. Again, in many ways that should have been a relatively innocuous event for all but the dedicated China-watching community. Bo is hardly alone amongst Chinese officials in being indicted for corruption - no state, for example, puts more people behind bars for corruption-related offences than China, and in 2009 more than 30,000 officials were charged with abusing their positions of power and influence. This is a record unchallenged by any other country. In many ways, Bo should be just another statistic.
But he isn't. And not just because of the rather bizarre asylum claim made at one point by his then police chief, Wang Lijun, at a US consulate in Chengdu (previously only really known as the place where tourists begin their tours to find wild pandas), or indeed for the murder of a well-connected British national who was found dead in murky circumstances in a Chongqing hotel room (Bo's wife ultimately being convicted of the crime). No, the case catches the eye for what it says about the way that China works.
Ambitious man brought low
Bo's easy, outgoing style masked a populist campaign to bring back "red" songs and rhetoric from the time of the cultural revolution. In policy terms, he waged a war against organised crime - leading to more than 2,000 arrests and the development of an image as an enforcer who got things done. Bo was popular. He was also ambitious. And he wasn't scared to show it.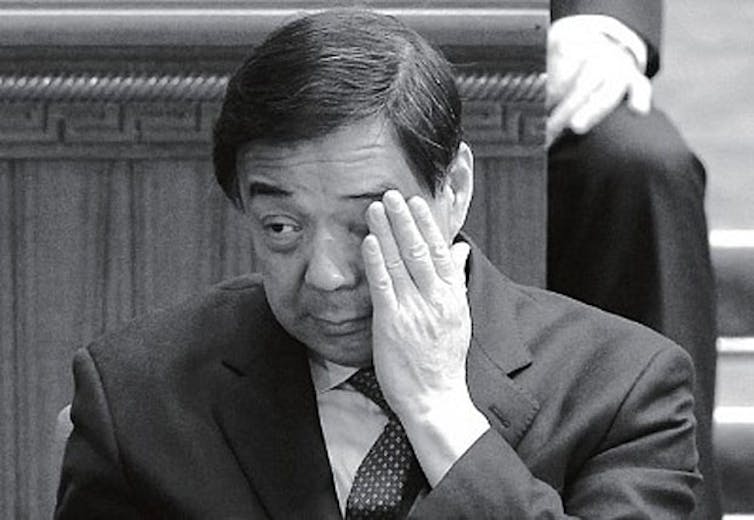 We've yet to see any evidence of any wrongdoing on Bo's part, but it was ultimately his political ambitions - and his willingness to pursue them in public that raised the hackles of the party elite in Beijing. Had that not happened, then his indiscretions are unlikely ever to have become public.
China's president, Xi Jinping, has subsequently called for Chinese elites to begin dealing with corrupt practices such as those for which Bo stands accused. And with good reason as, for many, corruption remains the most widely perceived public policy challenge facing the country. Xi's predecessor, Hu Jintao, was equally as unequivocal: "If we fail to handle the issue of corruption, it could prove fatal, and even cause the collapse of the party and the fall of the state," Hu declared just before he stood down last year. There is little doubt that Hu meant it.
Corruption rife in China
There is also little doubt that Chinese people also believed, and continue to believe, that corruption is a serious issue. Gripes and groans on the Chinese street are much more likely to be about the self-serving behaviour of local party elites than they are about, say, the troubles in Tibet, the party's human rights abuses or indeed many of the other issues that tend to preoccupy western observers.
There is, however, a major problem facing those seeking to take Hu's and Xi's lead and clean up Chinese politics. For the elite in Beijing, the challenge of tackling corruption is essentially a technocratic one. Beefed-up laws, nuanced sets of rules and regulations, specific codes of conduct and new sets of oversight procedures will help purge - at times in an almost Stalinist sense of the term, as Bo Xilai is discovering - the self-serving bureaucrats and politicians who put their own interests before those of the Chinese state (and, indeed, the Chinese people). If potential sinners feel that they are likely to be caught, if the punishments are heavy enough and if the all-round quality of governance in China can be improved, then the state will be in a position to take this battle forward.
The problem lies in making practical sense of this. There are times when tweaking (or actually following) the rules of the game makes sense. But it is not going to work in China. This is not a case, to use a football analogy, of having an incompetent referee or of having linesmen who can't keep up with play and subsequently can't make the right off-side calls. China's problem is that players understand the rules all too well and systematically abuse them - think of your perennially diving centre-forward, or of the constant badgering of a referee to make calls that suit your interests.
Corruption in China is a systemic challenge. The system exists not in spite of it, but because of it. Systems of guanxi (sometimes nothing more than extensive networking, at other times out-and-out favouritism that is all-important in securing a job, a contract, a favour or even someone simply agreeing to do their job) pervade all aspects of Chinese life, and they subsequently underpin the entire political process. Fighting corruption in Chinese political life is not about nuancing a generally healthy whole, it will need to be about fundamentally re-writing the rules of the game.
Bo's mistakes were not necessarily in acting in a corrupt fashion, but in losing the support of powerful people in Beijing - it was then that the tables were turned and his misdemeanours came back to haunt him.