Near my home in Cardiff is the Forest Farm Nature Reserve. Here, under the shade of the oak and beech trees, people meander along the level path beside the former Glamorganshire Canal, stopping occasionally to feed the ducks, spot birds or just enjoy the glorious natural habitat.
It is hard to imagine now, but the Glamorganshire Canal was once one of the main arteries of industrial Britain. Now, only a few road names, such as Melingriffith Drive named after the canal's 200-year-old water pump, and a handful of historic structures remain of its former glory, and the rather more prosaic A470 trunk road carries most of the traffic that once would have travelled along this stretch of water.
For some, the fate of the Glamorganshire Canal is a source of regret. But rather than becoming dead waterways, many of Britain's canals are being born again – just in a different form.
Working waterways
In its Industrial Revolution heyday, when there were around 4,000 miles of working canal in Britain, the Glamorganshire canal was a vital link for the transport of iron and coal from Merthyr Tydfil to Cardiff Docks. Slowly, however, the volume of commercial traffic waned and in 1951 it was deemed to have no economic value. Sections of its 25-mile route were filled in, others, like that at Forest Farm, were simply abandoned.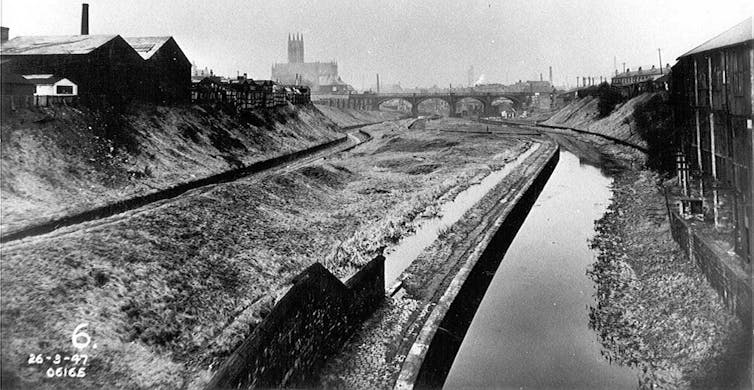 It was a similar story around the country. Starved of commercial purpose, many of Britain's canals were used merely as short cuts and rubbish dumps. In the main, they were ignored, particularly by policy-makers. They were seen as derelict and polluted spaces, relics of the past. Crime and seediness haunted their image.
This partly was inevitable. The decline of manufacturing and the shift away from heavy industry hit much of the transport network. Attempts to cut costs and speed up shipping times meant that canals were overtaken by rail, then road. They simply could not compete.
The tide turns
That is not the end of the story, however. Ironically, in the quest to find greener ways to transport goods, there are now attempts to once again use canals, such as the Manchester Ship Canal to transport freight, and with some success.
But many have found a completely new – and surprisingly successful – purpose, as places of leisure. In fact, there are now more boats on Britain's canals than ever there were during the Industrial Revolution.
Part of their attraction to tourists and nature lovers is their connectivity. As road and rail routes become busier, canals remain a relatively peaceful way to travel at leisure. Despite their industrial roots, they also are stretches of outstanding natural beauty. They allow us to view the world in a different way, at a slower and more measured pace.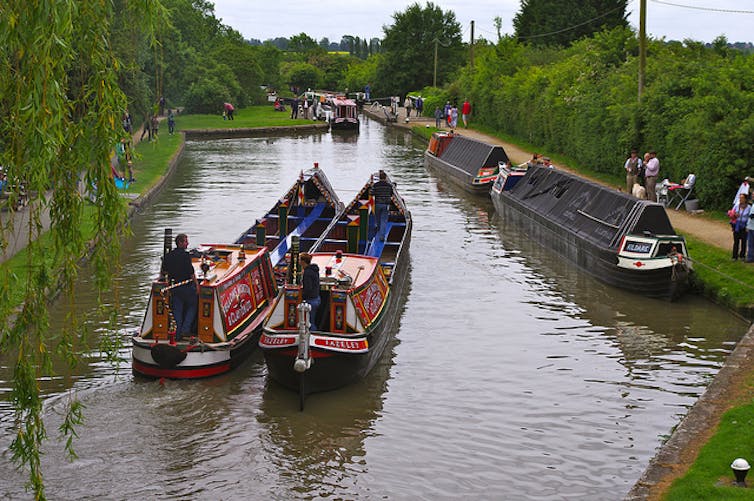 In many ways, their rehabilitation as places for recreation was the result of a national movement, which began in the 1940s and was driven by pioneering individuals such as Robert Aickman and Tom Rolt. This movement to restore and protect the nation's canals continues today. Its supporters, many of them volunteers, fundraise and clean up, seek permissions and dream up and contract out new projects.
Getting to this point has required time and energy, but the regeneration of Britain's canals is not just about nostalgia. Many of the waterways now combine their past heritage with the needs of the present. Purpose-built visitor attractions have been created, and cafes, restaurants and bars have grown up along their banks. An estimated £34m pounds is generated in Wales alone through canal tourism every year.
Once, you would have paid not to look out over Britain's canals, filled as so many of them were with murky water, shopping trolleys and floating refuse. Now, however, views of the regenerated waterways are a bonus, attracting a flurry of canalside residential developments.
Blueprint for regeneration
But what can we learn from this? And how can those lessons be applied to other areas in need of regeneration? Certainly, the regeneration of these canals has been a triumph for the voluntary movement. These enthusiasts may be nature lovers or historians or simply ordinary people who appreciate their local landscape and amenities, but their role is crucial. If communities feel attached strongly to something, they really can create change.
This transformation of an industrial-era ruin has been gradual and not without its problems, but our canal network now stretches over 2,000 miles across England, Scotland and Wales. It is freely accessible and more popular than ever. Most importantly, however, it is a reminder of how much we can do to improve our environment if only we have the will to do so.