David Cameron's long-planned visit to Israel was overshadowed in the UK by Ed Miliband's Europe speech but Cameron did have an opportunity to address the Knesset. Cameron made a strong plea for Israel to negotiate a peace deal with the Palestinians, criticising the settlements policy but supporting Israel with criticism of Iran and opposition to any talk of boycotts, academic or otherwise.
For Netanyahu, it did not amount to a great deal and in any case the visit was overshadowed in Israel too, by a volley of more than 40 unguided rockets fired from Gaza, five of them hitting populated areas with no reported casualties. The Israeli Air Force responded with multiple air strikes on 29 sites in Gaza believed to be linked to the Al-Quds Brigade which had claimed responsibility for the attacks. This comes only a few days after Israeli warships intercepted a Panamanian-flagged merchant ship at the southern end of the Red Sea which was reported to be carrying missile supplies for Hamas.
The Gaza developments are just part of a much wider concern in Israel about insecurity in its immediate region and they come at a time when the state is deeply reluctant to respond to John Kerry's persistent urging to engage in negotiations with the Palestinians. Developments in Gaza, for example, link to what is happening in Egypt where the Israelis were until recently reassured by the ousting of the Muslim Brotherhood which had eased relations with Hamas.
The problem is, paradoxically, that while the senior Egyptian military who effectively govern the country are determined to suppress the Brotherhood, the very act of so doing is encouraging much more radical Islamists. One of the key areas here is just across Israel's border in Sinai, one reason why Israel has upgraded its border defences. Gaza and Sinai are just part of the problem, though, with Iraq, Syria and Lebanon all adding to the calculus of insecurity, always with Iran perceived to be pulling the strings.
In Iraq, the violence is escalating, with more than 1,000 people killed in January alone and al Qaeda-linked Islamist paramilitaries now even controlling significant territory including Fallujah, the famed "city of mosques" which was at the heart of the 2003-11 war. That is in parallel to the progress of paramilitaries in Syria who have offered some of the strongest opposition to the Assad regime but are viewed as terrorists pure and simple by the Israelis as well as the British, French and Americans.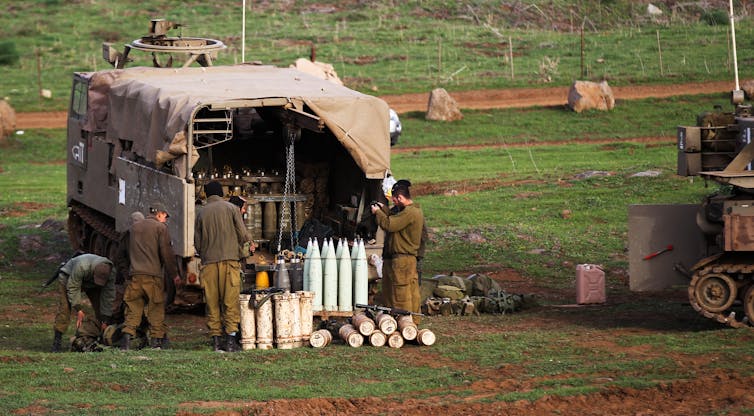 There have been recent indications of a change in US policy, where it is now recognised that the Assad regime is firmly entrenched, even after three years of war, and will only compromise if it comes under severe military pressure. There is thus a renewed effort to provide the "good" rebels with a wide range of resources, with the Saudis and Qataris also involved, especially when it comes to supplying arms.
From Israel's perspective this is a hopeless policy, for the more the Assad regime comes under pressure, the more it will be aided by Iran, which has worked assiduously to build up a force of Shia paramilitaries. They are mainly from Iraq, and are prepared to fight in Syria, supplementing the Hezbollah militias that have already proved so effective in aiding Assad. In short, Israel does not believe that Assad will be ousted any time soon without major external intervention – and it knows only too well that this will not happen.
Growing paramilitary threat
As well as an overall concern it leaves Israel with two particular worries. First, the more violence there is in Iraq and Syria, the more combat-trained Islamist paramilitaries are growing in numbers across the region. Whether they be linked to the al-Qaeda idea or to Shia groups does not matter much – what is of concern is the growth of an experienced cohort of paramilitaries well-versed in urban insurgency. They include many thousands of Hezbollah paramilitaries, who now have far more experience of urban warfare than the great majority of Israeli soldiers, giving them considerable confidence in the event of a future conflict in southern Lebanon.
The other is the severe instability on the Golan Heights where the previous rigid control of Syrian territory by the Assad regime has been replaced by ungoverned space, much of it occupied by radical groups linked to Global Jihad. Israel has responded by hugely improving its electronic intelligence systems and by establishing the new Basham Division of particularly well-equipped army units.
Israel's security fears are exacerbated by its concern that the Obama administration will do a deal with Iran but to make matters worse, the Knesset's highly influential Foreign Affairs and Defence Committee is rudderless because of an argument between Netanyahu and one of his coalition partners over a new committee chair. The committee's role in sanctioning reserve call-ups and ensuring intelligence oversight has been paralysed for weeks right at the time when Israel needs to think far more clearly about its long-term security.
John Kerry may be absolutely genuine in wanting to see progress on the Israel-Palestine issue but the blunt truth is that this is low down the Israeli security agenda. As I have noted before, Israel remains "impregnable in its insecurity" and prospects for a negotiated peace with the Palestinians are as bad as they have been for some years in spite of Kerry's efforts.