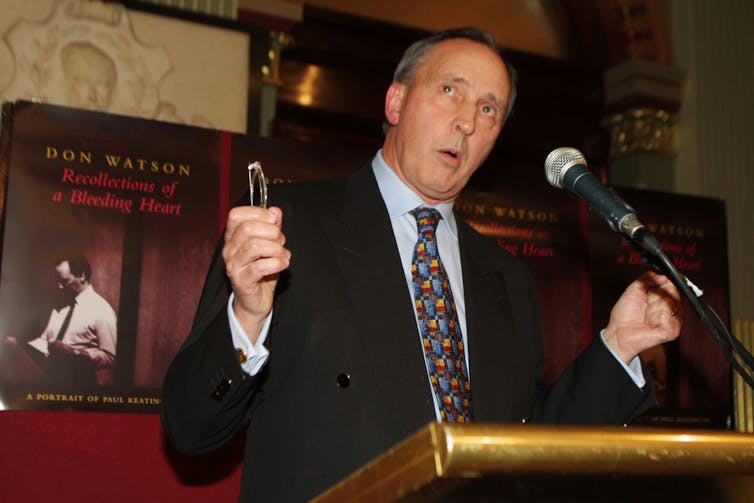 WORK UNTIL YOU DROP screamed Sydney's Daily Telegraph headline. The story related to the Productivity Commission canvassing the desirability of lifting the pension age – already slowly heading for 67 – gradually to 70.
There are excellent reasons for considering this. An ageing population needs more people working longer. And there are advantages for individuals. As life expectancy rises, staying at work (full or part time) can help health, finances and social circumstances.
But the Tele's headline shows the difficulty of getting a sensible reform debate off the ground in any positive way.
It's a pointer to the forces working against reform more generally. While we should be careful not to romanticise the past, there is not the appetite for tough but advantageous changes that there was in the 1980s, and there are more hurdles.
There are many reasons for this. One canvassed by Gary Banks, former head of the PC, in his Garran Oration this week is the lack of trust now afflicting the political system.
Banks points out that few people get across the policy detail, so "if the public is to support – or at least not actively oppose - many policy initiatives, it needs to have some confidence that a government's decisions would have been well informed, and that the policy in question will operate as intended." Even potential "losers" may accept a reform if it is widely believed to be beneficial to society generally, especially if losses are likely to be transitional, he said.
Australia isn't alone in this fall in trust; it's a feature of western democracies. But politicians should remember, when they trash trust by their behaviour, that they are making it harder for their own efforts to achieve worthwhile changes.
There will be legitimate political fights over specific reforms, but sometimes the differences are substantially driven by the politics. Remember the saga of the GST. As we've been reminded in the ABC Keating interviews, Labor supported a broad based consumption tax in the 1980s, but Bob Hawke aborted it in the face of union and business resistance. When John Howard later introduced it, Labor was implacably opposed.
It's always hard to argue that politicians should stay their hand for the sake of the greater good. It's in their DNA to go for the main chance against opponents (or even within their own party – remember those Liberal supporters of carbon pricing who somersaulted). But some degree of bipartisanship is vital if progress on reform is to be made.
Admittedly we've seen this on disability insurance. But that is an easy case. Yes, the scheme will cost a lot but it will not have losers, and so there won't be political pain.
The media have become less helpful to the reform cause. There are fewer policy specialists and diminished detailed policy analysis in the mainstream media (and the "mainstream" still carries most clout). Attention spans are shorter (of both media and audiences). And, as Banks notes, there has been a decade "in which 'spin' has often triumphed over substance in policy-making."
In his new book, economist Ross Garnaut writes that after the "Salad Days" of the mining boom "Australians now have to make the best of the Dog Days". The options are a "business as usual" approach or a "public interest" one that involves hard choices for more straitened times, including "some loss of income for some people, and some sacrifice of short-term comfort for future gain".
Garnaut, who had a big hand in the 1980s-early 90s Labor reforms, is torn between pessimism and a reluctance to concede the reform is lost. "An Australian leadership committed to the public interest approach, supported by a substantial community of concerned and engaged Australians, could achieve the better outcome for the nation," he concludes.
Launching Dog Days last week, cabinet minister Malcolm Turnbull had an exhortation for fellow policy makers. "We are entering an era when we will be forced, more than ever, to explain to the public the difficult trade-offs that are being made, the true costs of populist policies and the need for individual sacrifices to achieve wider economic benefit."
Tony Abbott has locked out much reform for his first term. But he is setting up a raft of inquiries which will inevitably produce challenging recommendations. He says he'd seek a mandate at the 2016 election for whatever he wants to pursue. In the present climate, opting for even a few robust changes would require considerable political backbone, and selling them to the voters would need consummate skill. But that's what is needed for Australia's good, and Abbott's legacy.