Pornhub, the biggest pornography website in the world, has published its 2015 statistics, revealing the word "teen" as a consistent feature in its most popular search terms.
Worldwide figures show the term has been knocked from the top by the word "lesbian" but remains the second most searched for term globally. It is the fourth most searched for term in the US and the UK – where most Pornhub users are based. It also features in the top five most searched for terms in Canada, Germany, Italy, Brazil, Mexico, Russia and many other countries.
The use of the term "teen" is sufficiently broad that it could include images that are legally understood to be of child abuse but also ones that are perfectly legal images of young adults. This raises a delicate issue: could searching for "teen" porn get people into legal trouble?
On legitimate porn sites "teen" is generally used to refer to legal teen pornography, so pornography featuring performers aged 18, 19, or older, who can pass for teenagers. This would be entirely legal to view. But although the age of consent in a given country may be lower than 18, this doesn't necessarily mean that this is the same when it comes to viewing porn.
The law in the UK, for example, criminalises the possession of child sexual abuse images, including ones downloaded from porn sites. And for the purposes of the offence a child is defined as a person aged under 18 – not 16 (the age of consent for sex in the UK). Defining a child as a person under 18 is not uncommon for the purposes of regulating child sexual abuse images or child sexual exploitation. Canada, the United States (federal law) and most Australian states take the same approach.

But can you be sure that images and videos returned on an internet "teen porn" search will feature only performers aged 18 and over? No, you can't. Porn sites often encourage their users to flag illegal content – and will remove such images – but popular sites such as Redtube and Pornhub are only hosting sites.
As Pornhub itself recognises, it can try its best to comply with the law but it takes no legal responsibility for the content uploaded to its site.
Legitimate sites operating in the US will feature a declaration that all performers featured are 18 years of age, but hosting sites can't provide such assurances. General searches could also, despite the best censorship attempts of search engines and hosting sites, return images that are criminal. There is a real danger of encountering child abuse images if you search for teen porn.
Simple mistake
Much pornography labelled "teen porn" does not, of course, feature teenagers. In a tradition that began with Hustler's Barely Legal, older performers will often emulate teenagers.
But in some places, downloading these images could amount to an offence. In England and Wales, the question of whether a person is a child for the purposes of an indecent image is a question of fact for a jury and this is based on the characteristics of the person featured. If there is no indication of the age of the performer and they appear to be under 18, then a jury could find these images to be of child abuse.
In light of this my real concern is that those searching for teen porn may unwittingly view child pornography in one of two ways. Either the images downloaded may unintentionally feature children under 18 or the user of pornography may not be particularly well versed in the law and fail to appreciate that children includes older teenagers.
For example, I would doubt a 16-year-old boy would realise that downloading pornography featuring a 16-year-old girl may amount to an offence of possessing or making an indecent photograph of a child. He may (understandably) assume that images of children over the age of consent are legal. He may also trust that the content of hosting websites is checked.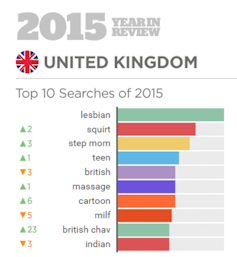 Most consumers of teen porn would undoubtedly be horrified if they were to find that images they had viewed could be labelled "child pornography". We need to find a better way to approach this – preferably without restricting people's access to pornography.
Not only do people need to be fully educated about the limits of the law but I would suggest that it is time to find a new descriptive term to replace "teen" for sexual images of 18 and 19-year-olds – one that won't place porn consumers in danger of accidentally viewing images of child sexual abuse. I would suggest that "young adults" is the perfect replacement term – it may not sound sexy now, but give it time.