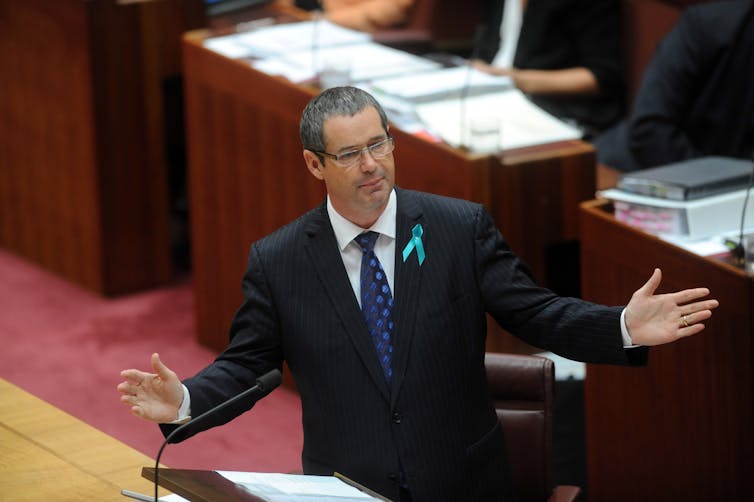 The ultimate judgment on Stephen Conroy's extraordinary ultimatum to parliament – pass the media package next week or the government drops it - will depend on whether he gets his measures through. Crossbencher Tony Windsor puts the chances at 40%.
The Communications Minister and the Prime Minister thumbed their noses at proper cabinet processes by presenting ministers with a virtual fait accompli on Tuesday morning, and are giving short shrift to Parliament.
But there is a certain method in their madness with the latter. The government believes it is in its interests to have a time limit on the angry debate, but also it is minimising the period the news organisations have to arm twist the crossbenchers who will determine the package's fate.
The ferocious campaign by the Murdoch media in particular shows how willing this brawl has become. One can only imagine what the crossbenchers would have been subjected to if the deadline had been, say, late June, the last sitting of this parliament.
Some ministers see the cavalier treatment of cabinet – the lack of proper process was questioned at Tuesday's early morning meeting by Simon Crean – as symptomatic of what's happened on a number of issues under Julia Gillard, despite her promise to be more consultative than Kevin Rudd.
But, while there were some questions and concerns, ministers also felt Conroy was steering a middle course. Among those who had acted as a moderating force are believed to have been Treasurer Wayne Swan and former Fairfax man Bruce Wolpe, who is these days an adviser to the PM. Gillard herself was very sensitive to the political danger of going too far.
Still, hard-headed ministers were aware the package was likely to be a negative for the government, although they hoped that within the industry, the non-Murdoch reaction mightn't be too bad.
In the House of Representatives, the government needs the support of five of the seven crossbenchers, who are suspended ALP caucus member Craig Thomson, country independents Windsor and Rob Oakeshott, KAP's Bob Katter, former Coalition member Peter Slipper, the Greens' Adam Bandt and Tasmanian independent Andrew Wilkie.
Thomson today said he would not support the package; Oakeshott has been negative and so has Wilkie. Slipper has been "sympathetic". Katter's position is uncertain. Windsor hasn't committed himself – he is concerned about regional and privacy issues. The Greens have had criticisms but may find it hard to oppose. They were early critics of what former leader Bob Brown called "the hate media". How would they justify to their supporters that doing nothing was better than taking limited action?
It is probably too cynical to claim, as some are, that that package was put up just to fail. Many ministers do believe that measures are needed. On the other hand, as one government source says, if the parliament says no, "no one could give a stuff". Except probably Stephen Conroy.
Post Script: The opposition confirmed this afternoon that if Craig Thomson voted with it against the media package, it would remove one of its own MPs, thus neutralising his vote.
*Disclosure: Michelle Grattan owns shares in Fairfax Media, News Corp and Seven West Media*