In the year since forced marriage was criminalised in the UK, only one conviction has taken place. In June, a 34-year-old man was jailed for forcing a 25-year-old woman to marry him under duress. Merthyr Crown Court in Wales heard that the man – who was already married to someone else – repeatedly raped his victim over a period of months, threatened to publish footage of her having a shower and told her that her parents would be killed, unless she agreed to become his wife.
The defendant was put on the sex offenders' register and sentenced to 16 years in custody, to be released under an extended licence for another five years afterwards. This is an important case, which will raise questions about whether these offences – which also included rape, voyeurism and bigamy, alongside forced marriage – could have been prosecuted under the existing criminal law.
Before forced marriage was criminalised, the Forced Marriage (Civil Protection) Act 2007 enabled courts to issue protection orders against those who attempt or conspire to force someone into marriage. Between November 2008 (when the act came into force) and September 2014, there were 762 applications filed for forced marriage protection orders. During this same period, 785 forced marriage protection orders were issued (some of which may have been interim orders, issued during other proceedings).
Last year, the goverment's Forced Marriage Unit provided support and assistance for 1,267 possible cases of forced marriage. It is troubling, then, that there has been only one conviction since June last year under the 2014 act.
An adversarial system
Laws are only effective when properly enforced. Those who believe the new sanctions will eradicate forced marriage overlook the fact that criminal prosecutions require a high standard of proof. This standard will have a dramatic effect on the rate of successful prosecutions.
Failed prosecutions, and cases that do not proceed to prosecution may result in victims being discredited or shamed within their family and community, while those at fault may feel exonerated. This raises the risk that victims will suffer isolation and further abuse, because their family and community are likely to ostracise them, or even seek revenge.
The adversarial British criminal justice system requires that victims and witnesses give evidence in court, and submit to being cross-examined. The rules of the court require that the prosecution must disclose all their evidence to the defence. This includes highly sensitive information gathered by the police, local authorities and other organisations when a complaint is made by a victim or information provided by a third party about a forced marriage.
If the case proceeds to court, the victim and any witnesses may, in some cases, face the sharing and discussion of this information in public. Apart from placing them at risk of harm, the impact of being made to participate in difficult, and often lengthy, public proceedings is likely to be significant. These practicalities demand further reflection from those who make the law.
Access to justice
Even if prosecution is successful, victims may still endure other challenges, and require extensive support from different services. For one thing, it's often the case that the victims of forced marriage, and those at risk, need assistance from specialist support services, in order to access justice in the first place.
Research by Rights of Women reveals that many victims of forced marriage cannot afford to pay for the legal assistance they require. For instance, foreign nationals may require immigration advice and assistance, while British citizens may need advice regarding family law remedies like marriage annulments, or contact with their children.
Cuts to Legal Aid have had a negative impact on victims' ability to obtain vital legal advice. As forced marriage cases are often extremely complex in a legal sense, it is crucial that advice is freely available to enable those in need to seek justice. And legal remedies are only one aspect of addressing forced marriage.
Legislation fails to address the day-to-day issues associated with protecting and supporting victims, and there have been no additional resources announced to meet these needs. This places the responsibility for supporting victims onto charities – particularly women's charities, since the vast majority of cases involve female victims.
The need for support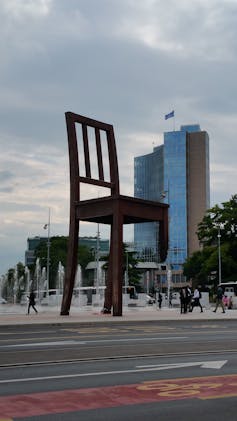 Rashida Manjoo – the UN's Special Rapporteur on violence against women – has called for the UK government to "urgently evaluate the way women's support services are funded and then act to ensure a network of women-centred services are available to all who need them". In her report on violence against women in the UK, its causes and consequences – presented at the United Nations on June 17, 2015 – Manjoo points out that funding for these charities often falls short.
Evidence demonstrates that actual and potential victims of forced marriage are far more likely to approach and trust specialist black and minority ethnic women's services, rather than the state agencies. Yet few of these services currently receive adequate funding. And the limited resources available to local authorities often means that appropriate accommodation is all but non-existent. It is vital that these services are properly funded, even in times of austerity.
The situation is even more urgent for the 11% of victims who are under 16 years of age: they have little recourse to services, apart from overstretched and cash-strapped local authorities, many of whom are already overburdened with cases of child abuse and unable to provide appropriate accommodation.
The national shortage of suitable foster homes, and the lack of specialist carers with appropriate training in cultural sensitivity adds to the challenges faced by victims of forced marriage. This kind of training is urgently needed to ensure that criminal and civil support systems – including child protection services – are working effectively.
Ultimately, the success of the stand-alone law on forced marriage will depends on how effective it proves for victims. At present, too little consideration has been paid to the practicalities of this legislation, and its effect on victims themselves.