With the forced resignation of Damian Green from his post as first secretary of state and minister for the Cabinet Office, the prime minister Theresa May has lost her third cabinet minister in less than two months. Michael Fallon was the first to depart, falling on his sword as defence secretary at the beginning of November amid allegations of inappropriate behaviour towards women. A week later, it was Priti Patel's turn to go. In farcical scenes, the international development secretary was hastily recalled from a trip to Kenya and forced to resign after it emerged that she had held a series of undisclosed meetings with Israeli politicians.
The cause of Green's departure has much more in common with Fallon's going than with Patel's. The official reason for his resignation is his breaching the Ministerial Code: he made "inaccurate and misleading" statements in response to claims that police had found pornography on his office computer in 2008. The subtext to the story, however, includes unproven claims that he made unwanted advances towards Kate Maltby, a journalist and Conservative activist. In the context of heightened concerns about sexual harassment at Westminster, Green's position was untenable.
Green's departure has one further feature in common with Fallon's – it has cost the prime minister a relatively competent and loyal supporter. Until allegations about their private behaviour brought them down, both Fallon and Green were thought to be safe pairs of hands. They were also trusted colleagues. Green, in particular, was personally close to May, which partly explained his promotion to first secretary of state after the recent general election. As her de facto deputy, he could help and advise the prime minister from his base in the Cabinet Office.
Patel's departure, in contrast, was probably no great loss to May. She had been appointed to the cabinet in July 2016 in part because she had been a high-profile Leave campaigner during the Brexit referendum campaign. But she was not universally respected for her abilities in Whitehall, and it was not clear that May would have retained her services had she won a convincing majority in June 2017.
A reluctant butcher
Nevertheless, no prime minister ever likes to lose a minister other than when they choose to sack them. Just as Fallon, Patel and Green were obliged to resign, so May was obliged to force their resignations. May showed herself to be a willing butcher when she first entered Downing Street, dismissing seven cabinet ministers and demoting six others. She has been an unwilling butcher in more recent times.
The most important reason for May's present reluctant butchery is the precarious balance of forces within the Conservative party. Her government, like her party, is bitterly divided over Britain's future relationship with the EU. A vocal minority would prefer a quicker, harder Brexit; a quieter majority would prefer a slower, softer withdrawal from the EU. Any change in the balance of opinion around the cabinet table could inflame the other side and lead to resignations – perhaps even a leadership challenge against May. It was for this reason that Penny Mordaunt, another Leaver, was promoted in place of Patel.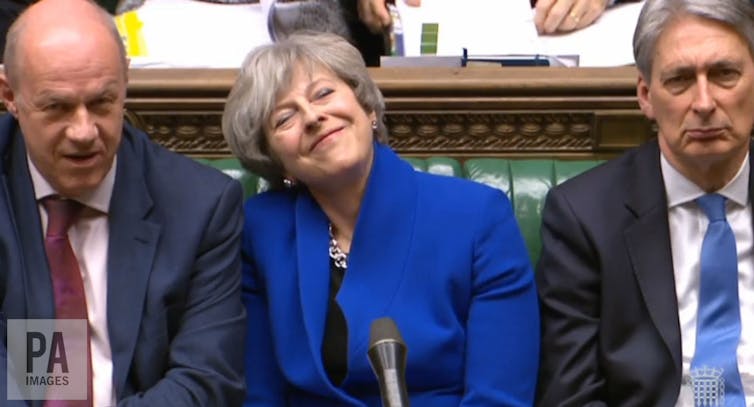 Another reason for May's reluctant butchery relates to her limited human resources. British ministers are always drawn from a relatively small talent pool – primarily the governing party in the House of Commons – and the present pool is somewhat smaller than normal given the outcome of the last general election. Like all prime ministers, May needs to appoint individuals who posses the executive, political and presentations skills to be effective ministers. Not every MP possesses such skills, however, and as the head of a minority government, May has relatively fewer options.
Yet another reason relates to May's own personal standing. Every forced ministerial departure is a cut to her own authority, which is already much diminished following the loss of her parliamentary majority. Prime ministers can usually weather the loss of a minister or three when things are going well. Towards the end of 1998, Tony Blair's government lost Ron Davies, the welsh secretary, Peter Mandelson, the trade and industry secretary, and Geoffrey Robinson, the paymaster general; yet their departures were minor blips because times were good. Prime ministers can ill afford the loss of a minister when things are going badly.
When Herbert Henry Asquith gave Winston Churchill his first cabinet position, he repeated to him William Gladstone's saying: "The first essential for a prime minister is to be a good butcher." That's certainly true. But like Napoleon's generals, they also need to be lucky. Green's sacking merely confirms the sense that May is an unlucky prime minister.