Prime Minister Malcolm Turnbull has called for a Royal Commission into abuse of youths in the Northern Territory corrections system after the ABC's Four Corners program aired footage of children being hooded, shackled and teargassed at a Darwin juvenile detention centre.
Cape York Institute senior policy adviser Shireen Morris told Q&A that the incarceration rate of Indigenous people has doubled since the Royal Commission into Aboriginal Deaths in Custody 25 years ago.
That statement is true but gaps in the data suggest the problem may be even worse than the official statistics suggests.
Official data show the rate has doubled in last 25 years
Australian Bureau of Statistics data show the Indigenous incarceration rate in 1991 was 14.4%. In 2015, it was 27.4%. In the March 2016 quarter, it was 28%.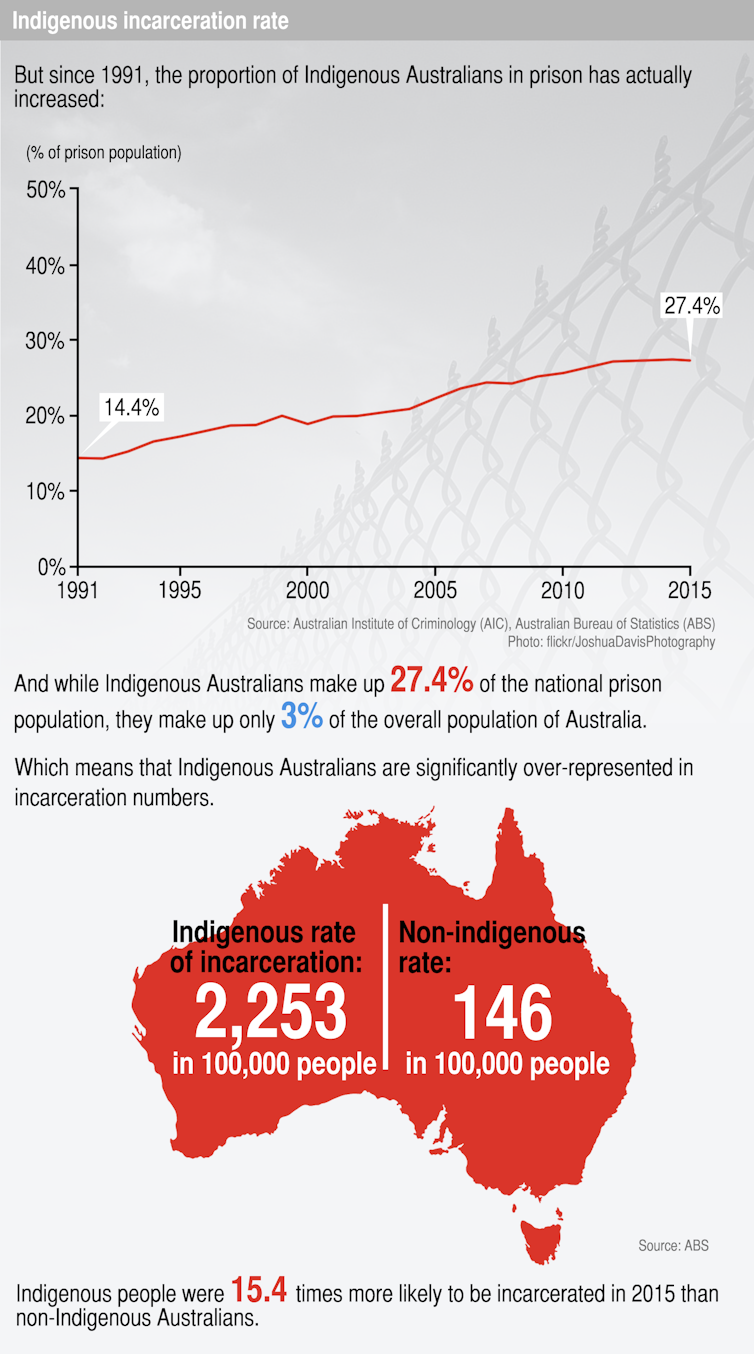 For every 100,000 Indigenous people, 2,253 are in prison (up from 1,232 in 1991). For every 100,000 non-Indigenous people, 146 are in prison (up from 102 in 1991). This makes an Indigenous adult 15.4 times more likely to be in prison than a non-Indigenous person.
But the real rate may be worse
There are a number of limitations with prison data collections.
First, official prison measurements are point-in-time: they reflect the number of prisoners on a certain day (generally 30 June) in any given year.
They do not represent the through-flow of prisoners across a year. Indigenous people are more likely to receive shorter sentences, and more likely to cycle in and out of prison. So it is likely that the over-representation of Indigenous people in prisons over the course of the year is greater than the official statistics suggest.
Research by Professor Stuart Kinner, a Griffith University expert on criminal justice, found that the annual "flow" of Indigenous people through Australian prisons significantly exceeds the daily number.
Before the Royal Commission into Aboriginal Deaths in Custody handed down its report in 1991, there were few statistics on numbers of Indigenous women in custody. We now have a more nuanced understanding of the prison demographic. The Royal Commission also made a special point about the inadequate information in relation to juvenile prisoners at the time.
Among prisoners, Indigenous children and Indigenous women are currently the most over-represented compared to their non-Indigenous counterparts. However, we are unable to compare changes across all demographics.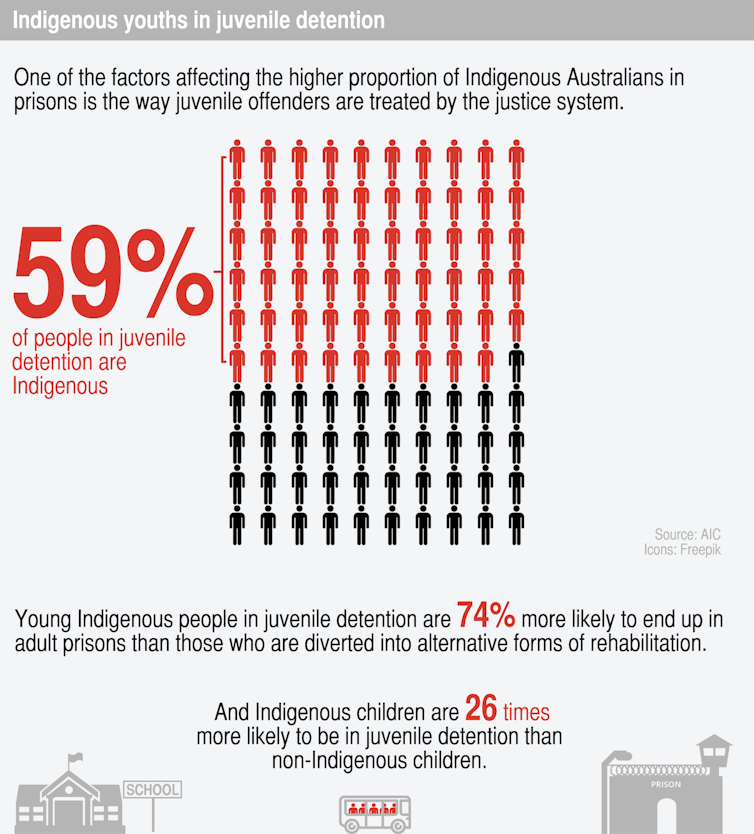 A blanket understanding of increases in prison rates does not reflect the prisoners who are sentenced and those on remand (having been denied bail after charged but before proven guilty or sentenced).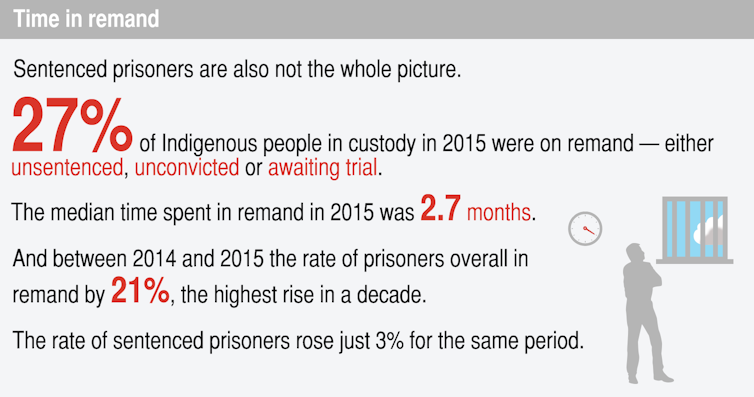 It's worth noting statistics can vary based on the agency collecting them and their methodologies, leading to small discrepancies whether we examine the statistics of the corrections system, Australian Bureau of Statistics or other research bodies.
And although data collection on police custody has improved, the information on detention in police custody and police vehicles remains more scarce than that for prisons. Generally when people refer to the "incarceration rate" they mean the number of people in prisons.
Finally, there is limited public information on the proportion of Indigenous young people in detention centres who are in state care or have previously been subjected to state child removal policies. We are aware that the rates are high, but the nexus between child protection interventions and the the criminal justice system requires further analysis. Similar shortcomings in information on the number of Indigenous people with a mental impairment or disability in juvenile detention exist.
Having a more accurate picture of the scale of Indigenous incarceration and its features will better equip us to find solutions.
Statistics don't necessarily solve problems, but there is an adage: what gets measured gets done.