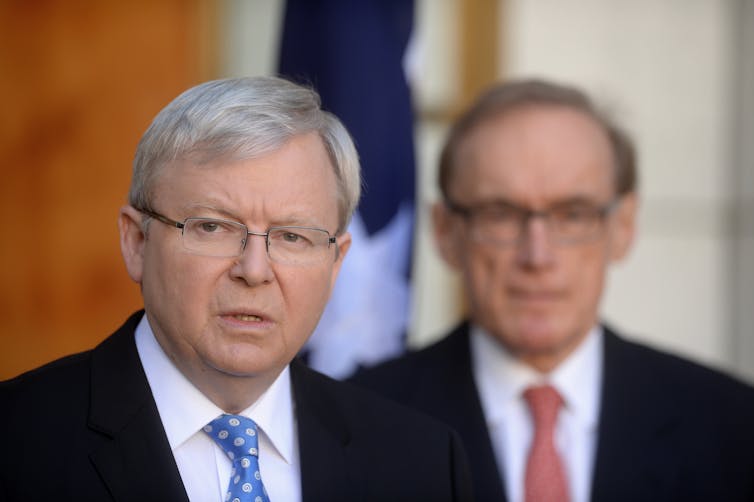 Kevin Rudd is living two lives. He's fighting, and on all the evidence losing, an election campaign. Between times, he's also keeping himself very busy on the international stage.
What an irony. Thanks primarily to Rudd's efforts, Australia currently has a temporary seat on the United Nations Security Council. And just when the Syrian issue is reaching boiling point, Australia on Sunday takes over the council presidency.
Yet it is more than likely that by the week after next, it will be Tony Abbott who will be calling the shots on Australia's foreign policy.
Rudd would have loved nothing more than to be sitting in that Security Council chair next week or soon after. And it was extremely hard for him to decide to miss the G20 in St Petersburg next week.
When he was first musing on election dates, he mentioned the G20 as a consideration. But his advisers won the day and the G20 had to be sacrificed. Foreign Minister Bob Carr will represent Australia. (Why doesn't Rudd address the meeting via telephone?)
Meanwhile Rudd is trying to play middle power diplomacy to the hilt.
Among those with whom he's discussed Syria are US President Barack Obama, British Prime Minister David Cameron, United Nations Secretary General Ban Ki-moon, French President Francois Hollande, New Zealand Prime Minister John Key, and Indonesia President Susilo Bambang Yudhoyono.
Obama rang Rudd. Australia initiated the discussions with Cameron, Ban, Hollande and Yudhoyono.
"We are working with our friends and allies across the world at this time of growing crisis in the Middle East and in Syria in particular", the PM said today.
Rudd is all for robust action. "What we have witnessed is tantamount to a crime against humanity when you see the use of chemical weapons against civilians.
"The Australian government, after conversations with our allies has formed a view that there is overwhelming evidence that chemical weapons have been used [and] we have high confidence that the regime in Syria is responsible for these attacks".
Attention therefore turned to the next step, he said. Rudd has made it clear he thinks the international community can't just stand aside and "wave through" such behaviour.
Russia and China stand in the way of Security Council backing for military intervention. Asked about action without UN backing, Carr said the US, UK and possibly France had indicated "that in the extremity of this circumstance they're prepared to consider a response independent of the UN, which at a Security Council level remains divided".
It was "yet to be seen" whether Australia would endorse that, Carr said.
It's hard to see how Rudd wouldn't do so, given all he has said. It's equally difficult to believe Tony Abbott would not give a tick to whatever the US did.
If such action came in the caretaker period, which appears likely, there are different opinions on whether the government should consult the opposition on an Australian response. Australia would not be asked to provide any assets, so the application of the convention would be marginal. Consultation or not, Rudd and Abbott would likely be walking hand in hand.
But Rudd has also sought to use the Syrian crisis for domestic politics, saying on Tuesday he doubted Abbott had the "temperament" to handle such situations. Abbott had "an impulsive nature … rushing ahead to a judgement" when "you have to sit back, think, calmly reflect and then work through what you think the best decision is".
Asked today what experience he would draw on if Obama asked for Australian assistance, Abbott harked back to his cabinet days. "Matters of war and peace, of life and death, were before the Howard cabinet on a number of occasions and obviously as a member of that cabinet, I was part of the deliberations that John Howard and Alexander Downer and others led".
The Rudd line about Abbott's unsuitability for international diplomacy was another version of what Paul Keating tried against Howard in the 1996 campaign when he suggested regional leaders would not want to deal with Howard.
But questioning Abbott's temperament is risky for Rudd – the comeback is so easy. "I will leave it to my colleagues to testify to what they think of my temperament and judgement and character", Abbott said. "I will leave it to Mr Rudd's colleagues to testify as to what they think of his judgment and temperament and character."
Carr continued the attack today saying Australians would be more comfortable with the internationalism, experience, and familiarity with world leaders that Kevin Rudd offered, "as opposed to the adventurism of Tony Abbott."
Asked what this "adventurism" would mean Carr said: "I don't know, you'd have to press Tony Abbott about that" - a bit rich when it was Carr making the "adventurism" charge.
While Rudd was thinking politically when he slighted Abbott, no doubt it would be his personal belief too. The prospect of Abbott hosting the next G20, to be held in Brisbane, would be for Rudd one of the most galling aspects of an election defeat.
Keating's 1996 attack on Howard's foreign policy credentials didn't influence voters and it's unlikely they'll be listening to Rudd's criticisms of Abbott's suitability either. Australia might have a (peripheral) role during the Syrian international crisis, but this election is being determined on strictly domestic issues.