As voters go to the polls in the UK local elections on May 5, few will be aware how influenced they are by a depleted local news agenda. In many areas where local seats are being contested, local newspaper coverage is limited to a single publisher – sometimes a single newspaper. Most areas are no longer covered by a daily newspaper, and the online output of weekly titles is limited by reductions in the number of editorial staff.
In our new study, Monopolising Local News, we examined the increasing dominance of local news by four publishers, and its democratic implications. The findings show how strong publishing monopolies may be emerging in local news, leading to a dearth of plurality in many UK regions.
The study shows that the growing concentration of ownership in local newspapers, coupled with increasing cuts to editorial staff, is creating large areas in the UK where the public has a very limited choice of local news sources, and diminishing access to original local public interest journalism – as in Port Talbot, where the Port Talbot Guardian closed down in 2009.
These findings suggest that the existing plurality framework is neither promoting nor protecting diversity of news ownership in many local areas across the UK. They also raise questions about the effectiveness and suitability of potential interventions, such as the BBC's proposal to support reporting of local authorities.
Media monopolies
To understand the state of our local press, we used newspaper industry data to map the daily and weekly local newspapers covering each local authority district and parliamentary constituency. Our interactive map shows the provision, ownership and diversity of local UK newspapers. We then layered on existing data about local TV and online news services, to see the extent to which the decline in provision of local newspapers is, or is not, being replaced by new types of news provision.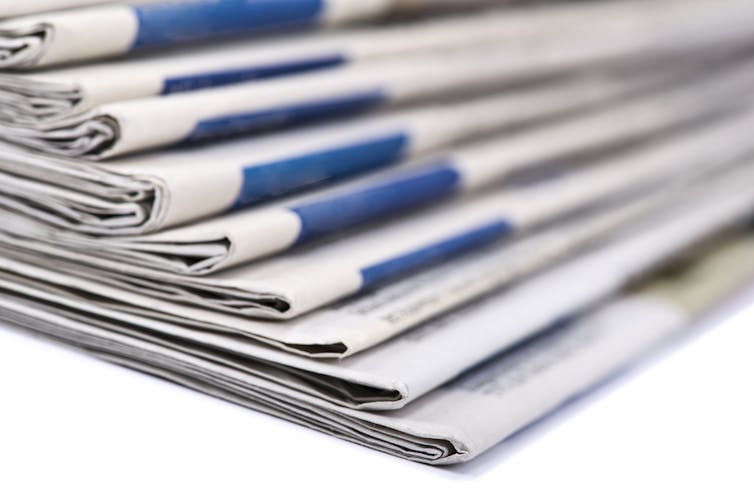 We discovered that many local area districts and parliamentary constituencies now rely on a single publisher for their news. In 165 of 380 (43%) local authority districts in England, Scotland and Wales, a single commercial publisher has a monopoly of print circulation. In 69% of these districts in England, Scotland and Wales a single publisher controls over 70% of newspaper circulation. Similarly, over half of parliamentary constituencies (330 of 650) are not served by a dedicated daily local newspaper.
Four publishers – Trinity Mirror, Johnston Press, Newsquest and Tindle – now own 73% of all local newspaper titles. Three of these four publishers have reported significant reductions in staff, including editorial staff, over the last five years. This concentration of ownership and decline in the number of editorial staff has led some to argue that there may be a democratic deficit emerging at a local level, whereby councils and courts go unreported and the public must rely on social media and word of mouth for their news.
As Rona Fairhead, chair of the BBC Trust, said in October 2015:
Some local council meetings are going unreported. Some court reporting is starting to fall by the wayside … as a result, the media's ability to hold to account those who wield power in local communities may be starting to decay.
While Trinity Mirror Chief Executive Simon Fox rejected Fairhead's comments, recent evidence has found that, in certain areas of the UK, there has been a significant decline in attendance of council or public meetings by reporters.
A democratic deficit?
This prevents the press from performing its role as "scarecrow", holding authorities to account for their mistakes and failures and exposing or forestalling corruption. Moreover, the absence of a consistent public voice has been found to lead to feelings of anger, frustration and despondency among local residents.
So far, it seems we don't have the right policies in place to address this issue. For example, in the Enterprise Act (2002) we do not have a clear definition of what is meant by "sufficient plurality", in terms of local news and information – despite this being the basis on which decisions are supposed to be made on mergers and acquisitions of local media.
The millions of pounds worth of subsidies that go to local media – through statutory notices and via VAT zero-rating, for instance – are not targeted at promoting plurality, diversity or addressing a potential democratic deficit. At the same time, there is only a limited amount of research and information available about the provision of local public interest news, which makes it difficult to create policy based on evidence.
Our study aims to help address the lack of evidence, and in so doing prompt consideration of how policy needs to change if, as a society, we want the public to be informed about local courts, local authorities, and local elections – a question that seems particularly relevant given the forthcoming local elections on May 5.