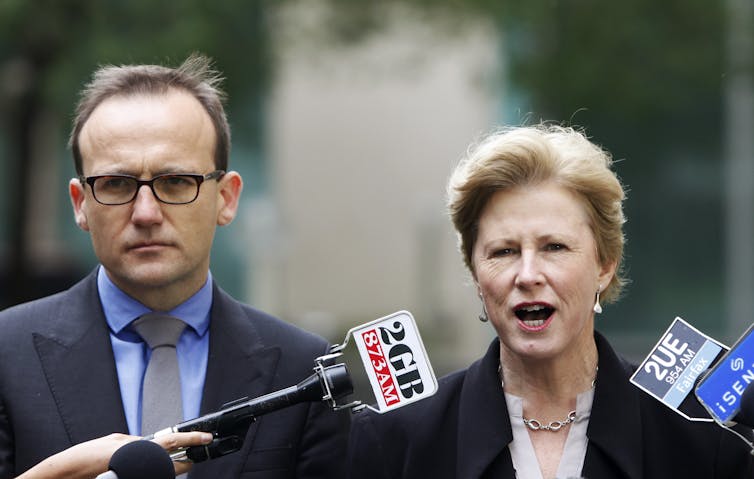 The Greens find themselves in an exquisite dilemma. Tony Abbott's revised paid parental leave scheme is now broadly in line with their policy. But can they, in the circumstances of a harsh budget, dance with a prime minister despised by many of their supporters?
For the Greens, this is an argument about both politics and substance.
It was easier before Abbott's backdown. If he'd kept the scheme in its original form (which he'd have preferred to do) the Greens could have been seen as the ones insisting on cutting the income cap from $150,000 a year to $100,000.
It's a change that makes only a marginal difference to the cost of the plan - because so few child-bearing women would be in the top income bracket - but the optics are significant.
But now that Abbott has done it, the differences between the Abbott and Green policies are matters of only minor detail.
Even before Abbott's backflip, some in the Greens were getting concerned. With a budget that will assault all sorts of benefits and, on present indications, contain an income tax hike, keeping company with Abbott is a bad look if you are a Green.
Those with long memories might recall how the Democrats' GST deal with John Howard did that party serious long term damage.
Deputy leader of the Greens Adam Bandt has been anxious to leave the party's options open.
"We're not in a position to give this the tick off yet because we want to know how it is going to be funded," he said on Wednesday. "We'll not be party to taking one single dollar from health, from education, from welfare to fund this scheme. It needs to be funded out of the big-business levy and the advice from the Parliamentary Budget Office at the moment is that it's not." Abbott claims the scheme is fully funded.
The PBO before the election put the cost to revenue of the Greens scheme (after the business levy, savings, etc) at $2.2 billion over the forward estimates. The Greens' plan that was costed had somewhat different elements and assumptions.
Bandt raised the issue of whether the levy might have to be increased, or the income threshold dropped below $100,000. He also questioned whether Abbott would get the support of his own backbencher senators, given the internal criticism of the plan.
No doubt if they want to back away the Greens could find a reason. But they then would be involved in breaking an election promise.
They would also be losing the opportunity to deliver what they consider a genuine reform – making parental leave a workplace entitlement, like sick leave and holiday leave.
It could be an interesting debate in the party room.