Will an extra day's rest and recovery give Novak Djokovic an advantage over Federer or Murray in Sunday's Australian Open final?
In case you missed it, Djokovic, the defending Australian Open champion, defeated Spain's David Ferrer last night in the tournament's semi-final, setting up a shot at his third consecutive Australian Open title.
In a post-match interview, the Serb told Channel Seven's Jim Courier that he was glad to have two full days off before the final on Sunday night, when he will play the winner of tonight's semi-final between Roger Federer and Andy Murray.
So what sort of recovery methods will Djokovic likely be using to prepare for Sunday's final?
Post-match recovery
The use of cold-water immersion and compression garments are common recovery tools in elite sport, often owing to their availability at many competitions (in the case of cold-water immersion) and portability (in the case of compression garments) during regular travel.
Despite some conjecture, cold-water immersion – by virtue of temperature or the pressure it puts on the body – is reported to be beneficial to post-exercise recovery, particularly if the player has suffered muscle damage or injury.
Conversely, evidence for improved physiological performance-based recovery following the use of full- or lower-body compression therapy is limited, though improved recovery of lower-body power and perceived soreness has been reported.
Of course, there's another very important factor in post-match recovery. Given the large amounts of energy burnt during long tennis matches – some estimates suggest as much as 4,000 calories for a five-hour match (an average male will burn roughly 2,000 calories per day) – appropriate replenishment of fuel sources, via sufficient carbohydrate and protein intake, is also of great importance.
Sleep it off?
Another important factor in post-match recovery is the athlete's sleeping patterns.
Quite simply, sleep is integral to the recovery of metabolic, cognitive and physiological regenerative processes. Indeed, the absence of sleep is reported to slow muscle glycogen synthesis (reducing the amount of energy available to the muscles), elevate thermoregulatory and cardiovascular demands (making the body work harder to cool itself and supply blood to the muscles) and slow cognitive and physical performance.
It might well be that playing five-set epics that last well into the early morning – as Djokovic did against Stan Wawrinka in the fourth round – could adversely affect a player's recovery; both due to physical load of the match and disruption to sleep patterns.
But there is no evidence (yet) to show that increasing the amount of sleep an athlete gets can improve their post-exercise recovery. Also, the role of compression or cold water therapies should also be used in the context of sufficient nutritional and fluid intake.
The effects of fatigue build-up
While tennis match play is intermittent in nature, the prolonged duration of matchplay can result in excessive increases in physiological and psychological loads, above those tolerable, potentially resulting in a reduction in performance.
Despite such research, on one-off tennis matches, there is no data reporting the changes observed in physiological responses over many days of matchplay, as is demanded on an almost weekly basis on the professional tennis circuit (and certainly at the Australian Open).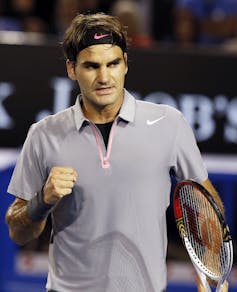 While the physiological responses of matchplay have received significant research attention, there has also been considerable attention given to technical competencies and outcomes during competitive tennis matchplay.
For example, a player's serve can be affected by fatigue and physiological load during prolonged matchplay, highlighting the interaction between match outcomes, technical proficiency and physical load.
But there is currently no literature reporting the effects of consecutive day match-play on load, or more importantly, technical performances as would be related to match outcomes.
An extra day's rest?
It might seem obvious, but the extent of the recovery required by a player depends on the effort they put in on court – the distance they cover, the duration of the match, the intensity of their exertion – and the ensuing effects on their physiological and psychological responses.
These responses are based on the prior experience of the player: have they done enough training in the lead-up to the tournament? Are they at peak fitness? Are they in good form? Is their body accustomed to five-set matches?
The addition of an extra day's rest may be of benefit if a player's opponent has been unduly extended in their previous match and hasn't had enough time to recovery fully.
So is it the case that Novak Djokovic – with his two full days off – will have an advantage over Murray or Federer, who will have only one full day to recover from their semi-final tonight?
As can be seen above, there are many variables at play – match intensity, overall fitness, fatigue built up throughout the tournament, and so on. It's probably less a case of whether Djokovic has an advantage, and more whether the winner of Murray and Federer is disadvantaged.
But discounting any injury, you would assume the time between tonight's match and Sunday's final would be sufficient for players as experienced as Murray and Federer to fully recover, even if their semi-final does go to five sets.
But, as yet, there's no published evidence to support this conclusion.
One thing's for sure: if Djokovic plays as well against Federer/Murray as he did against Ferrer last night, he's going to be hard to stop.