Paolo Sorrentino's film The Great Beauty is one of the five films nominated in the category of best foreign film in the 2014 Academy Awards, which take place on March 2. If it wins, the Oscar will follows prizes at the 26th European Film Awards for Best Film, Best Actor for Toni Servillo, Best European Director for Sorrentino and Best Editor for Cristiano Travaglioli; the prestigious Golden Globe for Best Foreign Language film of the year; and, most recently, the Best Film not in the English language at this month's British Academy Language Awards (BAFTAs).
These prizes have generated much enthusiasm in Italy, with the Italian Culture Minister Massimo Bray declaring "Italian cinema is once more in the spotlight".
Yet it was only last year that the government withdrew tax incentives for cinema and television production as part of ongoing economic measures to reduce Italy's crippling debt. Though the tax incentives have since been reinstated there remains uncertainty about the future of the industry.
At the Venice film festival Bray declared that cinema was important to Italy's "self awareness and historical memory" and that "I would like to see this field perceived again as an area of Italian cultural excellence".
Bray is, of-course, referring to the 1950s and 1960s, when Italian cinema was an important European cultural export, widely acknowledged and celebrated in the arthouse and independent film circuits.
Italian film directors such as Antonioni, Fellini, Pasolini, Bertolucci, Rossellini, Bellocchio and Argento were critically and popularly acclaimed. Italian actors such as Marcello Mastroianni and Sophia Loren were idolised and imitated.
As soon as the Academy Award Foreign Language category was established in 1956, Italian films featured prominently with Federico Fellini winning Academy Awards for La Strada (1956), The Nights of Cabiria (1957), and 8½ (1963). But it has been 25 years since Italy won a Golden Globe Award for Giuseppe Tornatore's film Cinema Paradiso (1989), and 15 years since the country won an Academy Award for Roberto Benigni's Life Is Beautiful (1997).
So does the success of The Great Beauty indeed signal a rebirth in Italian cinema and a return to the international spotlight? And why has this film been chosen to represent Italian cinema in the Academy Awards? What is it about The Great Beauty that has so engaged audiences and critics?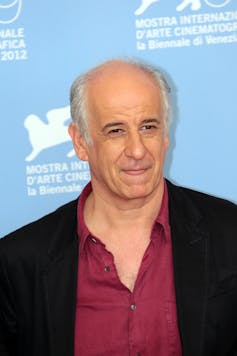 The Great Beauty is a spectacular film – there's no question about that – but it is also equally critical and engaged with its own processes. It parallels the past and present of Rome, the past and present of cinema, and the past and present of its complex and compelling main character, novelist/ journalist/ cultural flaneur Jep Gambardella, played by Tony Servillo.
The loosely structured episodic narrative opens on the Janiculum hill overlooking the city of Rome. Cinematographer Luca Begazzi's immersive camera tracks, pans and zooms amid ordinary people and monumentally beautiful landmarks. A female choir sings above the Fontana dell'Acqua Paola, while a man washes himself in the fountain below. A group of tourists arrives by bus. One of the tourists begins photographing "this great beauty", but then collapses and dies.
A radical cut to a screaming woman relocates us to Jep's 65th birthday party on the rooftop balcony of his apartment overlooking the Colosseum. This bacchanalian scene of extravagance and excess again orients and disorients us. A dissonant soundtrack alternates between electronic music, a mariachi band and an almost silent enclosed space where a stripper performs. A hand held camera and rapid editing immerse us amid Fellini-esqsue characters.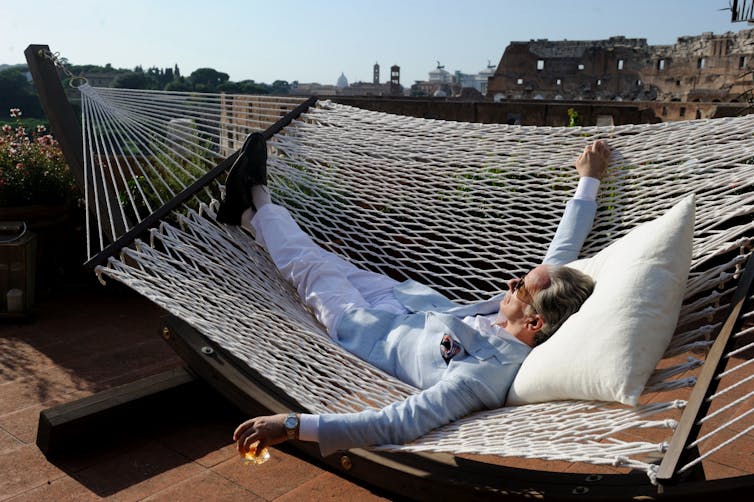 Colliding images and sounds, beauty and ugliness, life and death, the grand certainty of the past collides with the mesmeric uncertainty of the present. We discover Jep wrote the successful book, The Human Apparatus, 40 years ago, but has not written anything since. Jep's story and the story of Rome intertwine.
We follow his conversations and encounters with friends, artists, cardinals and saints, as he wanders through streets past grand monuments and statues, art works, performances, clubs, cafes and botox clinics. Famous writers from the past such as Flaubert, Moravia, Celine, Chekhov, Turgenev and Proust are referenced, while contemporary artists fail. As much as this is a film about a city, it is a film about art and the struggle of the contemporary artist to invent new and meaningful forms.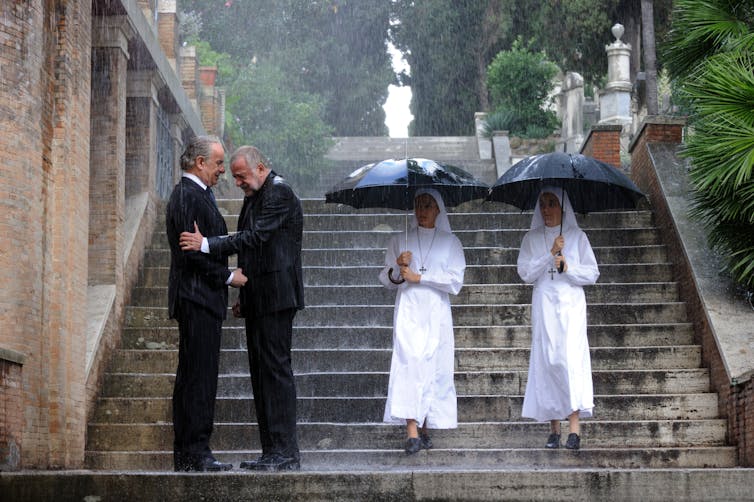 The Great Beauty questions what art is possible in the contemporary media-scape, what art is possible in contemporary Rome amid its opulence, art history and sheer beauty, and whether contemporary films can be made that equal, let alone surpass, films such as Fellini's La Dolce Vita (1960) and Antonioni's La Notte (1961).
For me there was a single tweet by American writer Karrie Jacobs that perfectly encapsulates what is so compelling about this film, and possibly points to some of the reasons why academy voters will cast their vote for The Great Beauty.
Jacobs tweets that, in this film, "Wenders meets Fellini". It is precisely in the way The Great Beauty brings together the great auteurs of European art cinema with the chaotically colliding forms of the present that make this a simultaneously nostalgic and critical film – affirming it is possible for the greatness of the past to find a new life in the present.

See further Oscars 2014 coverage on The Conversation.