The least surprising part of Douglas Carswell's defection to UKIP was surely his decision to resign his Clacton seat and seek re-election in a by-election. Quite apart from any satisfaction at the anxiety it will bring to the Conservative leadership of which he has come so completely to despair, any other course of action, though more conventional, would have been unthinkable for this politician of both unusual views and integrity.
Just check out his website for the past couple of months, starting with the announcement of the government's version of a recall bill to enable constituents to get rid of an MP in whom they have lost confidence:
The SW1 gang, terrified of the implications of letting the people back into politics, will ensure that the trigger for any recall mechanism remains safely in their hands. Local people will only be allowed to vote to confirm what political insiders have decided.

Done properly, recall must be triggered by local voters, not a committee of Westminster grandees. And it must also involve an actual recall ballot – should your local MP be recalled, yes or no?
Or his comparison of modern-day politics to the era when Winston Churchill was the one making headlines for crossing the floor:
In 2014 many more people – thankfully – have the right to vote than they did in, say, 1914. But that does not necessarily mean we have become more democratic. Many more have the right to vote, but the ability of those with votes to hold those with power to account has steadily diminished.

A hundred years ago, it was not simply MPs who decided which MPs got promoted. If your local MP was appointed to the government, they had to resign their seat, come back to the constituency and get your permission in a by-election for them to join the government.
Carswell was an unlikely candidate for ministerial office, but he would have found it unconscionably inconsistent not to apply those principles of democratic accountability in his own case.
UKIP's first elected MP
Carswell won't be the first to trigger a by-election in this way, but it has become unusual – and it wasn't the path chosen by his UKIP predecessor.
Yes, contrary to some media outlets were initially suggesting, if Carswell were to win his by-election, he would not be "the first UKIP MP to take a seat in Westminster". It could, as President Clinton might suggest, depend on what the meaning of the word "take" is, but the subsequent media corrections suggested they'd already forgotten the hapless Bob Spink's claim to footnote status in the UK's great parliamentary history.
Spink was elected three times as Conservative MP for Castle Point in Essex, but in 2008 he either resigned the Conservative whip (his version) or had it withdrawn (the party's version), and defected to UKIP, becoming the party's first and so far only MP. So he thought anyway, although he had to clarify his position as an Independent a few months later, on the grounds that UKIP had no whip. Carswell, then, if he wins his by-election, would become the first elected UKIP MP.
An unconvincing model
Carswell's action can be seen as a challenge to the Trustee model of the elected representative, which says MPs are elected purely as individuals on their personal merits, rather than as delegates of political parties.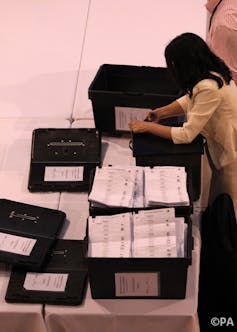 Many would argue that this model has become a convenient but utterly unconvincing fiction, and in 2011 one of the new intake of Conservatives put it to a modest parliamentary test. Chris Skidmore, MP for Kingswood and a Tudor historian, introduced a Members of Parliament (Change of Political Party Affiliation) Bill, under the backbenchers' ten minute rule bill procedure. This bill would oblige any member who voluntarily decides to change party to resign and fight a by-election.
He got his ten minutes, a diverting debate, and thereby his bill's first reading, and then – probably unsurprisingly to him and certainly to Carswell – absolutely nothing. In effect, parliament simply updated its endorsement of the view that MPs' mandates are purely personal and they have every right to change parties at will without feeling any obligation to consult their electors.
Lessons from history
In the modern era, then, Carswell's decision to trigger a by-election should go down as a rare and honourable exception. One of the last times we saw something similar was the 1982 Mitcham and Morden by-election following Labour MP Bruce Douglas-Mann's resignation to join the recently formed Social Democratic Party.
He too was in a minority, all 27 of his fellow Labour defectors deciding they'd sit tight and hold on to their seats – which, at the height of the Falklands War and the upsurge of support for the Conservative government, proved beyond Douglas-Mann, though he did defeat his Labour opponent.
There will be some, I suspect, and not just UKIP sympathisers, who at least secretly hope that Carswell's a bit luckier this time round.